Puerto Vallarta, Mexico - An authentic world kitchen can be found at Daiquiri Dick's. The menu at this popular beachfront restaurant is always evolving, and their bi-weekly Summer Sizzle dinner menu makes it easy to sample cuisines from all over the world - right here in Puerto Vallarta.
Through the end of July this popular beachside restaurant is offering diners 3 delectable courses (your choice of appetizer, entree and dessert) for just $399 pesos. Not that hungry? You can order your favorite appetizer, main course or dessert a la carte.
Executive Chef Ignacio Uribe, Chef de Cuisine Hugo Mejia and Sous Chef Rogelio Garcia have created a spectacular array of creative dishes that will be served, along with the regular menu, from 5:00 to 11:00 pm through July 30th.
July 18-30 Summer Sizzle Menu at Daiquiri Dick's
Select one item from each category for $399 pesos, or order a la carte
Appetizers
• Grilled Corn Salad with Avocado, Cilantro and Hot Honey Lime Dressing
• Teriyaki Salmon Rolls with Fresh Mango and Spiced Hoisin Sauce
• Crostini with Cream Cheese, Cucumber, Egg, Prosciutto, Dill and Capers
Entrιes
• Grilled Tandoori Spiced Red Snapper Filet served with Mango and Red Onion Salad
• Spicy Grilled Chicken with Crunchy Fennel Salad
• Linguine with Beef Sausage, Mushrooms, Parmesan Cheese and Tomato Sauce
Desserts
• Warm Double-Chocolate Brownie Cake with Chocolate Ice Cream
• Cream Cheese Crepes With Berry Sauce a la Mode
This offer is not subject to any other discounts.
Come take in the sunset and enjoy this special Summer Sizzle Menu at Daiquiri Dick's, where every meal is an Exceptional Experience.
Open daily from 9 am to 11 pm, (Closed on Tuesdays from April to October) Daiquiri Dick's offers elegant dining in a relaxed atmosphere for breakfast, lunch or dinner. Visa, MasterCard and Banamex accepted. Reservations are recommended and can be made online at ddpv.com.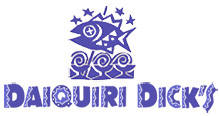 Daiquiri Dick's contemporary design exudes a quiet elegance that invites relaxation, and its tropical location at Olas Altas 314 on Los Muertos Beach offers the perfect atmosphere for enjoying spectacular views of Banderas Bay. For reservations call (322) 222-0566. For more information, visit DDPV.com.
Click HERE to read more about Daiquiri Dick's.