Puerto Vallarta, Mexico - Take your taste buds on a world tour and you don't even have to leave Puerto Vallarta to do it.
Daiquiri Dick's Restaurant is known for its international cuisine and their latest Summer Sizzle World Flavors Menu features a wide selection of tastes. There are three courses of choices for this special a la carte menu, which runs from August 1 to 13, 2018, and is served along with the regular dinner menu from 5:00 to 11:00 pm.
Executive Chef Ignacio Uribe, Chef de Cuisine Hugo Mejia and Sous Chef Rogelio Garcia have created a spectacular array of dishes that put a new twist on authentic flavors.
August 1-13 Summer Sizzle Menu at Daiquiri Dick's
Appetizers
• Grilled Watermelon Salad with Arugula, Avocado, Cilantro and Hot Honey-Lime Dressing
• Pumpkin Soup with Fried Zucchini Chips
• Crostini with Chorizo and Fig with Arugula and Fresh Fennel
Main Courses
• Pan Crispy Salmon with Dijon and Honey Glaze, served with Sauteιd Chard
• Chicken with Grilled Bread and Bacon, with Potato Scaloppine & Butter-Bacon sauce
• Linguini with Shrimp and Pistachio-mint Pesto
Desserts
• Chocolate Espresso Pie Bars a la Mode
• Apple-Pomegranate Cobbler with Vanilla Ice Cream
This offer is not subject to any other discounts. The restaurant is closed on Tuesdays until the end of August and then closed September. They reopen on October 1, 2018.
There is a commitment to excellence in dining that keeps the process interesting for the chefs, as well as for the patrons. Executive Chef Ignacio says, "It helps us expand our expertise. We would like to offer a wide variety of foods in as many styles as we know how." Taste the world at a fraction of the cost during the Summer Sizzle at Daiquiri Dick's.
Daiquiri Dick's, An Exceptional Experience.
Open daily from 9 am to 11 pm, (Closed on Tuesdays from April to October) Daiquiri Dick's offers elegant dining in a relaxed atmosphere for breakfast, lunch or dinner. Visa, MasterCard and Banamex accepted. Reservations are recommended and can be made online at ddpv.com.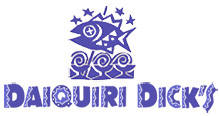 Daiquiri Dick's contemporary design exudes a quiet elegance that invites relaxation, and its tropical location at Olas Altas 314 on Los Muertos Beach offers the perfect atmosphere for enjoying spectacular views of Banderas Bay. For reservations call (322) 222-0566. For more information, visit DDPV.com.
Click HERE to read more about Daiquiri Dick's.