Puerto Vallarta, Mexico - Don't miss your last chance this season to take your taste buds on a world tour without leaving Puerto Vallarta. That's right, the 2018 Summer Sizzle at Daiquiri Dick's is wrapping up on August 31st.
Daiquiri Dick's Restaurant is known for its international cuisine and, for the last Summer Sizzle of the season, Executive Chef Ignacio Uribe, Chef de Cuisine Hugo Mejia and Sous Chef Rogelio Garcia have created a spectacular array of authentic dishes with new twists.
There are three courses of choices for this special a la carte menu, which runs through August 31, 2018, and is served along with the regular dinner menu from 5:00 to 11:00 pm.
Daiquiri Dick's 2018 Summer Sizzle Wrap Up
Appetizers
• Oven Roasted Beet Gazpacho with Cucumber, Mint and Red Wine Vinegar
• Pork and Shrimp Siu Mai
• Bruschetta with Artichokes, Goat Cheese, Cream Cheese and Smoked Trout
Entrιes
• Huachinago Filet served over Pan-Finished Sweet Corn, Cherry Tomatoes and Saffron
• Grilled Thick Pork Chops With Pineapple-Turmeric Glaze served with Sweet Potato Puree
• Traditional Wok Fried Pad Thai Noodles with Dried Shrimp, Peanuts, Eggs, Tamarind Sauce
Desserts
• Berry Upside-Down Cake with Ice Cream
• Carrot Cake
Daiquiri Dick's is taking the month of September off for vacation, so don't miss your chance to enjoy a colorful sunset and an equally colorful dinner as Daiquiri Dick's wraps up this year's Summer Sizzle. The restaurant will reopen on October 1, 2014, so make plans now to visit Daiquiri Dick's, where every meal is an Exceptional Experience.
Open daily from 9 am to 11 pm, (Closed on Tuesdays from April to October) Daiquiri Dick's offers elegant dining in a relaxed atmosphere for breakfast, lunch or dinner. Visa, MasterCard and Banamex accepted. Reservations are recommended and can be made online at ddpv.com.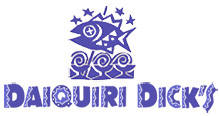 Daiquiri Dick's contemporary design exudes a quiet elegance that invites relaxation, and its tropical location at Olas Altas 314 on Los Muertos Beach offers the perfect atmosphere for enjoying spectacular views of Banderas Bay. For reservations call (322) 222-0566. For more information, visit DDPV.com.
Click HERE to read more about Daiquiri Dick's.