Puerto Vallarta, Mexico - After a brief vacation spent 'spiffing up' the restaurant, Daiquiri Dick's is now open. The staff is looking forward to another great season of offering Puerto Vallarta residents and visitors the innovative cuisine, superior service and spectacular sunsets that make dining here An Exceptional Experience.
To kick-off the 2018-2019 season, Executive Chef Ignacio Uribe, Chef de Cuisine Hugo Mejia and Sous Chef Rogelio Garcia are cooking up some savory specials that are sure to whet your appetite.
Daiquiri Dick's á la carte Dinner Specials
Served October 3-15, from 5:00-11:00 pm
Appetizers
• Cucumber and Melon Salad with jalapeño chile and honey, Feta Cheese and pistachios
• Shrimp Lettuce Wraps with cucumber, peanuts and Sambal
• Creamy Turmeric Pumpkin-Cauliflower Soup with turmeric
Entrées
• Grilled Pork Chops with plums, Bleu Cheese and lemon, served with baby potatoes and fresh arugula leaves
• Cold Roast Salmon with smashed green bean salad, yogurt sauce and serrano sauce
• Spaghetti with Fresh Shrimp, capers, olives and tomato sauce
Desserts
• Plum-Cardamon Crumble with pistachios
• Ricotta Panna Cotta with peach and honey
This special a la carte menu is featured along with Daiquiri Dick's regular dinner menu, which is served nightly from 5:00 to 11:00 pm, through October 15 - except on Monday, October 8 - Canadian Thanksgiving. A turkey dinner with all the trimmings will lead the specials that night.
Daiquiri Dick's Canadian Thanksgiving Menu
Monday, October 8, 2018 5:00–10:30 pm
Appetizers
• Butternut Squash and Apple Soup
• Grilled Grape Salad with oyster mushrooms, arugula, celery, candied almonds and honey-champagne vinaigrette
Entrées
• Maple Roasted Turkey with sage, smoked bacon and chorizo bread stuffing, with cranberry relish, mashed potatoes, roasted sweet potatoes and gravy
• Linguine with Shrimp, artichokes, capers, parsley, white wine lemon Beurre Blanc Sauce
• Pan Seared Catch of the Day served over eggplant ratatouille with zucchini blossom sauce, topped with herb salad
Desserts
• Apple and Maple Bread Pudding
• Pumpkin Cheese Cake
Daiquiri Dick's regular a la carte dinner menu will also be available.
The restaurant's super-friendly and attentive staff treats you as a family friend as you enjoy terrace, patio or beach dining. If you have an early dinner you can catch a fabulous sunset. But no matter what time you dine, incredible views of the beautiful Bay of Banderas enhance every meal.
Open daily from 9 am to 11 pm, Daiquiri Dick's offers elegant dining in a relaxed atmosphere for breakfast, lunch or dinner. Visa, MasterCard and Banamex accepted. Reservations are recommended and can be made online at ddpv.com.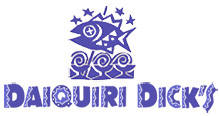 Daiquiri Dick's contemporary design exudes a quiet elegance that invites relaxation, and its tropical location at Olas Altas 314 on Los Muertos Beach offers the perfect atmosphere for enjoying spectacular views of Banderas Bay. For reservations call (322) 222-0566. For more information, visit DDPV.com.
Click HERE to read more about Daiquiri Dick's.