Puerto Vallarta, Mexico - Now celebrating its sixth season of entertaining Vallarta, Act II STAGES continues to bring you The Best of The Best entertainment in the Banderas Bay area. The five shows that have already opened this season are getting rave reviews - and four more new shows are opening this week!
Act II is overwhelmed with gratitude to so many people who have written reviews about our shows on Trip Advisor, which have made us #2 on the "Things to Do in Puerto Vallarta" list. We thank each and every one of you who have helped to make us successful, and now ON TOP of Puerto Vallarta's entertainment scene!
November is always exciting at Act II, with lots of headline shows opening, as well as the beginning of an exciting season on the Main Stage. Add to that incredible sound and lighting systems, and excellent musical entertainment in their beautiful Encore Bar where you can enjoy a drink before, after, or between shows, and Act II Stages is on par with any theater in North America. For more information about this season's lineup of shows, or to purchase your tickets, go to act2pv.com.
"LITTLE SHOP OF HORRORS" OPENS TO A SOLD-OUT ROOM AND HUGE OVATIONS!
"Little Shop of Horrors"
A Cult Musical/Horror Comedy
Produced by Act II Entertainment
Directed by Alfonso Lopez
Opening Night: Wednesday, October 31 at 7:00 pm
Wednesdays - Thursdays - Saturdays at 7:00 pm (through Dec)
2019 Open Run: Every Thursday - 7:00 pm
One of Off-Broadway's most popular cult musicals,
Little Shop of Horrors
is the hilarious tale of a down-and-out Skid Row floral assistant, the girl he loved, and a strange new, man-eating plant threatening to tear their world apart. This cult classic was one of the longest-running Off-Broadway shows and has become a household name thanks to a highly successful film version and a fantastic musical score! For the past 30 years, people just can't get the catchy music out of their heads!
Directed by Alfonso López, the uber-talented director of "Rocky Horror" last year, this beloved horror/comedy/rock/musical is another first-class production at Act II and brings back the sounds and ambiance of the rock 'n' roll era. It stars many of your favorite Act II actors, plus some wonderful new faces, including Maria Rose, Joey Martinez, Alex McLauchlan, Andrew Sands, Shawn Morgan, Eli Estrada, Sasha del Oceano, and Ximena Peña Esparza. It also features the return of Act II Managing Partner, Danny Mininni, to the stage, with his portrayal of the crotchety and hilarious "Mr. Mushnik." With its delightful cast and toe-tapping music, Little Shop of Horrors is a must-see this season!
Reviews:
"Act II Entertainment Stages brought on the new Season 6 tonight with Another Smash Hit. "Little Shop of Horrors" directed by the Amazing Alfonso López. Joey Martinez, plays Seymour with Such Awesome Talent. Along with the Sultry, Maria Rose playing the role made for her, Audrey. Of course, the Break Out Star has to be Danny Mininni as the down on his luck, Mr. Mushnik. Taking the audience by surprise were the awesome Trio back-up singers comprised of Eli Estrada, Sasha del Oceano and Ximena Pena. You Ladies Rocked the house. Of course you have to have the Sadistic Dentist, played fabulously by Alex McLauchlan and Andrew Sands as the bum on Skid Row and Puppeteer and numerous other parts throughout the play. Then the VOICE of Audrey II played magnificently by Shawn Morgan. All the behind the scenes players, the Choreography, the Set, Costumes, Lighting are Awesome. One of the Most Creative Set Designs I have ever seen. What more can I say, except Get Your Tickets ASAP as this will be a sold out hit." - David Wilhoit
"At the end of every season, you ask yourself how can ACT II possibly top that. And every new season, you are blown away as they do. Like tonight, as they launched their 6th season with Little Shop of Horrors. The sets, costumes, casting, staging, lighting were another tour de force by Alfonso López. Maria Rose and Jose Ramon Martinez together with Danny Mininni and the rest of the cast were uplifting. This is bound to be the hit of the season. Congratulations to all!" - Tom Berns
"What a great show. Everyone should be so proud of themselves. The show was an absolute delight. Thanks for entertaining us!" - Karen Erp
"It was all wonderful. Great job!" - Rick Decarlo
"Loved loved loved it!" - Pam Hoffman
"We so loved the show last night!! Many many congratulations!" - Diane Walsh
"Truly exceeded my expectations It was amazing!" - Karen Erp
Following is a list of all of the shows playing at STAGES this week, as well as a description of opening night shows! For additional show information, or to buy your tickets, please visit our website, act2pv.com.
THIS WEEK'S LINEUP OF SHOWS
Friday, November 9
"I Will Always Love You," starring Diana Villamonte - 7:30 pm
Saturday, November 10
"Little Shop of Horrors" - 7:00 pm
"Triple D," starring Mama Tits - 9:30 pm
Sunday, November 11
"Nunsense, Amen!" Opening Night Party 6:00 pm/Show 7:00 pm
"Best of ABBA & Elton" Opening Night Party 6:00 pm/Show 7:30 pm
Monday, November 12
"More Motown & Beyond," starring Diana Villamonte, 7:00 pm
"Triple D," starring Mama Tits - 9:30 pm
Tuesday, November 13
Steve Grand - Opening Night Party 8:30 pm/Show 9:30 pm
Wednesday, November 14
"Little Shop of Horrors - 7:00 pm
Us Two 'Country' Opening Night Party 6:30 pm/Show 7:30 pm
Thursday, November 15
"Little Shop of Horrors" - 7:00 pm
Steve Grand - 7:30 pm
Hedda Lettuce - Opening Night Party 8:30 pm/Show 9:30 pm
Friday, November 16
"I Will Always Love You" - 7:30 pm
Hedda Lettuce - 9:30 pm
SHOWS OPENING THIS WEEK:
"Nunsense A-Men!"
Act II's Hit Summer Sensation Musical Returns!
Produced by Act II Entertainment
Directed by Alfonso Lopez
Opening Night: Sunday, November 11 - 7:00 pm
Open Run: Every Sunday - 7:00 pm
(*Dark Sunday, December 23)
After an irrefutably positive response to its preview last Spring, Act II brings back this hilarious, Off-Broadway smash hit, with its five MALE musical comedy performers! This "unholy" version features uproarious horseplay and side-splitting jokes that are performed by some of PV's finest actors, Bert Ramirez, Shawn Morgan, José Jasso, Roberto Gomez, and Al Carswell.
Check out their video, #sheNUNigans,
to see them parasailing, racing down the Malecon on Segways and experimenting with tequila... All in full habits! The Act II nuns are always up to something new and irreverent! Directed by Alfonso López and choreographed by Steven Retchless,
"Nunsense A-Men!"
is the kind of show that picks you up and shakes you around and makes you want to dance. What more could you want from a musical than passion and laughter and fun? This is a show not to be missed at Act II Stages!
"The Best of ABBA & Elton"
A musical tribute to ABBA and Elton John
featuring Us Two and their Live Band
Opening Night: Sunday, November 11 - 7:30
Open Run: Every Sunday - 7:30 pm
UsTwo presents a musical tribute to the timeless music of two unforgettable acts which began in the 70's, ABBA and Elton John. UsTwo will perform songs that you remember, such as Mama Mia, Dancing Queen, Chiquitita, Sad Song, Candle in the Wind, Rocket Man, and more. Their repertoire changes with each performance, but these amazing vocalists (and their live band) will treat you to an unforgettable evening of music.
ABBA, with its flamboyant costumes and catchy music, is considered to be one of the top musical groups in history, having sold over 500 million albums. Elton John first became famous for his oversize glasses and outrageous outfits, but his enduring popularity and incredible talent have earned him five Grammy awards, induction into the Rock 'n Roll Hall of Fame, and sales of over 300 million albums. Together, these two acts epitomized the soft rock/pop musical sounds that became hugely popular in the 70's, and is still loved around the world today.
"I Ain't Done Yet"
Featuring Steve Grand, Openly Gay Internet Sensation and Recording Artist
Opening Night: Tuesday, November 13 - Party 8:30 pm / Show 9:30 pm
Continuing Shows: November 13, 20, 27 - 9:30 pm
November 15, 29 - 7:30 pm
Steve Grand returns to the Red Room for a 3-month run this year after his extremely successful string of shows last season! 100% OF HIS SHOWS WERE SOLD OUT!! In 2013, Grand uploaded a music video to YouTube for his song, "All American Boy." It immediately went viral, and within 8 days, he had over 1,000,000 views! It tells the story of unrequited love between a young man and his heterosexual male friend. As a result, this openly gay artist was lauded as a trailblazer in the entertainment world and he has had appearances on
Good Morning America, CNN, Larry King Now,
and other national outlets where he has used his platform to advocate for Human Rights and LGBT Equality.
Grand's songs are a living testimonial of the trials and tribulations that he experienced as he came to the realization that he was gay. He started writing his songs at age 11 as a way to understand and express himself. People have always related to his music, because each song was written about a specific moment or time in his life. Many of his songs express the pain of going through a brutal breakup with his long-term partner. "I tried to be as brutally honest as I could be in my songs," Grand said. "People have told me it's [sometimes] hard to listen to [my songs] because they feel what I'm feeling. It's painful, but it's still beautiful." That is why he is loved by so many and also why his shows sell out every night!
"Gringa In Paradise"
Hedda Lettuce's smorgasbord of live comedy, songs, and stand-up improvisations
Opening Night: Thursday, November 15 - Party 8:30 pm / Show - 9:30 pm
Continuing Shows: Every Thursday & Friday - 9:30 pm
Hedda Lettuce, the six-time Drag Queen of the Year Award-winner (HX magazine) and the legendary "green goddess" of drag, is excited to return to Puerto Vallarta for her FOURTH "sold out" season! Her show, this year, is a loving send-up to her favorite town... Puerto Vallarta! Hedda will glamorize another season as she dishes out a tossed salad of improvisational comedy, sultry songs, and dazzling gowns. (And it's entirely fat-free!) She will gladly engage you in a night of storytelling, bawdy and biting wit, spontaneous comedy, and live (not lip-synched) singing! Her show includes her nationally-acclaimed original comedic music that is peppered with parodies of old time favorites and startling satire. Hedda Lettuce is one of New York City's premiere drag queens and keeps the audience screaming with laughter for the entire show!
MORE SHOWS...
Diana Villamonte's "I Will Always Love You"
A Musical Tribute to Whitney Houston, featuring PV's #1 Star
Produced by Act II Entertainment
Every Friday in November at 7:30 pm
This year, we are thrilled to announce that Diana, along with director Alfonso López, has created yet ANOTHER sensational hit show, "I Will Always Love You," a musical tribute to Whitney Houston! Diana, with her powerhouse voice and infectious personality, is the perfect singer to take on the iconic Whitney (her lifelong inspiration). The highlight of Diana's show last year was when she previewed some of her Whitney Houston songs, often having most audience members in tears. Diana blew the audience away, and her fans begged for a whole show of Whitney's songs!
Reviews:
"Act II Entertainment Stages and The Red Room Cabaret have another Hit on its list of shows not to miss. Directed by the Amazing Alfonso López, they have brought to life a tribute to Whitney Houston through the very beautiful and talented, Diana Valeria Villamonte! There were laughter, screams of delight and some tears brought forth as Diana Valeria Villamonte showcased her Amazing Voice and Huge Talent. And of course numerous Standing Ovations. Along with her awesome backup singers, Carla, Tony and Hannah, they brought the life and glamor of Whitney Houston back with Class. Another surprise came to the stage which was graced with a very talented saxophone player as he backed up Diana Valeria Villamonte. Check act2pv.com for dates and tickets to see this Awesome Talent and Show. Also don't forget Diana Valeria Villamonte also has another show, "Motown and Beyond" that is Unbelievably Terrific." - David Wilhoit
"Diana Valeria Villamonte opened her new show I Will Always Love You, a tribute to the best of Whitney Houston. From the first moment, we were thrilled with spine-tingling chills." - Gary Beck
Mama Tits's All New Show - "Triple D"
Starring Puerto Vallarta's beloved 6'7" POWERHOUSE, Mama Tits!
Open Run: Every Monday & Saturday at 9:30 pm
After her record-breaking year as one of the Top Headliners of the illustrious Red Room Cabaret, Mama Tits is thrilled to return to Act II for her fourth hit season! This year she is back with her raw and witty take on life, sex, relationships and living your truth. Mama Tits weaves her soulful live singing with her stories and comedy into one big joyride of a show, with a strong message of love, emotion and positive reinforcement, (not unlike her trusty underwire bra)! Jazz, blues, pop, rock and Broadway round out this year's eclectic selection of songs.
"DDD was fabulous Diva Divine Delightful. This woman can sing ...there is no lip synching happening here and her music director piano man kills it! You will feel like you had an intimate Vegas night out! The staff treats you like family with free snack appetizers in the lounge ... Mama greeted everyone after the show! The stairs are worth the climb to see the stars! Fabulous night." - 5 out of 5 stars on TripAdvisor
Us Two - The Classics Show
Winner - 2017 Best Band Award!
Open Run: Every Wednesday at 7:30 pm - A New Show Every Week!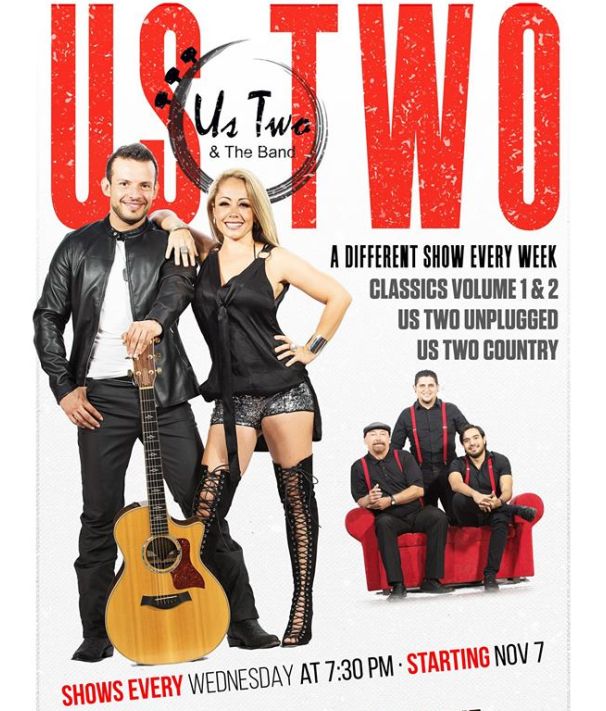 Never before has Act II witnessed such loyalty from fans who discovered UsTwo at Act II Entertainment! With more TripAdvisor 5 star reviews than any other PV performers, fans have been known to attend an UsTwo show every week! With that in mind, this year, Us Two's Wednesday night show features a different show every week, with a total of four different shows per month! Known for bringing the classics that you love the most back to life, Us Two will feature a Classics, Volume I and Classics, Volume II, because how can you fit all of that great music into one show? Other shows will include Country Week and the intimate "Unplugged" show. But no matter what the genre is, Us Two always brings you music from the 70's, 80's and 90's in the form of song and dance, rock and roll, fun and games and humor and chat, all bundled into a 90-minute Vegas-style show! This week is 'Country Week,' featuring music by Shania Twain, Garth Brooks, Jimmy Buffet, Kenny Rogers, Linda Ronstadt, John Denver, Allan Jackson, Dolly Parton and much, much more...
Diana Villamonte "More Motown & Beyond"
All new Songs, with all the same talent!
Directed by Alfonso Lopez
Every Monday in November at 7:30 pm
Panamanian Beauty and TV Star, Diana Villamonte, returns for her second amazing season with Act II's #1 hit show, "More Motown and Beyond!" This is an all-new show in English, paying respect to the great ladies (and a few of the boys) of Motown (and beyond), with a special tribute to Aretha Franklin, as well as Diana Ross, Shirley Bassey, Whitney Houston, Anita Ward, Etta James, Nina Simone, Aretha Franklin and Donna Summer. Get your tickets quickly! This show sold out almost every night during the last season!
"I am nearly speechless although I have seen her shows over seven times. 'More Motown' continues the string of truly mind-blowing sounds. I felt like I was dreaming. She is going to go so far." - Gary Beck
Act II is very proud of its talent this year and invites you to come and experience one (or two or three) shows for yourself! Puerto Vallarta has become an "entertainment destination," and Act II represents a BIG PART of the entertainment scene!

Tickets to all shows can be purchased online at actiientertainment.com, at the box office, which opens daily at 12:00 noon, or at the 2nd Box Office location, across the street from Garbos on Pulpito Street in the Romantic Zone.
The Act II Entertainment STAGES complex is located on the corner of Insurgentes and Basilio Badillo on the South side of Puerto Vallarta. For more information, call (322) 222-1512, or follow Act II on Facebook. Click HERE to see what else is playing at Act II STAGES.