Puerto Vallarta, Mexico - December 21st, 2018 marks Claire and Joe Guarniere's 30th year of doing business in Puerto Vallarta. Many of you will remember their Italian restaurant "Pizza Joe" which was in operation for seven years, and in 1995 they opened Galleria Dante, the largest and most eclectic art gallery in Puerto Vallarta.
The success this American-Canadian couple has achieved in Puerto Vallarta proves that amazing things can happen when you love what you do, who you do it with, and do it very well. And no one has worked harder or smarter over the years than Joe and Claire, who've been dedicated to an exciting shared path since marrying here in the 1980s.
"We couldn't have done it without the support of local artists and collectors, as well as the many wonderful people who have visited our fair city, who patronized us and recommended us to family and friends. Thank you to all for the friendship you gave our family and our staff over the past 30 years," says Claire.
While you are out doing this week's South Side Shuffle, be sure to stop by Galleria Dante, where a cocktail reception will open three artists' exhibitions in celebration of the Guarniere's 30 year anniversary. Come meet the artists, view their works, and enjoy complimentary cocktails on Friday, December 21 from 6:00-10:00 pm.
Ignacio Guerrero
"Stop scratching the walls!" was the phrase his mother scolded him with most consistently in his childhood and of which he still remembers fondly. Even though he knew he would be punished, he continued to paint on the walls. Born on December 4, 1963 in Guadalajara, he is essentially a self-taught artist. He displayed an interest in drawing and painting from childhood. After obtaining a degree in graphic design at the University of Guadalajara, he achieved the post of art director for several prestigious advertising agencies in the city, as well as illustrating for numerous magazines and newspapers. Nevertheless, he subsequently left the world of advertising to devote himself to painting; something that he feels gives him total freedom of expression.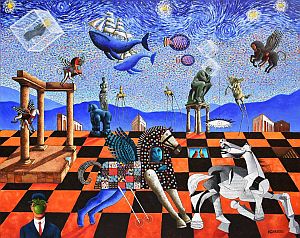 His work, which is surrealist in quality, has been exhibited more than 100 times in Mexico and abroad, in places as distant as Portugal, Italy, Australia and New York. And has to his credit many awards and special recognitions. In 2017, his work was selected to participate in the international Biennial of contemporary art in Florence, Italy.
"Paint until you drop," says Ignacio; "or until there is nothing more to say to the canvas". The fun surreal dream-world of Ignacio Guerrero, conjures up hiding places along the road to the impossible; the flight of a bird, cages, horses galloping with energy, mermaids, men and women in full, quasi-Kafkaesque, metamorphosis show familiar elements in this strange world produced from the depths of his acrylic and oil embedded brushes which create the poetry of his paintings. Everything that is observed is a game, a wonderful set of tones and textures. Motivated by fantastic muses, his pictorial work celebrates the life and obliges us to look at something that has not stopped being here, but we often forget: the harmony of nature.
Ignacio's last solo show at Galleria Dante was 2013, and they are very excited and proud to present his newest works. "The theme of this exhibition, Un Mundo Raro - A Rare World, is a humble tribute to the imagination of artists in the history of painting, a tribute to their particular vision of the world, where I took elements of their most famous works - how you can appreciate - and I combined them on the canvas with some of my characters and landscapes characteristic of my own creation," says Ignacio, who looks forward to sharing his latest creations with you on the 30th Anniversary of Galleria Dante during this week's South Side Shuffle.
Oscar Zamarripa
Born in Guadalajara in 1949, Oscar's career as an artist started some 48 years ago. He studied in the Fine Arts school at the U of G, where he received the Luis Echeverreia medal for the best student of sculpture. He is in a constant quest for perfection, working up to 20 hours a day.
Spring 2014 marked a highlight in his career, every artist's dream, to be invited by a prestigious museum to exhibit! The MUSA (Museum of the Arts) in Guadalajara had the honor of inviting Oscar to a beautiful exhibition of his works. It was a memorable evening and the show lasted 2 months.
Over the years, his admirers have been in awe as he's jumped between mediums: bronze, silver, resins, polymers, metal, stainless steel, wood, granite, alabaster, onyx, petrified wood, semi-precious stones, ceramic, found objects and stained glass. We marvel at his exquisite, elaborate textures, elegant curves, use of color.
He is a master of the ancient technique of estofado, which involves a special paint finish over silver & gold lead that has been applied to finely chiseled wooden used within the Catholic church for centuries Oscar always personalizes his "one of a kind," two-sided sculptures with his unique style of 'magic realism.' Every sculpture has a story, every story includes a time and place in the memories of Oscar, past and present. "For me it is very important not to forget my childhood experiences, so I have recorded them into my sculptures. They are stories that I would like to share with others," he says.
To know Oscar is to love him. He has joy in him, as do his sculptures. You rarely meet anyone who is such a nice person, hard worker and so talented all at the same time. "My work arises from my need to share my soul with the viewer, through images of my childhood, rescuing pre-Hispanic dances and rituals, keeping them alive in time. The cultural roots of my people are recognizable in my work," Oscar explains.
The new show opening on the 30th Anniversary of Galleria Dante is a combination of sculptures in bronze, stone, wood and marble. Also, watch for the unveiling of his 10 meter sculpture (bronze and concrete) on the hill near the Puerto Vallarta International airport!
Alejandra Zamarripa
Born in 1975 in Guadalajara, Alejandra is one of two daughters born to Rosa and Oscar Zamarripa. She was raised in a family of artists. Her mother a dancer, her father a set designer and long time sculptor and painter.
Many of her aunts and uncles are artistic, so she was raised surrounded with artistic stimulation. Ale herself teaches ceramics to a small group of friends. She has always explored other mediums working in silver and bronze as well.
After graduating with a degree in Architecture, and working for many years, Ale found herself drawn back to sculpting. Faced with a lull between architectural projects, what started as a moment of boredom and lack of work in her trade fired up her passion and confidence in ceramics.
For her exhibit, Ale presents both bronze and ceramic sculptures. Alejandra has a wonderful sense of color and attention to detail. Her first exhibit was in 1999 in Tlaquepaque. Her first exhibit in Puerto Vallarta was in 2003 at Galeria Uno, alongside her famous father.
Ale has a new kiln, so this show is a combination of ceramic & bronze sculptures, both free standing and wall mounted. This will be the 9th time she has exhibited in Vallarta. How can one family have so much talent? This father / daughter duo will not disappoint you.
Make plans now to stop by Galleria Dante on Friday, December 21 from 6-10 pm. While you are there, be sure to check out Di Vino Dante, a chic wine and tapas bar overlooking the gallery's sculpture garden that serves creative cuisine and cocktails. Last summer, Di Vino Dante opened a small dining area on the ground floor in a corner of Galleria Dante, for those who like to people watch. Please Note: Di Vino Dante does not take reservations on South Side Shuffle nights.

Open Mon-Fri from 10 am to 5 pm and from 10 am to 2 pm on Saturdays, Galleria Dante is located at Basilio Badillo #269 in Puerto Vallarta's Romantic Zone. For more information, click HERE, call (322) 222-2477, or send an email to galleriadante2(at)gmail.com. To see some of the art work on display at the gallery, visit GalleriaDante.com.