Breaking News: Nicolas 'Nick' Gomez will also be exhibiting his latest art works at Galleria Dante as part of this week's South Side Shuffle. Click HERE to learn more about Nick, and be sure to stop by and meet both artists, view their works, and enjoy complimentary cocktails on Friday, December 14 from 6-10 pm.
Puerto Vallarta, Mexico - On Friday, December 14 from 6-10 pm, a cocktail reception will open an art exhibition by Mexican artist Emilio Rama at Galleria Dante, Basilio Badillo #269, in Puerto Vallarta's Romantic Zone. Be sure to stop by and meet him while you're out doing next week's South Side Shuffle.
Born in the city Obregon, Sonora, and a resident of Queretaro for many years, Emilio now resides in Vallarta. A self-taught artist who formed his talent through his participation in workshops with international artists such as Patrick Petterson, Rafael Rodriguez, Gustavo Villegas, Marco Lamoyi and Ramses de la Cruz among others, Emilio has participated in many other art and philosophy courses.
His works are not merely a protest banner, but rather a funny face, rich in textures and aesthetic in color, as well as in shapes, that depict the confrontation between the honesty and the respect that is needed to make delicate pieces of origami - they confront the corporate image of the large transnationals and images of characters from mass media.
Emilio became very interested in the cultural differences between the American corporations and the Japanese. He started wondering how to put face to face, both different sides of the coin, and that is how he got involved in the origami project named "Honor y Decadence." The main idea of this project was to find a Japanese icon that represented honor and respect versus the occidental culture of massive consume, such as logos, pop characters, brands.
After some research, Emilio found origami, a paper folding art consisting of making animals and objects from nature without scissors, glue or paint. This technique requires honesty and dedication in order to be successful. His work always tries to send a social message about the way we are as a society, but it also tries to be an artistic piece that could be part of the life of collectors.
"I've been playing with nostalgic feelings using popular characters from our first years as a child. As humans, we need to express ourselves, and art is the most sublime way to accomplish this. In search for expressing my ideas, I have experimented with different graphic techniques, such as engraving, painting, drawing and photography," he says.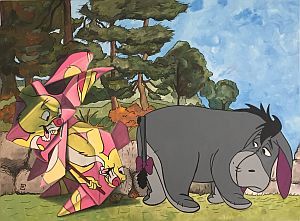 "In each work that I produce, I try to give a message that reaches the consciousness of people. I am very interested in theme of the decadence of our modern society, but also the unsettling feeling of how small our world is in comparison with the universe. Our society nowadays is more concerned about the things that keep them entertained so they won't have the time or the interest for going deeper into themselves. We go through life working and living day-to-day, without taking time to analyze our existence or the pursuit of happiness. As an artist, I have the obligation to produce works with a critical message that sets the spectator into a context of deeper analysis of current issues that should interest our modern society. The emptiness of our generation is caused by the appreciation of material things which have become the engine of an increasingly poorer and more lonely society; being aware that the fight cannot be won, it encourages me to imprint messages that do not fit only for decoration, but they are appreciated by the background of the work."
Emilio was awarded the Apoyarte art program from the Culture Secretary, honored with a mention in the last Biennial of the Constitution anniversary. He was selected in the I Biennial of Art Queretaro Santangel, as well as beneficiary to the program of promotion to artistic creation by the Institute of Culture and Arts of the state of Queretaro. He has exhibited in galleries in Mexico City, Oaxaca, San Miguel de Allende, Querétaro, Monterrey, Puerto Vallarta and Los Angeles.
Don't miss your chance to meet this talented young man, who in his spare time is an avid cyclist, at Galleria Dante while you are out doing the South Side Shuffle on December 14 from 6:00 to 10:00 pm.
While you are there, be sure to check out Di Vino Dante, a chic wine and tapas bar overlooking the gallery's sculpture garden that serves creative cuisine and cocktails. Last summer, Di Vino Dante opened a small dining area on the ground floor in a corner of Galleria Dante, for those who like to people watch. Please Note: Di Vino Dante does not take reservations on South Side Shuffle nights.

Open Mon-Fri from 10 am to 5 pm and from 10 am to 2 pm on Saturdays, Galleria Dante is located at Basilio Badillo #269 in Puerto Vallarta's Romantic Zone. For more information, click HERE, call (322) 222-2477, or send an email to galleriadante2(at)gmail.com. To see some of the art work on display at the gallery, visit GalleriaDante.com.