Puerto Vallarta, Mexico - Act II Entertainment is making the Christmas season shine brighter with a dazzling lineup of internationally famous stars and blockbuster shows that will fill your holidays with delight, laughter and good cheer.
The festivities kick off with the return of Voice of Mexico 2018 runner-up, Diana Villamonte, who will perform two special Christmas Week shows on December 21 & 28 at 5:00 pm, and Emmy-Award winning star Jai Rodriguez from TV's Queer Eye for the Straight Guy, whose 3-show run opens at 7:30 pm on Christmas Day.
OPENING CHRISTMAS WEEK AT ACT II STAGES
Act II Superstar & TV Personality Diana Villamonte in Concert
'La Voz 2018' Runner-Up Presents Two Special Celebration Shows
Fridays, December 21st & 28th - 5:00 pm
Diana Villamonte, PV's #1 songstress and world-famous television star, returns to Puerto Vallarta after slaying the competition in The Voice of Mexico 2018, finishing as first runner-up! We are so proud of her! We always knew she was OUR super-star, but now, the world knows it, too!
It was so much fun watching Diana in this televised competition, and we have had many requests from people who are in town for the holidays that have begged to see Diana's show! So we have added TWO special celebration shows in December to celebrate her huge success! Diana will perform songs from all three of her popular shows, More Motown & Beyond, I Will Always Love You, and songs from her triumphant run on La Voz de Mexico. We are so excited to welcome her home and invite you to join us at one of these special Christmas week shows! Tickets are available now at act2pv.com!
"Straight Outta Queer Eye," featuring Emmy Award-winner, Jai Rodriguez
Tuesday, December 25th - Opening Night Party 6:30 pm/Show - 7:30 pm
December 26 & 30 - 9:30 pm
Act II is absolutely thrilled that singer/actor/Emmy Winner, Jai Rodriguez, is returning to The Red Room stage on December 25! What a Christmas present! He will present a brand-new show, Straight Outta Queer Eye, which is an R-rated "Glee" version of his life. Jai says, "This show will be just me and my piano, with Top 40 and musical theatre songs in between stories about my life." He begins the show by saying, "I will be totally honest during the show." Funny, shocking & surprising truths about a guy you think you know!
Jai is one of Act II's most prolific performers! He is best known for his Emmy-winning role in Bravo TV's ground-breaking
Queer Eye for the Straight Guy,
the first all-gay cast in TV history! He has appeared on Broadway in
Rent, The Producers, Spinning into Butter,
and
Zanna Don't.
In the past few years Jai returned to TV in dramatic roles on
Detroit 187
and
Days Of Our Lives, How I Met Your Mother,
and more.
A dynamic vocalist, Jai has had the honor of sharing the stage with musical legends Kelly Clarkson, Gladys Knight, Patti Labelle, Brian McKnight, Taylor Dayne, and Michelle Williams. He was also featured in Lady Gaga's video, "Telephone," featuring Beyoncé. He continues to develop his professional musical endeavors both in and out of the recording studio and has performed his one-man shows XPOSED, My Truth, and Dirty Little Secrets in Los Angeles, Miami, San Diego and New York, and has appeared in "Sex Tips for Straight Women from a Gay Man," opposite Kendra Wilkinson at the Paris Casino in Las Vegas.
But besides all of that acting and singing and dancing, Rodriguez is also an activist. He's dedicated himself to educating the Latinx community about HIV and AIDS, teaming up with Positively Fearless to spread the word. All that success and he really is a nice guy, too! This is a show NOT to be missed during the Christmas holidays!
From stage plays and musicals, to cabaret, drag shows, and concerts, there is something for everyone! As the ONLY 5-STAR venue in town, Act II brings you THE BEST OF THE BEST! Celebrating their 5-year anniversary, this is their biggest and best season ever! Many people actually plan their vacations around Act II's shows! Act II is extremely grateful to the HUNDREDS of patrons that have written 5-star reviews about the venue and its shows!
If you haven't lived the "Act II Experience," now's the time to do so! Take a look at the reviews and the schedule of this week's shows below, then visit act2pv.com to get your tickets TODAY!
"Best Shows in Puerto Vallarta! We have been going to shows here for years and have watched them grow from a modest showroom/theatre into a first class venue. The shows are AMAZING. Danny has created a great venue with great service. Can't wait to see everything this coming season." - CDAinPV on TripAdvisor, 11/14/18
CHRISTMAS WEEK SHOWS AT ACT II STAGES
Friday, December 21
Diana Villamonte "The Concert" - 5:00 pm
"Cinderella, The Musical" - 7:00 pm
Steve Grand, "Not the End of Me" - 7:30 pm
Hedda Lettuce, starring in "Gringa in Paradise" - 9:30 pm
Saturday, December 22
"Little Shop of Horrors" - 7:00 pm
"Twist & Shout," song, dance and schtick, celebrating music of the 50s and 60s - 7:30 pm
Mama Tits, starring in "Triple D" - 9:30 pm
Sunday, December 23
"Cinderella, the Musical" - 3:00 pm
"Best of ABBA & Elton," starring Us Two and their LIVE BAND - 7:30 pm
Delighted Tobehere, starring in "She Haw" - 9:30 pm (Bonus Show)
Monday, December 24
Steve Grand, "Not the End of Me" - 7:30 pm (Bonus Show)
Mama Tits starring in "Triple D" - 9:30 pm
Tuesday, December 25
Jai Rodriguez, "Straight Outta Queer Eye" Opening Night Party 6:30 pm/Show 7:30
Steve Grand, "Not the End of Me" - 7:30 pm
Wednesday, December 26
"Little Shop of Horrors" - 7:00 pm
Us Two, "Unplugged" - Acoustical Show, Noemi & Daniel & his acoustic guitar - 7:30 pm
Jai Rodriguez, Emmy Award-winning star of "Queer Eye for the Straight Guy" - 9:30 pm
Thursday, December 27
"Little Shop of Horrors" - 7:00 pm
Steve Grand, starring in "Not the End of Me" - 7:30 pm
Hedda Lettuce, starring in "Gringa in Paradise" - 9:30 pm
Friday, December 28
"Cinderella, The Musical" - 7:00 pm
Steve Grand - "Not the End of Me" (Bonus Show)
Hedda Lettuce, starring in "Gringa in Paradise" - 9:30 pm
CONTINUING SHOWS AT ACT II
"Little Shop of Horrors"
A Cult Musical/Horror Comedy
Produced by Act II Entertainment
Directed by Alfonso Lopez
Wednesdays, Thursdays & Saturdays at 7:00 pm (through December)
One of Off-Broadway's most popular cult musicals,
Little Shop of Horrors
is the hilarious tale of a down-and-out Skid Row floral assistant, the girl he loved, and a strange new, man-eating plant threatening to tear their world apart. This cult classic was one of the longest-running Off-Broadway shows and has become a household name thanks to a highly successful film version and a fantastic musical score! For the past 30 years, people just can't get the catchy music out of their heads!
Directed by Alfonso López, the uber-talented director of "Rocky Horror" last year, this beloved horror/comedy/rock/musical is another first-class production at Act II and brings back the sounds and ambiance of the rock 'n' roll era. It stars many of your favorite Act II actors, plus some wonderful new faces, including Maria Rose, Joey Martinez, Alex McLauchlan, Andrew Sands, Shawn Morgan, Eli Estrada, Sasha del Oceano, and Ximena Peña Esparza. It also features the return of Act II Managing Partner, Danny Mininni, to the stage, with his portrayal of the crotchety and hilarious "Mr. Mushnik." With its delightful cast and toe-tapping music, Little Shop of Horrors is a must-see this season. "Little Shop of Horrors" is still breaking box office records making 2018 the most successful year on record. Only 2 more weeks of the full run, get your tickets Now!
"Fantastic, fun and magical. A intimate venue with a very talented cast. Highly entertaining. I highly recommend going to see this." - Scott R, 11/21/18
"ACT II has done it again! Surpassed themselves. WOW! what a Terrific Show!" - afield2015 Milwaukee, Wisconsin on TripAdvisor, 11/17/18
"Best show ever in Puerto Vallarta. A must see, amazing talent and set design. Would love to see it again." - Michelle S on TripAdvisor, 11/17/2018
"Nunsense A-Men!"
This year's Funniest Musical... Bar Nun! (Pun intended!)
Produced by Act II Entertainment
Directed by Alfonso Lopez
Every Sunday at 7:00 pm (*No show on December 23)
After an irrefutably positive response to its preview last Spring, Act II brings back this hilarious, Off-Broadway smash hit, with its five MALE musical comedy performers! This "unholy" version features uproarious horseplay and side-splitting jokes that are performed by some of PV's finest actors, Bert Ramirez, Shawn Morgan, José Jasso, Roberto Gomez, and Al Carswell.
Check out their video, #sheNUNigans,
to see them parasailing, racing down the Malecon on Segways and experimenting with tequila... All in full habits! The Act II nuns are always up to something new and irreverent! Directed by Alfonso López and choreographed by Steven Retchless,
"Nunsense A-Men!"
is the kind of show that picks you up and shakes you around and makes you want to dance. What more could you want from a musical than passion and laughter and fun? This is a show not to be missed at Act II Stages!
"It just keeps getting better! On this trip my husband and I attended 3 shows... Nunsense, Diana Villamonte and Little Shop of Horrors. All were very different and wonderful! I am happy to see that they are expanding the number and types of shows while continuing to bring PV quality live entertainment. The service is excellent and the setting fun. Go early and listen to the music in the bar. And yes, it is for everyone... please don't feel it is only a gay venue... don't miss it!" - Connie, Long Beach, on TripAdvisor 11/16/18
Rodgers and Hammerstein's "Cinderella, the Musical"
A musical based on the fairy tale, Cinderella
Produced by Act II Entertainment
Directed by Alfonso López
December 23 & 30 - 3:00 pm
Friday - December 21 & 28 - 7:00 pm
Act II is proud to be presenting Rodgers and Hammerstein's "Cinderella," a musical based on this beloved fairy tale! In Act II's inimitable style, co-producers Danny Mininni and Alfonso López add some hilarious twists and turns to this magical and much-loved story. In fact, it is the perfect family show. With its iconic and memorable music, the little ones in the audience will be enthralled and the adults will enjoy the irreverent and sometimes unexpected humor. Featuring MaryJo Nelson in the role of Cinderella, this crowd-pleasing, old-fashioned (with new twists) musical is a winner!
"I would highly recommend attending the production of Rodgers and Hammerstein's Cinderella at Act II Entertainment for a quality evening's entertainment while in Puerto Vallarta. The show is well produced with innovative sets and costumes. The cast is well rehearsed for a seamless presentation. The quality of the singing is outstanding. This will be an evening to remember on your visit to Puerto Vallarta." - chegi2018, on TripAdvisor, 12/2/18
"Twist and Shout"
Music and Dance from the 50's and 60's
Produced by Act II Entertainment
Directed by Alfonso López
Every Saturday at 7:30 pm
Act II is pleased to announce a brand new 50's and 60's show, "Twist and Shout," featuring musical hits from the 50's and 60's. The dynamic duo, Pedro Islas and Faride Talamás perform many of the songs that you love...
I Wanna Be Loved By You, Can't Take My Eyes Off of You, Be My Baby, Lollipop, I Only Want to Be With You, Twist and Shout,
and more! This show has a unique format and is full of singing, comedy, and dancing to the rhythms that changed the world!
"Twist and Shout" Reviews
"Saw Twist and Shout last night in The Red Room at Act II. So much fun. Music from the 50's and 60's with the premise of the two final contestants of a singing contest. The audience was laughing, cheering and singing along. Great addition to Vallarta nightlife." - Rick DiCarlo 11/25/18
"Twist and Shout was AMAZING! Great singing, great dancing and great concept! A must see!" - Bert Ramirez, Puerto Vallarta
"Twist & Shout had more heart than I've seen in a long time. Excellent and talented performers who gave 1000%!" - Dave Mohr
Steve Grand - "Not the End of Me"
Featuring Steve Grand, Openly Gay Internet Sensation and Recording Artist
Shows sell out fast, so get your tickets now at act2pv.com
Monday, December 24 - 7:30 pm (Bonus Show)
Tuesday, December 25 - 9:30 pm
Thursday, December 27 - 9:30 pm
Friday, December 28 - 7:30 pm (Bonus Show)
Steve Grand returns triumphantly to the Red Room for a 3-month run, after his extremely successful string of shows last season! 100% OF HIS SHOWS WERE SOLD OUT!! In 2013, Grand uploaded a music video to YouTube for his song, "All American Boy." Immediately, it went viral, and within 8 days, he had over 1,000,000 views! The song tells the story of unrequited love between a young man and his heterosexual male friend. As a result of his notoriety, this openly gay artist has been lauded as a trailblazer in the entertainment world and has appearanced on Good Morning America, CNN, Larry King Now, and other media outlets where he has used his platform to advocate for Human Rights and LGBT Equality.
Hedda Lettuce - "Gringa In Paradise"
Winner Funniest Drag show 2017 - 2018
Hedda Lettuce's smorgasboard of live comedy, songs, and stand-up improvisations
Every Thursday & Friday - 9:30 pm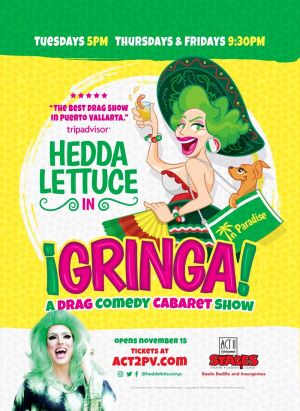 Hedda Lettuce, the six-time Drag Queen of the Year Award-winner (HX magazine) and the legendary "green goddess" of drag, is excited to return to Puerto Vallarta for her FOURTH "sold out" season! Her show, this year, is a loving send-up to her favorite town... Puerto Vallarta! Hedda will glamorize another season as she dishes out a tossed salad of improvisational comedy, sultry songs, and dazzling gowns. (And it's entirely fat-free!) She will gladly engage you in a night of storytelling, bawdy and biting wit, spontaneous comedy, and live (not lip-synched) singing! Her show includes her nationally-acclaimed original comedic music that is peppered with parodies of old time favorites and startling satire. Hedda Lettuce is one of New York City's premiere drag queens and keeps the audience screaming with laughter for the entire show!
"HEDDA LETTUCE! My Queen! I met a very nice gentleman on the beach who told he was Hedda Lettuce and that I should check out his show at Act II Stages. I did and I am in love with this drag queen! Very funny, creative, quick come backs and one-liners. She had the audience gagging and sometimes gasping for air from beginning to end. Funny, unapologetic, witty, great singer and from what I gathered a great human being. Do not miss this show!" - Chispitaspark, LA, on TripAdvisor
"Awesome great show. I highly recommend Hedda Lettuce, she is an amazing performer." - C Sailor, Puerto Vallarta 11/15/18
Mama Tits - All new show! "Triple D"
Starring Puerto Vallarta's beloved 6'7" POWERHOUSE, Mama Tits!
Every Monday & Saturday - 9:30 pm
After her second record-breaking year as one of the Top Headliners of the illustrious Red Room Cabaret at Act II Stages, Mama Tits is thrilled to return for her fourth hit season! This year she is back with her raw and witty take on life, sex, relationships and living your truth. Mama Tits weaves her soulful live singing with her stories and comedy into one big joyride of a show, with a strong message of love, emotion and positive reinforcement, (not unlike her trusty underwire bra)! Jazz, blues, pop, rock and Broadway round out this year's eclectic selection of songs. Check out her many reviews on Trip Advisor!
US Two - "The Best of ABBA & Elton"
A musical tribute to ABBA and Elton John, featuring UsTwo and their LIVE BAND
Every Sunday - 7:30 pm
UsTwo presents a musical tribute to the timeless music of two unforgettable acts which began in the 70's, ABBA and Elton John! UsTwo will perform songs that you remember, such as Mama Mia, Dancing Queen, Chiquitita, Sad Song, Candle in the Wind, Rocket Man, and more. Their repertoire changes with each performance, but these amazing vocalists (and their band) will treat you to an unforgettable evening of music!
"I absolutely loved this high energy show. The band consists of very talented musicians. Danny & Noemi masterfully belt out song after song and bring the audience to their feet. Such talent." - Christine P, TripAdvisor
Act II is very proud of its talent this year and invites you to come and experience one (or two or three) shows for yourself!

Tickets to all shows can be purchased online at actiientertainment.com, or at the box office, which is open daily from 10:00 am to 10:00 pm.
The Act II Entertainment STAGES complex is located on the corner of Insurgentes and Basilio Badillo on the south side of Puerto Vallarta. For more information, call (322) 222-1512, or follow Act II on Facebook.
Click HERE to see what else is playing at Act II STAGES.