Puerto Vallarta, Mexico - Exhibitions by artists Israel Zzepda and Manuel Adria open at Galleria Dante on Friday, January 11, as part of this week's South Side Shuffle. Stop by Puerto Vallarta's largest and most eclectic art gallery to meet the artists and enjoy complimentary cocktails from 6-10 pm.
Israel Zzepda
At only 47, Israel Zzepda has already been a professional artist for over 30 years. Israel's body of work is remarkably large given his age, but when you consider he became an apprentice at the age of 15 and a full-time art teacher at the age of 19, it isn't so surprising. He taught both art and fashion illustration for more than 13 years, and, as a teacher, he has influenced many young artists, including members of his own family.
With painting as the main medium of expression, Israel has participated in many individual as well as collective shows. His work has been shown in Torino and Sardegna, Italy. St. Petersburg, Russia, Baltimore, Los Angeles and states in Southern US and Canada, Guadalajara, Puerto Vallarta, Jalisco; Morelia, Michoacán; Cancun, Quintana Roo; San Miguel de Allende, Guanajuato and Mexico City.
There is a sensitivity, innocence and refined discipline about Israel. His work explores religious, spiritual, sexual and existential realms, reflecting truths and questioning established thinking, and he is not afraid to express himself. "The artist is a reflection of daily life. I want to be a chronicle of my time," says Zzepda, who seeks to reflect his own unique style and honesty in his work.
In his approach of the human figure, texture plays an extremely important role. Instead of painting photo-realistic portraits, he sacrifices the perfection of the human figure in hopes of revealing part of the shared human experience that resides within him. "We are all good and bad, we construct and we destroy, we are of light and somewhat dark, journeying daily through the streets of the planet."
Israel's imaginative capacity is, perhaps, the most dominant striking feature of his work. The viewer cannot help but be drawn in and intrigued by the thematic contents of his paintings. Some of his works appear to be recreating ambiguous and mysterious worlds often made up of strange, desolate environments while others display serene, sometimes humorous, eroticism. He also embraces notoriously religious topics, as well as ontological and metaphysical subjects.
Israel has also painted more than 1000 meters of murals, both public and private, in Cancun, Uruapan, Michoacán and Jalisco. In addition, he completed 6 murals in Sardinia, Italy in 2011, and participated in a collective show in Turin, Italy, on March 15, 2014.
Zzepda is also working on a new conceptual art project that delves into human and social justice in the setting of globalized power and its effects on ecological consciousness and human rights.
Every 6 months the gallery receives new works that over reach our wildest expectations. His latest work represents a new cycle of creative production and personal growth for Israel, and we are all very anxious to see where it leads.
Manuel Adria
In 1976, when Manuel was barely 17, he collaborated with Salvador Dali in the creation of "Sofia Saliva", performance made at the Dali museum in Figueras, Gerona. Following a series of exhibitions in Barcelona, Tarragona & Milan, he embarked for the Americas. He arrived in Mexico City in 1980 where he had the opportunity to meet other artists through the Siquieros Cultural Poliforum.
He first arrived on the art scene in Vallarta in 1985, and has worked hard ever since to leave his mark on the artistic scene of this town. He returned to Barcelona in 1988, but has resided permanently in Puerto Vallarta since 1996.
This show, entitled: "Seres fantásticos pasean mientras duermo," consists of more than 30 unpublished works product of his constant research of shapes and textures. The work of Adrià is a reflection of his own unique personality that forces you to remember fragments of a restless childhood and dreams without sense ... impregnated with color, magic and fantasy.
"The inspiration and creation of this work takes place through the expressionism or abstraction of a reality; the only way to express myself and visualize the things that surround me: people, birds, cats, dogs ... with their own energy that moves in ethereal spaces, previously nonexistent, because they appear at the moment when the brush moves and stains and illuminates the canvas. The existence of beings that emerge in those spaces, are formed by the same energy that surrounds them, compressing into small fragments of high color or heat density, allowing everything to flow in a cosmos of its own, overwhelming, naive, brazen and natural. Squinting, I let myself be carried away by old stories of old people who worked the universe, wrapped in incredible stories through time; Floods, meteorites, stars that announced an extraordinary event, The inexplicable magic of so many things that make the drum of your tribe sound, that open windows to dreams of freedom that transport you to another reality."
In the past years he has also executed murals in Barcelona, Mexico City and Puerto Vallarta. He is in numerous collections worldwide. He also completed murals in local restaurants: Café des Artistes, Vitea and the Hospiten hospital.
Don't miss your chance to meet these talented artists and enjoy complimentary cocktails at Galleria Dante during this week's South Side Shuffle on Friday, January 11 from 6:00 to 10:00 pm.
While you are there, be sure to check out Di Vino Dante, a chic wine and tapas bar overlooking the gallery's sculpture garden that serves creative cuisine and cocktails. Last summer, Di Vino Dante opened a small dining area on the ground floor in a corner of Galleria Dante, for those who like to people watch. Please Note: Di Vino Dante does not take reservations on South Side Shuffle nights.
Live Painting Performances with Yvan Genest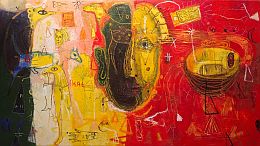 Yvan Genest is an accomplished painter whose work charms the eyes and hearts of thousands of art lovers all around the world for many decades. Since his first Mexican shows in the mid 90's, he is one of the main artists of the Puerto Vallarta art scene. Well known for his magic imagery and sense of color, but also for his original art performances, the artist will paint in the enchanted and unique decor of Gallería Dante's Garden. To watch Yvan while he paints is a show in itself, like a boat rafting or a plane looping, an acrobatic experience of the mind. Like an adventurous tightrope dancer of the arts, the painter jumps from one shade to the next, from a combination of color to its opposite. He turns the canvas upside down, again and again, switching tools, always looking for the unexpected doors or passages to his next work of art. Don't miss this rare opportunity to meet and talk with a very special and surprising artist in such a unique setting on Wednesday, January 16 from 11 am to 2 pm.
Efren Gonzalez to Offer Oil Painting Workshop at Galleria Dante
Oil Painting Workshop in January:
4 days of painting in oil. One painting each day different subjects will be done with the idea of having the students experience different situations in oil painting.
Subjects can vary from landscape, water scenes, animals, streets, groups of people, still life among others. Photographs are provided each day by Efren.
All materials included:
Canvas, paints, solvents, medium, palette, table, easel and chair. Canvas sizes: from 14" × 18" to 16" x 20" and 18" x 22"
Dates and hours:
January 22nd through the 25th
Workshops start at 9:00 am sharp each day and finish around 3:30 pm. One hour lunch break at noon. Cost per person is $400 USD.
Painting Workshops with Donna Dickson
• Acrylic Painting - January 20, 21, 22
• Watercolor Painting - January 24, 25, 26
Open to all levels of experience, these workshops focus on color mixing, composition, loosening up, simplifying and exploring painting techniques in general. Donna will be giving lots of inspiring demos while at the same time leaving lots of time for guidance while you concentrate on your own creativity. You will be painting mainly from provided reference photos. Price per class is $290 USD or $550 USD for both classes. A $100 USD deposit is required to register for the workshops, which will be held at Donna Dickson's studio in PV. For more information email donnaleeartist(at)gmail.com.

Open Mon-Fri from 10 am to 5 pm and from 10 am to 2 pm on Saturdays, Galleria Dante is located at Basilio Badillo #269 in Puerto Vallarta's Romantic Zone. For more information, click HERE, call (322) 222-2477, or send an email to galleriadante2(at)gmail.com. To see some of the art work on display at the gallery, visit GalleriaDante.com.