Puerto Vallarta, Mexico - An authentic world kitchen can be found at Daiquiri Dick's. The menu at this popular restaurant on Los Muertos Beach is always evolving, and their bi-weekly specials dinner menu makes it easy to sample cuisines from all over the world - right here in Puerto Vallarta.
For the first special menu of 2019, Executive Chef Ignacio Uribe, Chef de Cuisine Hugo Mejia and Sous Chef Rogelio Garcia have created a spectacular array of creative dishes that is being served, along with the restaurant's regular dinner menu, from 5:00 to 11:00 pm through January 15th.
Appetizers
• Cauliflower Soup with Almonds, Bacon, Fennel, Bay Leaves and Cream
• Grilled Radiccio Salad with Roasted Beets and Pomegranate Seeds
• Bruschetta with Artichokes, Goat Cheese, Cream Cheese and Smoked Trout
Main Courses
• Bacon Wrapped Herb Marinated Quail, Oven Roasted and served with Herb Salad, New Potatoes and a Roasted Grape White Wine Sauce
• Rack of Lamb with Cauliflower Puree and Green Sauce with Mint
• Spaghetti with House made Chorizo, Shrimp, Garlic and Cherry Tomatoes
Desserts
• Gingerbread Butterscotch Trifle with Whipped Cream
• Fresh Fruit Cobbler with Vanilla Ice Cream
The restaurant's super-friendly and attentive staff treats you as a family friend as you enjoy terrace, patio or beach dining. If you have an early dinner you can catch a fabulous sunset. But no matter what time you dine, incredible views of the beautiful Bay of Banderas enhance every meal.
Open daily from 8 am to 11 pm, Daiquiri Dick's offers elegant dining in a relaxed atmosphere for breakfast, lunch or dinner. Visa, MasterCard and Banamex accepted. Reservations are recommended and can be made online at ddpv.com.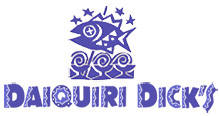 Daiquiri Dick's contemporary design exudes a quiet elegance that invites relaxation, and its tropical location at Olas Altas 314 on Los Muertos Beach offers the perfect atmosphere for enjoying spectacular views of Banderas Bay. For reservations call (322) 222-0566. For more information, visit DDPV.com.
Click HERE to read more about Daiquiri Dick's.