Puerto Vallarta, Mexico - It is time to wish Happy Valentine's Day to everyone we love. In the beginning, this day was associated with romantic couples only but in recent times the festival encompasses many more. Now, people take the opportunity to wish Happy Valentine's Day to anyone they love. It could be father, mother, siblings, friends, co-workers or just anyone special to them. The idea behind this tradition is to celebrate love, get love and give love to everyone around us.
Whether you're dreaming of a romantic evening with your significant other, or living it up with a Girls' Night Out, gather up your loved ones and head over to Los Muertos Beach on the south side of Puerto Vallarta for a superb Valentine's dinner at Daiquiri Dick's.
Executive Chef Ignacio Uribe, Chef de Cuisine Hugo Mejia and Sous Chef Rogelio Garcia have developed a sweetheart of an extra special a la carte menu that they'll be serving on February 14 & 15, 2019, and dinner is served from 5 to 11 pm. The regular a la carte menu will also be available.
Daiquiri Dick's Special Valentine's Menu
Starters
• Deep Fried Oysters Served with Horseradish Tomato Sauce
• Corn Chowder, with Roasted Poblano Chili and Shrimp
• Watercress-Arugula Salad with Orange & Mandarin Wedges and Fresh Mango Vinaigrette
Main Courses
• Duo of Grilled Medallion with Demi-Glace Sauce and Bacon Wrapped Shrimp with Passion Fruit-Tequila Beurre Blanc over Carrot Puree
• Oven Roasted Pork Osso Bucco with White Wine Sauce, served with Soft Polenta
• Spaghetti with Grilled Octopus in a Garlic - Lemon Sauce
Desserts
• Tiramisu Heart
• Warm Flourless Chocolate Cake a la Mode
This romantic beachfront restaurant also features flaming coffees and dessert martinis that'll make your Valentine's Day dinner at Daiquiri Dick's an Exceptional Experience.
Open daily from 8 am to 11 pm, Daiquiri Dick's offers elegant dining in a relaxed atmosphere for breakfast, lunch or dinner. Visa, MasterCard and Banamex accepted. Reservations are recommended and can be made online at ddpv.com.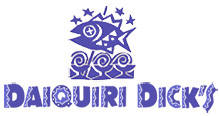 Daiquiri Dick's contemporary design exudes a quiet elegance that invites relaxation, and its tropical location at Olas Altas 314 on Los Muertos Beach offers the perfect atmosphere for enjoying spectacular views of Banderas Bay. For reservations call (322) 222-0566. For more information, visit DDPV.com.
Click HERE to read more about Daiquiri Dick's.