Puerto Vallarta, Mexico - What happens when East and West converge in the kitchen? Pacific Rim cuisine! Truly a medley of flavors, Pacific Rim cuisine combines Asian and West Coast ingredients and cooking techniques, along with cultural and culinary influences, to create new and exciting dishes.
Daiquiri Dick's is pleased to announce the (temporary) return of former Manager and Chef Hnoi Lattitham. Born and raised in Thailand, Hnoi spent over ten years cultivating the restaurant's menu with Executive Chef Ignacio Uribe.
Together they fused classic Mexican, European and American ingredients and added a spirited dose of Asian, Indian and northern African flavors to create the dishes that made Daiquiri Dick's one of Puerto Vallarta's favorite restaurants.
This weekend, Chef Hnoi will present a special a la carte dinner menu featuring Pacific Rim specialties that are being served from 5:00 to 11:00 pm through March 17th.
Daiquiri Dick's 'Dinner with Hnoi Menu'
Starters
• Spicy Northern Sausage "Sai Ouaa" with Garlicky Roasted Banana Pepper and "Chicharon"
• Roasted Japanese Eggplant Salad with Spicy Ground Pork and Mint-Lime Dressing
• Grapefruit Salad with Fresh Vietnamese Mint, Toasted Coconut, Shrimp, Shredded Chicken, Peanuts and a Coconut-Palm Sugar Dressing
Entr้es
• Grilled Korean Marinated Pork Shoulder served with Housemade Kim Chi and Steamed Korean Sweet Rice
• Steamed Fish Fillet with Pancetta, a Ginger-Soy Scallion Sauce and Steamed Jasmin Rice
• "Tom Yum" Ramen with Tempura Prawns with Soft Cooked Egg "Onsen Tamago"
Dessert
• Mango Pudding with Coconut Sauce
Long-time employees leave their mark on a restaurant. Don't miss your chance to have 'Dinner with Hnoi,' grab some friends and head to Daiquiri Dick's for an Exceptional Experience! Reservations are recommended, and can be made by calling (322) 222-0566.
Open daily from 8 am to 11 pm, Daiquiri Dick's offers elegant dining in a relaxed atmosphere for breakfast, lunch or dinner. Visa, MasterCard and Banamex accepted. Reservations are recommended and can be made online at ddpv.com.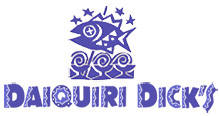 Daiquiri Dick's contemporary design exudes a quiet elegance that invites relaxation, and its tropical location at Olas Altas 314 on Los Muertos Beach offers the perfect atmosphere for enjoying spectacular views of Banderas Bay. For reservations call (322) 222-0566. For more information, visit DDPV.com.
Click HERE to read more about Daiquiri Dick's.