Puerto Vallarta, Mexico - Taking care of the planet. Puerto Vallarta restaurant Daiquiri Dick's has gone green! They have switched their to-go containers and straws, plus the gloves and bags used by the kitchen staff, to biodegradable items.
"It is abundantly clear here in Puerto Vallarta, that the restaurant industry needs to be more responsible to protect our environment, which is an essential part of our tourist attraction," says owner Tari Bowman, "So going green seemed to be the first important step to take."
A sip in the right direction
The Mexican company Biophase has developed a unique technology for the manufacture of biopolymer made from avocado seeds. They recently made straws available, which have extra strength and stability, great for hot and cold beverages and they don't bend or lose their properties, compared to traditional straws. These straws are available by request at Daiquiri Dick's.
Biophase, through its patented technology, became the only biopolymer production company in Mexico. But they decided to go further and now lead the production of biopolymer in Latin America, exporting their products to more than 11 countries.
Getting it to go
After extended research Bowman decided to select the ChampWare line made by Southern Champion Tray for their take out and go containers. All items are made of bagasse, a sugarcane by-product, and are free of plastic, chlorine and coatings.
Given the right environment, ChampWare products are biodegradable, compostable and recyclable. ChampWare is also microwaveable and grease and moisture resistant, which makes it the perfect option to replace traditional take out containers.
These items are made from renewable resources, contain less toxic chemicals and they help drive the change toward eliminating single use plastics, which are better for the planet and the life that lives on it.
When it comes to eating out in Puerto Vallarta, this restaurant has it all... and going the extra mile to take care of the environment is just one more reason that dining at Daiquiri Dick's is always An Exceptional Experience.
Open daily from 8 am to 11 pm, (Closed on Tuesdays from April to October) Daiquiri Dick's offers elegant dining in a relaxed atmosphere for breakfast, lunch or dinner. Visa, MasterCard and Banamex accepted. Reservations are recommended and can be made online at ddpv.com.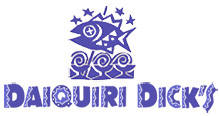 Daiquiri Dick's contemporary design exudes a quiet elegance that invites relaxation, and its tropical location at Olas Altas 314 on Los Muertos Beach offers the perfect atmosphere for enjoying spectacular views of Banderas Bay. For reservations call (322) 222-0566. For more information, visit DDPV.com.
Click HERE to read more about Daiquiri Dick's.