Puerto Vallarta, Jalisco, Mexico - The largest celebration in the world, Mardi Gras is known for crazy parades, parties, and wearing colorful masks and costumes. It is called 'Mardi Gras' mainly in France and the US, but the rest of the world calls it 'Carnival.' The celebration originated in Italy during the mid 1100s and grew to immense proportions over the centuries.
This party of parties has survived even though some priests and rulers have canceled it when things got too out of control, but it would soon reappear even after being outlawed.
If you are in Puerto Vallarta, stop by Daiquiri Dick's for a Mardi Gras menu featuring Cajun cuisine that will make you want to dance in the streets. Executive Chef Ignacio Uribe, Chef de Cuisine Hugo Mejia, and Sous Chef Rogelio Garcia have assembled a festive menu so you can sample Mardi Gras/Carnival style food without leaving Puerto Vallarta.
You can dig into this special a la carte menu through Tuesday, March 12th, and dinner is served from 5:00 to 11:00 pm.
Daiquiri Dick's Mardi Gras Menu
Appetizers
• Fried Calamari with Horseradish Sauce
• Warm Okra Salad with Bacon, Green Onions, Bell Peppers and Cherry Tomatoes
• Mushroom Salad with Grilled Portobello, Oyster Mushrooms, and Mixed Greens with a Sesame-Honey Vinaigrette
Entrιes
• Jambalaya with Shrimp, Chicken, Andouille Sausage and Rice
• New Orleans Style Gumbo with Shrimp, Fish Fillet, Andouille Sausage and Chicken
• Blackened Salmon with Corn and Cherry Tomato Relish, served with Succotash
Desserts
• Beignets
• Bananas Foster
Grab some friends and head to Daiquiri Dick's for a lively evening and wonderful food. Reservations are highly recommended, and can be made by calling (322) 222-0566.
Open daily from 8 am to 11 pm, Daiquiri Dick's offers elegant dining in a relaxed atmosphere for breakfast, lunch or dinner. Visa, MasterCard and Banamex accepted. Reservations are recommended and can be made online at ddpv.com.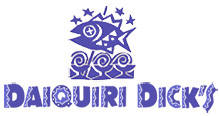 Daiquiri Dick's contemporary design exudes a quiet elegance that invites relaxation, and its tropical location at Olas Altas 314 on Los Muertos Beach offers the perfect atmosphere for enjoying spectacular views of Banderas Bay. For reservations call (322) 222-0566. For more information, visit DDPV.com.
Click HERE to read more about Daiquiri Dick's.