Puerto Vallarta, Mexico - One of the "strategic advantages" that Puerto Vallarta has over other Mexican destinations for weddings is the abundance of beautiful private luxury villas along the hillsides of Conchas Chinas and the South Zone to Mismaloya. These properties make possible beautiful wedding ceremonies away from the prying eyes of other guests at large hotels and resorts.
"Privacy is one of the main factors that many couples are looking for when planning their destination weddings," said Robert Schley, director of Mexico Event Design, a local wedding company focused on the international LGBTQ Community. "Having so many private villas and boutique hotels in and around Puerto Vallarta gives our clients tremendous options aside from the big hotels."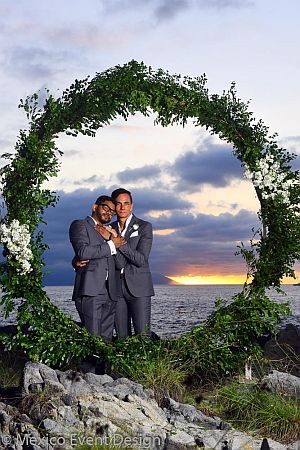 Photo: Diana Flores
Of course, not all private villas are suitable for celebrating weddings, and most owners don't permit any sort of events with more than the guests who are staying on their properties. But with so many villas in the area, there are still quite a few that are both large enough and have owners who encourage events as a way to fill up their houses during slower parts of the year.
"Weddings are held throughout the year here in Puerto Vallarta, but there are certain months that might surprise," said Schley. "Many couples are looking for that sweet spot of good weather and less-than-high-season prices, so many see April/May and November/early December as two big windows of opportunity."
Very few villa owners advertise their villas as event locations, so it's important for couples to use knowledgeable local sources to locate and contract the perfect event venue. Larissa Magee and Stephanie Watts own Agave Villas, a villa-rental company based in the city's Zona Romantica.
"Booking a private villa for a wedding is an incredible experience as it's intimate, private and allows the bridal couple to customize their wedding to exactly what they are envisioning," Magee and Watts said. "However, there are a lot of aspects to consider when planning a wedding at a private villa so it's important to have someone who is knowledgeable and can help to guide the couple through this process and find the villa that is perfect for them," they added.
While most private villas are relatively small (4-5 bedrooms with outdoor event space limited to 20-50 guests), there are some that are bigger and have event spaces that can accommodate a larger number of guests. Among them are:
Casa Karma (oceanfront Conchas Chinas) has 8 bedrooms and three large event terraces that can accommodate more than 100 guests. It faces onto an almost-private beach surrounded by dramatic and beautiful rocks.
Villa La Mansión (oceanfront Garza Blanca) has 5-6 bedrooms and a large oceanfront terrace that can accommodate up to 300 guests. With new owners and recently completely remodeled, this huge property boasts a rare private beach terrace as well as an expansive lawn and pool area.
Villa Estrella Mar (oceanfront Conchas Chinas) has 7 bedrooms and several indoor and outdoor spaces than can accommodate 50-60 guests. It towers over a small beach just on the other side of a headland from Los Muertos Beach and features tons of authentic Mexican artwork and artisanry.
Villa Verano and the Puerto Vallarta Beach Club (oceanfront at the end of Los Muertos Beach) combined have 22 bedrooms and a garden that can accommodate up to 100 guests. It also features a unique and private "beach above the beach" overlooking Playa Los Muertos that's perfect for ceremonies.
Villa Mandarinas
(oceanfront Mismaloya) has 10-12 bedrooms and two oceanfront terraces that can accommodate up to 75-100 guests. Built and still owned by a prominent Mexican architect, this masterpiece falls down the hillside from the highway to the water and features each room decorated with a different inspiration color.
Villa Mia (oceanfront Mismaloya) has 12-15 bedrooms and a large outdoor terrace that can accommodate up to 100 guests. Like many others, this is another multi-level property that has an elevator as it's been built into the side of the mountain overlooking the dramatic bay.
Villa Verde (oceanfront Conchas Chinas) has 5 bedrooms, an immense private palapa and a lovely large pool terrace that can accommodate around 50-75 guests. The villa's style is distinctly Mexican and features tons of red brick.
Quinta Encantada (ocean view Conchas Chinas) has 12 bedrooms in 5 distinct apartments and two outdoor pool terraces that can accommodate up to 75 guests. With so many different event spaces outdoors and indoors, a wedding here can have an interesting and dramatic flow, surprising guests with new experiences.
Villa Celeste (oceanfront Conchas Chinas) has 5 bedrooms and two outdoor terraces that can accommodate from 50-75 guests). One of the first large seaside mansions built in Conchas Chinas, this house boasts a distinct Vallarta style that makes weddings very Instagram-friendly!
Two factors are important for couples to know before pursuing private villas as an option for your wedding:
1. Almost all villa owners will charge an event fee on top of their nightly rental because of the wear and tear on their property and the extra staff time necessary to accommodate the event. While these fees vary greatly, a good rule of thumb is to expect the fee to be equivalent to one night's rental of the villa.
2. Renting a villa is a touch less flexible than a regular hotel, in that all the guests staying there must arrive and leave on the same days. This is an important factor to consider when renting a villa in the first place and when choosing which guests will stay there.
Since villa owners mostly only rent their properties for events if it includes a house rental of between 3-7 nights, most couples who are thinking of using a villa for their wedding venue plan to house their immediate families there, while looking to nearby hotels or other villas to lodge other guests. Thus, the proximity of the venue villa to other "overflow" lodging, especially hotels, can be very important.
Another important benefit of using a private villa as a wedding venue is the ability to hire a private caterer for the wedding banquet. Almost all hotels require wedding clients to use their in-house kitchen, thus limiting the banquet menu options to what is available, but catering chefs work directly with the clients to design personalized menus.
While it may be a touch more complicated renting a private villa for a destination wedding than at a regular hotel or all-inclusive resort, Schley is convinced that the benefits outweigh any considerations. "A destination wedding is one of the few times in a 'normal person's' life when you have the group buying power of your families and friends to justify renting a private villa for several nights and live the lifestyle of the rich and famous," he said. "Why not take advantage of your group so you can be pampered to death during your wedding?"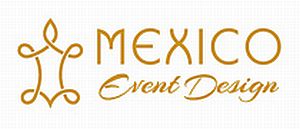 The wedding professionals at Mexico Event Design have a combined 45 years of experience in designing, organizing, decorating, producing and coordinating all kinds of weddings and events. Unlike most agencies who work mostly with straight couples and ALSO do gay weddings, Mexico Event Design specializes in romantic and exclusive same-sex destination weddings in Puerto Vallarta and many other parts of Mexico. More than just wedding planners, they also design straight weddings, birthday parties, fashion shows, corporate retreats, and product launches. For more information call +1-512-692-9155 from the U.S., +52-322-235-5509 in Mexico, or visit MexicoEventDesign.com.

Click HERE to learn more about Mexico Event Design.