Puerto Vallarta, Jalisco, Mexico - Take your taste buds on a world tour - without leaving Puerto Vallarta! No need to pack your bags, just head over to Daiquiri Dick's Restaurant on Los Muertos Beach.
Daiquiri Dick's Restaurant is known for its international cuisine and during their bi-weekly dinner specials, they are featuring a wide selection of tastes. There are many delicious appetizers, main courses and desserts featured on this special a la carte menu.
Executive Chef Ignacio Uribe, Chef de Cuisine Hugo Mejia and Sous Chef Rogelio Garcia have created a spectacular array of dishes with authentic flavors but with new twists. The menu runs through April 30, 2019, and is featured along with the regular menu. Dinner is served from 5:00 to 11:00 pm.
Appetizers
• Chilled Tomato Soup with Feta, Olives and Cucumbers
• Peppery Green Salad with Avocado, Grilled Chicken, and Crispy Tortilla Strips
• Bruscheta "Saltimboca" with Prosciutto, Swiss Cheese and Marsala Wine Sauce
Main Courses
• Grilled Salmon with Citrus Green Sauce, served with Jicama Slaw and Watercress
• Butter-Basted Rib Eye with Sauteed Portobellos and Mashed Potatoes with Rosemary & Roasted Garlic
• Linguine with Salmon Sausage, Fresh Fennel, Tarragon and Pink Sauce
Desserts
• Chocolate Mousse Filled Crepes served with Vanilla Ice Cream
• Young Coconut Crème Brûlée
There is a commitment to excellence in dining that keeps the process interesting for the chefs, as well as for the patrons. Executive Chef Ignacio says, "It helps us expand our expertise. We would like to offer a wide variety of foods in as many styles as we know."
Daiquiri Dick's, An Exceptional Experience.
Open daily from 9 am to 11 pm, Daiquiri Dick's offers elegant dining in a relaxed atmosphere for breakfast, lunch or dinner. Visa, MasterCard and Banamex accepted. Reservations are recommended and can be made online at ddpv.com.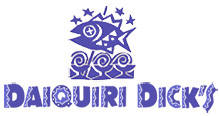 Daiquiri Dick's contemporary design exudes a quiet elegance that invites relaxation, and its tropical location at Olas Altas 314 on Los Muertos Beach offers the perfect atmosphere for enjoying spectacular views of Banderas Bay. For reservations call (322) 222-0566. For more information, visit DDPV.com.
Click HERE to read more about Daiquiri Dick's.