Puerto Vallarta, Mexico - Act II's Spectacular Spring Season is going strong, with lots of entertainment options to enjoy whether you live in, or are visiting, Puerto Vallarta. From live cabaret, music, comedy and drag shows, to the return of 'Avenue Q' on May 6, there is something for everyone at Stages.
THE BROADWAY HIT MUSICAL AVENUE Q OPENING THIS WEEK!
"Avenue Q"
Puerto Vallarta's #1 Musical - EVER!
Directed by Alfonso López
OPENING NIGHT: Monday, May 6 - Party 6:00 pm / Show 7:00 pm
Continuing Shows: May 6, 8, 11, 13, 15, 18, 20, 22 & 25 - 7:00 pm
"Avenue Q," the most popular musical ever presented in Puerto Vallarta, returns in May, just in time for Pride Week! Avenue Q is a delightful, laugh-out-loud American musical that was performed on Broadway from 2003 to 2009. Audiences everywhere have been captivated by its fresh and funny story, and it won the prestigious 2004 "Triple Crown" for Tony Awards... Best Music, Best Score and Best Book!
The story of Avenue Q takes place in New York City and the street is Avenue Q, the only address you can afford when you're fresh out of college, out of a job, or just trying to find your purpose in life. It is a coming-of-age parable that satirizes the issues and anxieties of entering adulthood.
Filled with gut-busting humor and a delightfully catchy score (not to mention the use of full-size puppets that are animated by unconcealed human puppeteers), Avenue Q is a truly unique show that received rave reviews at Act II two years ago!
Although the show addresses slightly bawdy, humorous adult issues (and is not recommended for children), it is very similar to a beloved children's show - a place where puppets are friends. Drected by Act II Entertainment's Musical Director, Alfonso Lopez, Avenue Q features tons of local talent.
Simply put, this show is the perfect choice for those who may be wondering how the hell we got to this point in our lives and are constantly questioning your purpose in life. But, for now, you can just sit back and enjoy a belly-laugh (or two!) and rejoice at the marvel of this modern-day musical!
Recently named the "Best Performing Arts Venue in Banderas Bay" by Vallarta Tribune readers, and listed as the "#1 Entertainment Venue" and at #2 for "Best Things to Do in Puerto Vallarta" on TripAdvisor, Act II continues to enthrall audiences every night with its exciting Spring season of entertainment.
Featuring the best performers in Banderas Bay, many of these shows sell out, so check the schedule below and get your tickets now so that you don't miss out! Tickets are available today at act2pv.com, and at the box office.
PLAYING THIS WEEK AT ACT II STAGES
FABULOUS FRIDAY, May 3
7:30 pm - PV's #1 Songstress, Diana Villamonte - "I Will Always Love You," a Whitney Houston Tribute. (PV's #1 show for the past two years! Sells out every week!)
9:30 pm - Hedda Lettuce, starring in "Gringa in Paradise" (Winner of Best Drag Show 2017/2018)
SPECTACULAR SATURDAY, May 4
7:30 pm - "Born to Be Wild," featuring the beautiful Renee Armand - the voice behind the Oscar-winning song, "The Morning After" (FINAL SHOW!)
9:30 pm - Mama Tits, the 6'7" hilarious drag diva, starring in "Triple D"
SUPER SUNDAY, April 28
7:30 pm - "Best of ABBA & Elton," starring Us Two and their LIVE BAND (This show sells out every week, so it is important to get your tickets early!)
MARVELOUS MONDAY, May 6
7:00 pm - "Avenue Q," the #1 Musical Ever Presented in Vallarta! (OPENING NIGHT!)
7:30 pm - Diana Villamonte, starring in "More Motown & Beyond"
9:30 pm - Mama Tits starring in "Triple D"
WONDERFUL WEDNESDAY - May 8
7:00 pm - "Avenue Q," the #1 Musical Ever Presented in Vallarta!
FABULOUS FRIDAY - May 10
7:30 pm - Diana Villamonte - "I Will Always Love You," a Whitney Houston Tribute
9:30 pm - Hedda Lettuce, starring in "Gringa in Paradise" (Winner of Best Drag Show 2017/2018)
CONTINUING SHOWS AT ACT II STAGES
"Born to Be Wild"
Act II's Most Requested Return Show!
Featuring Renee Armand, the voice behind the Oscar-Winning Song, "The Morning After"
CLOSING NIGHT - Saturday, May 4 at 7:30 pm
The people of Puerto Vallarta have spoken, and Renee Armand's Born to Be Wild is "The Best Show of The Year!" Act II's favorite songstress, Renee Armand, returned for her 4th exciting season in April, but you only have one more chance to see her this season.
This "wild child" of the 60's grew up in Laurel Canyon, the crossroads between Beverly Hills and Hollywood, at the same time as many of her good friends, including Mama Cass, Carly Simon, The Beatles, The Eagles, James Taylor, George Harrison, Carole King, Linda Ronstadt and more. They worked together, played together, and wrote the music that shaped a generation.
Sharing the music of the 60's and 70's, this free-spirited, vibrant woman will captivate you with her incredible talent, her warmth and her honesty. Her heartfelt tributes and humor, combined with a magnificent, soulful voice will touch you like never before, and you'll find yourself reliving those magical times singing along to the familiar tunes.
"Act II Stages saved one of the very best shows for last. Renee Armand has a new show called Born To Be Wild. She was joined on stage by the amazing electric cellist Jenny Lynn as well as pianist Dennis Crow. Renee left the stage after receiving a standing ovation, and after considerable coaxing finally came back and beautifully sang Over the Rainbow. Bravo!" - Ed Gill, Puerto Vallarta
"It WAS an amazing show... in every way! Loved, loved, loved every song... and every memory shared. It was truly a special night." - Mary Porter
"It's happened again! I think I have seen the best show of the year here and BAM.. another one wins my best show award! Red Room Act II Renee Armand.... WOW! She feels each word of each song and puts us in her emotional shoes with her at that moment. What a wonderful, relaxing. REAL EVENING! Thank you, Renee. See you when you return and not just at the theater... on the Conchas Chinas Beach as well!" - Sharon Baughman White
"PV is blessed with many extraordinary performers. There is one that takes us into her soul and on a journey that shakes our roots. Late in season but the best of the season. If you can catch her last show, GO!" - Tom Bernes
Diana Villamonte's "I Will Always Love You"
A Musical Tribute to Whitney Houston, featuring PV's #1 Star
Produced by Act II Entertainment
Every Friday at 7:30 pm (Through May 24)
This year, we are thrilled to announce that Diana, along with director Alfonso López, has created yet ANOTHER sensational hit show, "I Will Always Love You," a musical tribute to Whitney Houston! Diana, with her powerhouse voice and infectious personality, is the perfect singer to take on the iconic Whitney (her lifelong inspiration). The highlight of Diana's show last year was when she previewed some of her Whitney Houston songs, often having most audience members in tears. Diana blew the audience away, and her fans begged for a whole show of Whitney's songs!
"Diana Villamonte - I Will Always Love You... She sang Whitney Houston better than Whitney Houston herself. If you go to Puerto Vallarta, I recommend you visit some of their fabulous shows! Act II made my vacation better than ever!" - DancerJane on TripAdvisor, 2/13/19
"This young singer from Panama puts on an amazing show... we saw the Whitney Houston show... her stage presence and powerful voice were a joy to watch." - 323leslieg, Qualicum Beach, Canada on TripAdvisor, March 2019
Hedda Lettuce - "Gringa In Paradise"
Winner Funniest Drag show 2017 - 2018
Hedda Lettuce's smorgasboard of live comedy, songs, and stand-up improvisations
Every Friday - 9:30 pm (Through May 24)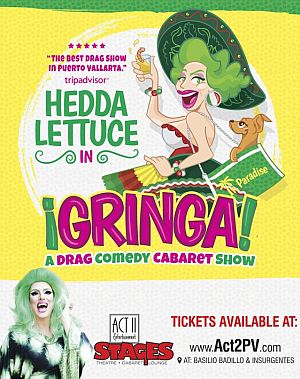 Hedda Lettuce, the six-time Drag Queen of the Year Award-winner (HX magazine) and the legendary "green goddess" of drag, is excited to return to Puerto Vallarta for her FOURTH "sold out" season! Her show, this year, is a loving send-up to her favorite town... Puerto Vallarta! Hedda will glamorize another season as she dishes out a tossed salad of improvisational comedy, sultry songs, and dazzling gowns. (And it's entirely fat-free!) She will gladly engage you in a night of storytelling, bawdy and biting wit, spontaneous comedy, and live (not lip-synched) singing! Her show includes her nationally-acclaimed original comedic music that is peppered with parodies of old time favorites and startling satire. Hedda Lettuce is one of New York City's premiere drag queens and keeps the audience screaming with laughter for the entire show!
"Awesome great show. I highly recommend Hedda Lettuce, she is an amazing performer." - C Sailor, Puerto Vallarta 11/15/18
"...Hedda Lettuce was hilarious! A little of Dame Edna, a little Joan Rivers and perhaps a smidgen of Don Rickles' snarkiness, but truly, her truly, her comedy is uniquely hers - and a laugh riot!" MitziGabor, 12/16/18, TripAdvisor
"More Motown & Beyond"
Starring 'Voice of Mexico' Star, Diana Villamonte
All new Songs, with all the same talent!
Directed by Alfonso Lopez
Every Monday at 7:30 pm through May 27
WARNING! Diana Villamonte shows sell out quickly - Get your tickets NOW!
Diana Villamonte in "More Motown & Beyond" is the #1 show in Puerto Vallarta! This tiny little gal with the powerhouse voice and infectious personality pays respect to the great ladies (and a few of the boys) of Motown (and beyond), with a special tribute to Aretha Franklin, as well as Diana Ross, Shirley Bassey, Whitney Houston, Anita Ward, Etta James, Nina Simone, Aretha Franklin and Donna Summer. Her passion and commitment to her music, as well as her rich, belting notes and electrifying top register will bring tears to your eyes.
"Fiercely Talented Singing Sensation Diana Villamonte Dazzles in Puerto Vallarta! Just when we thought what dazzled us most about Puerto Vallarta was its lush mountain landscapes, sparkling blue waters and rich art scene." - Boris Betanoff, on TripAdvisor, 1/16/18
"Well Diana is totally ready for Broadway and/or the movies. Her voice her look and her dancing just completely paralyzes you. What I am trying to say is that if you want to see the greatest show on earth go see Diana." - lorieg2019, on TripAdvisor, 1/7/19
Mama Tits's All New Show - "Triple D"
Starring Puerto Vallarta's beloved 6'7" POWERHOUSE, Mama Tits!
Every Monday & Saturday at 9:30 pm through May 27
After her record-breaking year as one of the Top Headliners of the illustrious Red Room Cabaret, Mama Tits is thrilled to return to Act II for her fourth hit season! This year she is back with her raw and witty take on life, sex, relationships and living your truth. Mama Tits weaves her soulful live singing with her stories and comedy into one big joyride of a show, with a strong message of love, emotion and positive reinforcement, (not unlike her trusty underwire bra)! Jazz, blues, pop, rock and Broadway round out this year's eclectic selection of songs.
"DDD was fabulous Diva Divine Delightful. This woman can sing ...there is no lip synching happening here and her music director piano man kills it! You will feel like you had an intimate Vegas night out! The staff treats you like family with free snack appetizers in the lounge ... Mama greeted everyone after the show! The stairs are worth the climb to see the stars! Fabulous night." - 5 out of 5 stars on TripAdvisor
"This was an amazing and wonderful entertainment experience! Definitely not to be missed! Non-stop laughing throughout the entire show. She is quite hilarious. Wonderful singer with a very large personality!" - HoustonGuy2414, 11/11/18 on TripAdvisor
US Two - "The Best of ABBA & Elton"
A musical tribute to ABBA and Elton John, featuring UsTwo and their LIVE BAND
Every Sunday - 7:30 pm (Through May 23)
UsTwo presents a musical tribute to the timeless music of two unforgettable acts which began in the 70's, ABBA and Elton John! UsTwo will perform songs that you remember, such as
Mama Mia, Dancing Queen, Chiquitita, Sad Song, Candle in the Wind, Rocket Man,
and more. Their repertoire changes with each performance, but these amazing vocalists (and their band) will treat you to an unforgettable evening of music!
ABBA and its flamboyant costumes and catchy music, is considered to be one of the top musical groups in history, having sold over 500 million albums! Elton John first became famous for his oversize glasses and outrageous outfits, but his enduring popularity and incredible talent have earned him five Grammy awards, induction into the Rock 'n Roll Hall of Fame, and sales of over 300 million albums! Together, these two acts epitomized the soft rock/pop musical sounds that became hugely popular in the 70's, and is still loved around the world today.
"This was our first visit to Act II for their shows. We really enjoyed Daniel and Noemi in concert, the live band backing them up were great. We weren't sure what to expect but we already plan to take in many more performances in the future. Our only regret? That we hadn't booked tickets earlier during our stay. Now at the end of our time in Puerto Vallarta we have no time left to attend other shows. We will be back for the 2020 season and look forward to seeing the new lineup for 2020." - 511noeic from Calgary on TripAdvisor
Actor? Dancer? Singer? Act II is still casting for next season's shows. Contact Marsha Ward Ross at act2entertainmentproductions(at)gmail.com.
Act II is very proud of its talent this year and invites you to come and experience one (or two or three) shows for yourself!

Tickets to all shows can be purchased online at actiientertainment.com, or at the box office, which opens at 4:00 pm on show days.
The Act II Entertainment STAGES complex is located on the corner of Insurgentes and Basilio Badillo on the South side of Puerto Vallarta. For more information, call (322) 222-1512, or follow Act II on Facebook. Click HERE to see what else is playing at Act II STAGES.