Puerto Vallarta, Mexico - The annual dining extravaganza, Vallarta Restaurant Week, offers everyone a chance to dine at some of their favorite restaurants at discounted prices.
This is the fifteenth year for the event, and Daiquiri Dick's has been participating since the beginning. Executive Chef Ignacio Uribe, Chef de Cuisine Hugo Mejia and Sous Chef Rogelio Garcia have designed a wonderful menu, featuring a cross section of their expertise in a variety of cooking styles, especially for the occasion.
"We want to show that we can prepare a wide variety of dishes on a regular basis," says Ignacio, "this event is the perfect opportunity for people to sample what our kitchen team can do... and at a great price, too."
Vallarta Restaurant Week runs May 15 through June 10, 2019 and the cost of dinner at Daiquiri Dick's is $399 pesos per person. There are three courses and choices for each course. Dinner is served from 5:00 to 11:00 pm. You select one dish from each category.
Daiquiri Dick's 2019 Vallarta Restaurant Week Menu
$399 pesos per person (Not subject to any other discounts)
Select one item from each category
Appetizers
• Oven Roasted Cauliflower Soup with Mushroom Confit and Truffle Infused Oil
• Arugula-Watercres Salad with Pecan Crusted Goat Cheese and Raspberry Vinaigrette
• Teriyaki Salmon Clear Rolls with Arugula and Wasabi Sauce
Main Courses
• Pan Finished Chicken with Hoisin-Ginger Glaze, served over Mushroom & Spinach Ragout
• Pan finished Escolar served over Garden Risotto with a Fresh Citrus Sauce
• Spaghetti Marco Polo with Fresh Shrimp and Thai Green Curry
Desserts
• Fresh Fruit Tart
• Young Coconut Crème Brûlée
• Key Lime Pie
Daiquiri Dick's Restaurant has an innovative menu which constantly evolves and is characterized as Mediterranean, Mexican cuisine with Asian influences. It is the only restaurant in Puerto Vallarta to offer a bi-weekly specials a la carte menu, in addition to its regular menu. Join the staff during Restaurant Week for a perfect sunset dinner.
Open daily from 9 am to 11 pm, (Closed on Tuesdays from April to October) Daiquiri Dick's offers elegant dining in a relaxed atmosphere for breakfast, lunch or dinner. Visa, MasterCard and Banamex accepted. Reservations are recommended and can be made online at ddpv.com.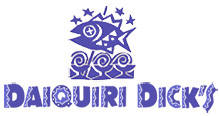 Daiquiri Dick's contemporary design exudes a quiet elegance that invites relaxation, and its tropical location at Olas Altas 314 on Los Muertos Beach offers the perfect atmosphere for enjoying spectacular views of Banderas Bay. For reservations call (322) 222-0566. For more information, visit DDPV.com.
Click HERE to read more about Daiquiri Dick's.