Puerto Vallarta, Mexico - If you are in Puerto Vallarta and you missed last week's amazing fiesta for José Alfredo's cumpleaños, that was just a warm-up for the best party of the season. Join us on Friday, May 31 as No Way José! brings another amazing season to a close with a classic NWJ! Fiesta from 7:30 to 10:30 pm.
Two of the sexiest entertainers in Vallarta, Eduardo Leon and Alejandro Peña, will be joined by cellist Luis Rascon to close out our 10th season in style. And we all know it's not a fiesta without the Mariachi Real de America of Puerto Vallarta to end the evening.
This is your LAST CHANCE to sample our Restaurant Week menu or have your favorite Chiles en Nogada before we go on summer vacation. The Terrace always fills up fast for this party, so please reserve your table in advance.
By making your reservations online via our website, you will help us provide you with the service you deserve, so click HERE to reserve your space TODAY!
We have a surprise coming for those who will be in Puerto Vallarta this summer and want to celebrate a birthday, to throw a party, or just need to have a No Way José! fix in the summertime - special event availability on the NWJ! Terrace!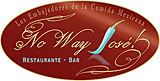 No Way José! is located on the south side of downtown at 5 de Febrero 260, just over the Vallarta street bridge on your left heading south from the Malecón. Open Tuesday-Sunday from 5:00 pm to 11:00 pm. Reservations are recommended and available by calling (322) 223-2853 or online at NoWayJoseMx.com. For more information, visit NoWayJoseMx.com, or join us on Facebook for real-time updates and special offers.

Click HERE to learn more about No Way José!