Puerto Vallarta, Mexico - Every year since 1998, the city's May 31 anniversary celebrations have included an awards ceremony in which individuals and organizations are recognized for outstanding activities and exceptional acts that benefit the municipality or its inhabitants.
Called the 'Premio Vallarta,' the awards are given to seven people in different categories: arts, culture, sports, education, social assistance, tourism and ecology.
On May 31, 2019, the "Ignacio Luis Vallarta Ogazón" Premio Vallarta will be presented to a representative of the Amapas Neighborhood Association (ANA) in public recognition of the non-profit's 10 years of successful work.
After learning that ANA had been selected as a prize winner during a city council meeting led by municipal president Arturo Dávalos Peña on May 9, ANA President Sylvia Toy said:
"It will be an honor to be recognized by the City of Vallarta for our many years of support, participation, and contribution to our beloved city. ANA is very proud to be worthy of recognition this year. It is a great tribute to the work and dedication of former ANA President Tom Swale, who passed away suddenly a year ago. His vision of creating a safer and more beautiful Amapas continues to this day as the ANA has reorganized to continue our work."
Here are a few of the milestones for which ANA has earned this special recognition:
2009 - Donation of a Patrol Car to assist with safety and security in the colonia
2010: Creation of the Taxi Safe program, which helps police officers investigate tourist safety issues
2013: Creation of the Plan Parcial for District 9 • Refurbishment and renovation of the Civil Defense and Fire Brigade substation in Conchas Chinas
2014: Construction of planters and additional lighting on Calle Pulpito • Completion of lighting along Highway 200 to improve safety
2015: Construction of Calle Hortensias to increase access to the colonia
2016: Installation of the blue trash barrels that contain trash and keep it off the streets
2017: Provision of English classes to 100 Tourist Police over a three-month period • Implementation of the VEA program (WhatsApp) for immediate communication with police on patrol in Amapas • Completion of the first section of the Highway 200 sidewalk
2018: Completion of the Caballito stairway to improve access to the beach
2019: Completion of the entire Highway 200 sidewalk in Colonia Amapas to improve pedestrian safety • Planned construction of stairs along Pilitas street to improve beach and neighborhood access
Everyone here at Banderas News congratulates the Amapas Neighborhood Association for being recognized and thanks them for their beneficial work in our community.
---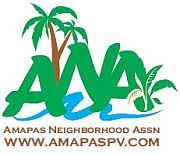 The Amapas Neighborhood Association is the official association of residents and business owners in the Colonia Amapas of Puerto Vallarta. A volunteer and not-for-profit association with about 350 members, the ANA was founded in 2002 to improve the quality of life in Amapas. We work to keep our neighborhood safe, beautiful, desirable and welcoming to tourists and residents from all countries and walks of life. We are also the official "Junta Vecinal" or neighborhood council for Amapas, the legal representative of the neighborhood to the city government. Visit our website at AmapasPV.com to learn more about us and what we do. For details on how you or your building can join, email membership(at)amapaspv.com.