Puerto Vallarta, Mexico - Here's the latest news from Purr Project, a non-profit, no-kill feline shelter located just north of Puerto Vallarta, Mexico, that provides homeless cats and kittens a recuperative stay with the ultimate goal of adopting them out to loving homes sterilized, vaccinated and disease free.
THE PURR NURSERY
We are still overflowing with kittens in the nursery, maternity, and clinic. Records show we took in 96 felines since January: 19 adults, including 4 mothers, and 77 kittens. We've had 39 adoptions since January and still have 38 kittens either ready, or soon to be ready, for adoption. We bring several to PetCo each weekend where their cat and dog adoption centers are open Friday morning through Sunday evening... making it the PuRR-fect place to come meet your new furry friend! Meow!
SHELTER UPDATE
Our crew of volunteers had a busy morning on our May 15 "Spring Cleaning" Day. Suzanna & Pat got busy giving the clinic a good scrubbing while Melissa, Shanti & Bonnie attacked all the spider webs and dust on the casita screens. Bob & David hung some new tarps on the fence and worked in the yard. And Marilyn, Bama & Bob attempted to finish one side of the Memory Wall... we'll see if those tiles hold after the first rainstorm. Thanks, everyone!
FUNDRAISERS: PRIDE BINGO
Our last fundraiser of the season on May 21 was a rousing afternoon of Vallarta Pride Adult Bingo at Nacho Daddy, and with Amy Armstrong calling the numbers, it was a packed house and lot of laughs! Thanks to Denise Derameé for selling all those Raffle Tickets, and the generous businesses and individuals who donated the prizes. The lucky winners went home with great prizes like a round of golf for four at Vista Vallarta, dinner at Bistro Limon and the Chihuahua painting by Shaman that everyone wanted! It will be a long six months until our next fundraisers so we are very grateful to Nacho Daddy owners, Tammy & Sean, and to Amy Armstrong for helping make this one such a success.
---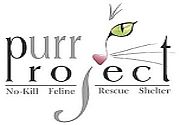 PuRR Project is a Non-Profit shelter in Puerto Vallarta, Mexico that provides homeless cats and kittens a recuperative stay with the ultimate goal to adopt them out to loving homes. All of our residents have been sterilized, vaccinated and are disease free. We accomplish this through our own efforts as well as collaboratively with other animal welfare organizations. Both monetary donations as well as donations of dry cat food are most welcome – and much appreciated. Donations 501(c)(3) tax-deductible in the U.S. For more information, visit PuRRProject.com or send an email to info(at)PurrProject.com.