Puerto Vallarta, Mexico - Summer is sizzling at Daiquiri Dick's, where you can enjoy hot deals on gourmet meals during their Summer Sizzle, which continues this week with a new 3-course menu that offers diners their choice of dishes from three delectable courses (appetizer, entree and dessert), for just $399 pesos.
Executive Chef Ignacio Uribe, Chef de Cuisine Hugo Mejia and Sous Chef Rogelio Garcia have developed so many internationally inspired dishes that they're changing the Summer Sizzle menu every two weeks!
Here's a look at their latest Summer Sizzle Menu, which is being served, along with the regular dinner menu, from 5:00 to 11:00 pm through August 15th:
Appetizers
• Lemongrass Coconut Soup with Shrimp
• Pork and Shrimp Siu-Mai with Spicy~Citrus Soy Sauce
• Thai Spicy Calamari Salad with Shallots, Basil and Mint
Main Courses
• Thai BBQ Chicken over Spicy Cabbage Salad and Steamed Jazmine Rice
• Deep Fried Whole Huachinango with Fresh Mango Sauce and Steamed Rice
• Pad Thai Noodles in the Traditional Manner with Shrimp, Tamarind Sauce, Peanuts & Eggs
Desserts
• Deep Fried Banana Spring Rolls with Chocolate Sauce
• Thai Rice Pudding with Fresh Mango and Coconut Milk
This offer is not subject to any other discounts.
Come take in the sunset and enjoy this special Summer Sizzle Menu at Daiquiri Dick's, where every meal is an Exceptional Experience.
Don't feel like going out to eat? For an evening at home, cocktail hour on your balcony, or a picnic lunch for a trip or day at the beach, ask about the restaurant's line of take-out sandwiches, hors d'oeuvres, breads and pastries.
Open daily from 9 am to 11 pm, (Closed on Tuesdays from April to October) Daiquiri Dick's offers elegant dining in a relaxed atmosphere for breakfast, lunch or dinner. Visa, MasterCard and Banamex accepted. Reservations are recommended and can be made online at ddpv.com.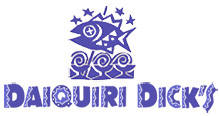 Daiquiri Dick's contemporary design exudes a quiet elegance that invites relaxation, and its tropical location at Olas Altas 314 on Los Muertos Beach offers the perfect atmosphere for enjoying spectacular views of Banderas Bay. For reservations call (322) 222-0566. For more information, visit DDPV.com.

Click HERE to learn more about Daiquiri Dick's.