Puerto Vallarta, Mexico - In the last 5 years, the downtown area of Puerto Vallarta has seen an increase in the construction of condominium developments, and it seems that developers are all trying to outdo each other in terms of building amenities, like spectacular rooftop infinity-edge pools, fully-equipped gyms and luxurious lounge areas.
This is all very attractive and enticing for today's home buyers, especially with the discounts being offered in a strong market. However, buying pre-construction property is something that makes people nervous in their own countries, let alone in a different country.
Yes, buying pre-construction property is a risk anywhere, but the key to minimizing this risk is to buy from a reputable real estate developer, one that has already been proven to deliver high quality construction, on time.
Delays in construction are not uncommon, and all developers will include a 3 to 6 month delay contingency clause in their contracts to protect themselves. At one time or another, all developers may have used their contingency clause, but there is difference between this and not delivering in the time stipulated in the contract.
Another way to minimize the risk is to make your down payment as little as possible and finish paying for it when you take possession of the property. Or you could choose to wait until the building is finished and the units are ready to be deeded. However, if you choose this route, you may not be able to get the discounts offered in pre-construction.
Either way, it is always a good idea to have a reputable realtor represent you in a pre-construction purchase as they know who is who in their local real estate market. For example, there are currently two good options for pre-construction properties in Puerto Vallarta that may be of interest to you, and I've listed them here for your convenience.
D'Residences Condominiums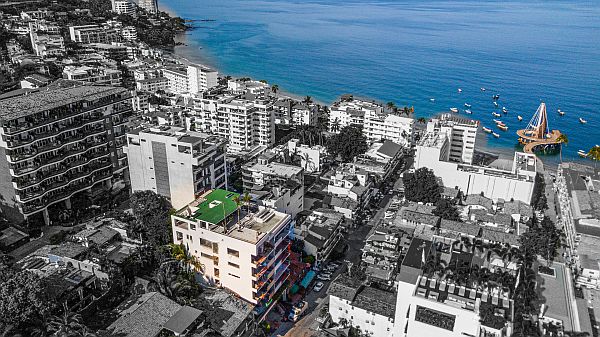 This building has only 12 units (2 per floor), controlled elevator access to the units, beautiful finishings and a rooftop terrace with pool overlooking the Romantic Zone.
The developer has an impeccable reputation after he and a former business partner successfully built and delivered the following buildings: La Cima, La Cima III, Horizon, Paramount Bay and Avalon Residences and Spa. He later went out on his own to build the D'Terrace complex, which offers:
• Penthouse Units: 3 beds/3 full baths - storage area and 2 parking spots included.
• Regular Units: 3 beds/3 full baths - storage area and 1 parking spot/unit included.
Special pre-construction prices, ranging from $522,750 to $816,000 (list prices from $615,000 to $960,000), are now being offered.
Payment Plan:
$10,000 USD at the signing of the reservation contract
30% at the signing of the formal contract
20% every 2 months approx. the exact dates will be provided on the formal contract
10% on delivery (February 2020)
For more information about D'Residences, or to see available inventory, click HERE, or send an email alfredoh(at)tropicasa.com.
Urban II Condominiums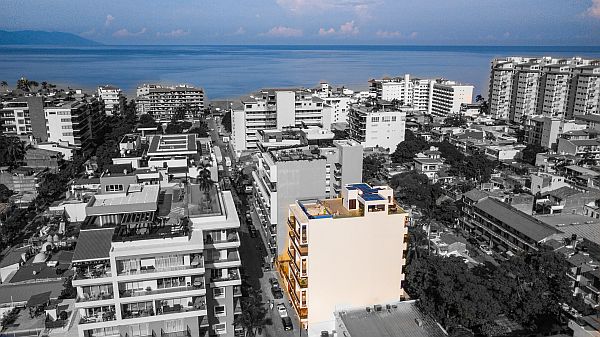 After successfully building and delivering Urban at Carranza, a 13 unit condo building located in the heart of the Romantic Zone, the developer has broken ground for Urban II, a 26 unit building very much like the first one but double the size, with a roof top pool twice the size as well.
The developer also has an impeccable reputation, having delivered Urban at Carranza and many buildings in town, including one of our offices several years ago.
The 7-story building has four 2 bedroom, 2 bath, 1,266 sq.ft. condominiums per floor (except the ground floor which is two 1 bedroom, 1 bath, 1000 sq.ft. unit) with balcony, rooftop pool and elevator. There are 11 parking spaces available at an additional cost.
There are 18 condominiumss still availabe, priced from $315,800 to $418,600, with discounts of up to 15% offered, depending on your down payment. (Prices and discounts are subject to change without prior notice.)
Payment Plans:
15% discount: 50% down, 30% in 12 monthly payments, 20% upon January 2021 delivery
7% discount: 30% down, 40% in 12 monthly payments, 30% upon January 2021 delivery
For more information about Urban II condominiums and available inventory, Click HERE or email alfredoh(at)tropicasa.com.

When you are ready to buy your dream home, villa, condominium or piece of land in Puerto Vallarta, contact local real estate agent Alfredo Herrera. Having worked in the Puerto Vallarta / Riviera Nayarit real estate market since 2006, Alfredo has the knowledge and experience to help you find, and purchase, the property that's right for you in the most seamless way possible. For more information, click HERE, call him at +52 322-142-6296 or visit PuertoVallartaRealEstateExpert.com.