Puerto Vallarta, Mexico - Here's the latest news from Purr Project, a non-profit, no-kill feline shelter located just north of Puerto Vallarta, Mexico, that provides homeless cats and kittens a recuperative stay with the ultimate goal of adopting them out to loving homes sterilized, vaccinated and disease free.
September is Virtual Adoption Month
September is the month we celebrate our Virtual Adoption cats. These are usually older cats who have little hope of finding a Forever Home. Many are very people-friendly and would make great companions. Others are feral or have a disability, such as one eye, or are deaf.
You can "Virtually Adopt" one of these felines for yourself or as a gift to a feline-loving friend for $120 a year (or $10 a month) and help us continue to give these adult cats a safe home and medical care for life. You can learn how to virtually adopt and also meet all the candidates on the
Purr Project website
or by writing us at
adopt(at)purrproject.com
Shelter Update
We had a rough month in August. First, José heard a crash about 10:00 one evening and ran to find a car speeding away. It had crashed into the front gate area, leaving broken headlights and pieces of the bumper behind. The accident didn't seen too bad, but inspection the next morning showed structural damage to the front entry and the metal gates, so it all has to be replaced. Since this is the THIRD crash at that corner, we have decided to install cement posts along that area and are getting quotes for that and the repairs.
Only two days later, during a very heavy morning rainstorm, a large tree behind the clinic uprooted and fell. It took down several meters of the back fence and blocked that road... and just missed falling on a passing camper van! We were able to find a local man with a chainsaw who came out to cut up and haul away to main portion of the tree. Then the fence had to be repaired. The good news is that it did not fall on the clinic roof and cause structural damage to the ranch house.
Shelter Visits
Volunteers Sharon & Ken Rose treated granddaughters Vivian & Isabel to a morning at the PuRR Shelter last month and everyone got their fill of petting cats! The garden cats loved the special attention and the treats. The kittens in the nursery got a chance for some playtime and lots of loving!
Sharon, along with Marilyn and Glenda, will be leading the "official" Shelter Tours this season, starting November 13 and continuing every other Wednesday through April 1, 2020. It's never too early to plan your visit ... we've already got reservations booked for the January 8, 2020 tour! Check out the schedule on our website where you can get all the information on times and Shelter Tour pick-up points... and also make your reservation and pay through PayPal.
Adoption Update: Ramon, Roger, Lion & Jezebel
Last Spring we reported that Mary & Thomas Stanton visited the PuRR Nursery and decided to adopt FOUR kittens! We were worried they had taken on more than they could handle, with spending winters in Vallarta and summers in New Mexico. But they report all is going well and the tiny kittens are now growing up and happily adjusting to travel. Meow!
The PuRR Nursery
We seem to stay at around 35 kittens in the PuRR Nursery. Adoptions at PetCo are up and down with no adoptions during the first two weeks of August, then five the third week and none the fourth. Hopefully with vacations over we'll get more locals learning about all the cute kitties (and pups!) available each weekend at the PetCo in Fluvial. You can contact us at adopt(at)purrproject.com if you are ready to find your furry companion!
For more Kitty News, please visit PurrProject.com.
---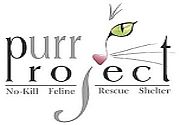 PuRR Project is a Non-Profit shelter in Puerto Vallarta, Mexico that provides homeless cats and kittens a recuperative stay with the ultimate goal to adopt them out to loving homes. All of our residents have been sterilized, vaccinated and are disease free. We accomplish this through our own efforts as well as collaboratively with other animal welfare organizations. Both monetary donations as well as donations of dry cat food are most welcome – and much appreciated. For more information, visit PuRRProject.com or email info(at)PurrProject.com.