Entertainment
Around the Bay and Beyond
No matter what your interests are, Puerto Vallarta is always ready to entertain, offering a wide variety of entertainment options that will keep everyone amused. But it's up to you to decide how you want to spend your time here....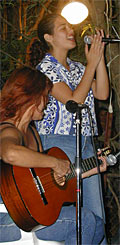 While every destination in Mexico has something to offer visitors, romantic Puerto Vallarta delivers something for everyone: beaches on a beautiful bay, great dining, a sizzling nightlife, Broadway quality stage plays, live music, movie theaters, cultural events, art galleries, excellent shopping, world-class golf and tennis, activities and excursions galore, and fun, fun, fun!


In Puerto Vallarta you can relax on a beautiful beach, play a round of championship golf, shop for Mexican handcrafts and dine in a wide variety of restaurants. There are also countless tours and activities to enjoy - from exciting jeep safaris and canopy tours in the tropical jungle to whale watching, sailing, snorkeling or scuba diving in Banderas Bay.


Visitors who appreciate cultural experiences will love the festivals and events hosted in Puerto Vallarta each year. A variety of cultural events, including the Gourmet Festival and an International Film Festival are designed for the cosmopolitan visitor, while Fishing, Tennis and Golf Tournaments are complemented by the Old Mexico flavor of this cozy seaside village.


And many visitors prefer to spend their days relaxing on the beach soaking up the warm tropical rays. Puerto Vallarta is a haven for weary vacationers who want nothing more than a good book, a tan and icy cold beers or margaritas delivered at regular intervals by an adept, and usually bilingual, waiter.

• B E L O W T H E F O L D •
A Tantalizing Thanksgiving Dinner at The River Café

Lorena Sonrisas

Are you spending Thanksgiving in Puerto Vallarta? On November 22, The River Café will be serving a fabulous four-course Thanksgiving dinner that's sure to seduce the most passionate foodie, complemented by live music and the sights and sounds of nature.

---
Season's First South Side Shuffle at Galleria Dante

Claire Guarniere

Exhibitions by artists Eva Mondragon and Luc Gauthier open at Galleria Dante November 16 as part of the first South Side Shuffle of the season. Stop by Vallarta's largest and most eclectic art gallery to meet the artists and enjoy complimentary cocktails from 6-10 pm.

---
A Taste of American Thanksgiving at Kaiser Maximilian

Marie Callan

Though Kaiser Maximilian Restaurant is best-known for serving Puerto Vallarta residents and visitors exceptional Austrian fare, from November 13 through 22 this charming European-style café is celebrating American Thanksgiving with some special a la carte menu items.

---
An Untraditional Thanksgiving Dinner at No Way José!

Julie Guerrero

Not in the mood for a traditional American Thanksgiving Dinner this year? No Way José! proudly invites you to celebrate the day at La Mesa de José! - José's Table - where you'll enjoy a completely tableside-prepared four-course dinner, friends, family and fun at 'Tu Casa en Vallarta.'

---
Marina Vallarta Art & Market Every Thursday

Lorena Sonrisas

The Marina Vallarta Art & Market runs every Thursday from 6-10 pm through May 30, 2019. Shoppers will find art & jewelery, organic foods & homemade breads, clothes & handicrafts, among many other wonderful things while enjoying live music in a festive atmosphere.

---
Another BIG Week of Opening Nights at Act II Stages

Daniel R. Mininni

Now celebrating its 6th season of entertaining Vallarta, Act II STAGES continues to bring you The Best of The Best entertainment in the Banderas Bay area. The five shows that have already opened this season are getting rave reviews - and four new shows are opening this week!

---
1st Riviera Nayarit Jazz Festival Features Karen Souza

Riviera Nayarit CVB

Karen Souza, one of the leading singers in the world of contemporary jazz, is headlining the 1st Riviera Nayarit Jazz Festival at the Jardín Palmeiras in Nuevo Vallarta on November 16. 30% of ticket sales will be earmarked for victims of hurricane Willa in northern Nayarit.

---
11th Los Muertos Beach Fishing Tournament November 9-10

Diego Sancho

You don't have to be rich to enter the 11th Annual Los Muertos Beach Fishing Tournament! Set to take place Nov. 9-10, with entry fees of just $3000 pesos per boat, this fun & friendly fishing tournament has attracted anglers from all over Mexico for the last 10 years.

---
Dec. 7 'Illumination II' Event to Support Pasitos de Luz

Barb Bremner

Are you interested in helping Banderas Bay area children with disabilities? Do you enjoy great food, fantastic sunsets, first class entertainment and amazing art? If so, make plans now to attend the Second Annual Pasitos de Luz Illumination Dinner on Friday, December 7, 2018 at Casa Karma.

---
2018-2019 Centro Historico ArtWalk Every Wednesday

Lorena Sonrisas

Art lovers can explore numerous artistic offerings during the Puerto Vallarta Centro Historico ArtWalk, a self-guided tour of 12 downtown galleries with cocktail exhibitions that can be enjoyed every Wednesday evening from 6:00 to 10:00 pm through May 29, 2019.

---
Sea Monkey Hosts Beach Luau to Benefit PuRR Project

Marilyn Khan

On Friday, December 14th at 5:00 pm, Sea Monkey Restaurant will be hosting the Sixth Annual Luau on the Beach to benefit the PuRR Project feline shelter in Puerto Vallarta. Tickets to this fun-filled event always go quickly, so get yours before they sell out!

---
2018 Taste of Nuevo Vallarta / VYC Chili Cook-off, Dec. 1

Banderas News Team

Set to be held on the Marina Nuevo Vallarta Malecón on Saturday, December 1st from 4:00 pm to 7:00 pm, the Vallarta Yacht Club's 6th Annual Taste of Nuevo Vallarta and 18th Annual Chili Cook-off offers attendees two events in one - and the chance to help local charities.

---
Act II Opens with Sold-Out Houses & Standing Room Only

Daniel R. Mininni

Recently named the 'Best Performing Arts Venue in Banderas Bay' by Vallarta Tribune readers, and now ranked #2 on Trip Advisor's list of the 'Best Places in Puerto Vallarta,' Act II continues to enthrall audiences with its exciting new season of entertainment.

---
Vallarta Botanical Garden Celebrates Mes del Jaguar

Neil Gerlowski

As part of Mexico's first-ever Mes del Jaguar celebration, Vallarta Botanical Garden has installed an exhibit of stunning images and interpretive texts. The exhibition will be inaugurated on Nov. 3 with fun-filled and informative family-friendly activities.

---
Live Music, Special Concert, and More at Nacho Daddy

María Francesca

Known as THE place to go for affordable nightlife in Puerto Vallarta's Zona Romantica, Nacho Daddy Mexico is where locals, ex-pats and tourists gather to eat, drink, dance, listen to great music, or catch a show at The Boutique Theatre. Don't miss the Tom Ben Lindley concert on Nov. 4!

---
2018 Puerto Vallarta Craft Beer Festival, Nov. 17-18

Ricardo Acerco

Celebrate the good life at the 2018 Puerto Vallarta Brewmasters Craft Beer Festival! Set to take place Nov. 17-18, this fun and free event will feature some of Mexico's best craft beers all in one place - the Instituto Vallartense de Cultura on La Isla Rio Cuale.

---
ExPats in Vallarta November Happy Hours & Events

Sara Wise

This month, ExPats in Vallarta, a totally social group offering informal fellowship and assistance for expat residents and visitors, will be hosting Happy Hour Gatherings every Tuesday from 5-7 pm, and Special Dinners on Thursdays, November 8th and 15th. Join us!

---
2018 Día de Los Muertos Events in Puerto Vallarta

María Francesca

Throughout Mexico, Día de Los Muertos festivities begin on October 31 and continue through November 2. But, if you happen to be in Puerto Vallarta this year, you will enjoy an eight-day 'Spooktacular' that includes art, music, food, contests, parades and more!

---
New Season, New Location for PuRR Project BINGO

Marilyn Khan

This season PuRR Project BINGO will be played at a new time and in a PuRR-fect new location. Beginning on November 21 we'll be calling the numbers and handing out great prizes at 4:00 pm every other Wednesday at Nacho Daddy Restaurant, in the heart of Vallarta's Romantic Zone.

---
Los Muertos Brewing's 6th Annual Fiesta en La Calle

Banderas News Team

Since the 'fun never dies' in Puerto Vallarta, Los Muertos Brewing Company (Lázaro Cárdenas #302) will host their 6th Fiesta en la Calle street party on Saturday, November 3. Come out and enjoy a frightfully fun party on the street with free live entertainment from 1:00-11:00 pm.

---
Celebrate El Día de Los Muertos at No Way José!

José Alfredo Gonzalez

There's no better place to celebrate El Día de Los Muertos than surrounded by your Mexican Family at 'Tu Casa en Vallarta,' where you'll enjoy a classic No Way José! fiesta that combines the delicious food of Mexico with music by the new Piel Canela and a Catrina costume contest.

---
Boutique Theatre Announces its Exciting New Season

Catherine Caldera

As we head into a new season, The Boutique Dinner Theater and Nacho Daddy invite everyone to come out and have some fun! With new shows, movies, TED Talks and more, along with the best bands in Puerto Vallarta playing most every night, there's something for everyone!

---
'Frida 4' FUNdraiser to Save PV Animals at Casa Yvonneka

Matthias Vogt

Casa Yvonneka will host its Fourth Annual FUNdraiser to save the dogs and cats of Puerto Vallarta on Saturday, December 15, 2018. Come out and enjoy a wonderful night under the stars while supporting various non-profit animal associations in the Banderas Bay area.

---
Act II Entertainment's Exciting 6th Season Begins Oct 31

BanderasNews.com

Kicking off October 31st, the 2018-2019 season of entertainment at Act II offers something for everyone. Whether it's the high-quality theater productions, or internationally-known cabaret acts & drag shows, the entertainment at Stages is on par with any theater in North America.

---
Calavera Decorating Contest at Los Mangos Library

Lorena Sonrisas

Los Mangos' annual Día de Los Muertos Festival started early this year with a Calavera Decorating Contest. Everyone is invited to decorate a skull and return it to the library, where visitors can vote for their favorites through November 2. The winner will be declared during the festival.

---
Opening Nights at Act II Stages are Just Around the Corner

Daniel R. Mininni

Act II Stages is entering its 6th exciting year of entertaining Puerto Vallarta and is beyond thrilled about the incredible new season of shows! October 31 kicks off a week jam-packed with opening nights, including 'Little Shop of Horrors' and Diana Villamonte's 'I Will Always Love You.'

---
Thanksgiving Weekend 'White Party' in Puerto Vallarta

Diego Sancho

On Thanksgiving weekend, the world's largest gay dance music festival, Jeffrey Sanker's White Party, will bring thousands of gay guys from around the world to Puerto Vallarta for a weekend full of fun in the sun, fabulous pool parties, and dancing on the beach at Mantamar Beach Club.

---
Site Map
•
Print this Page
•
Email Us
•
Top