Entertainment
Around the Bay and Beyond
No matter what your interests are, Puerto Vallarta is always ready to entertain, offering a wide variety of entertainment options that will keep everyone amused. But it's up to you to decide how you want to spend your time here....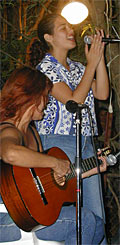 While every destination in Mexico has something to offer visitors, romantic Puerto Vallarta delivers something for everyone: beaches on a beautiful bay, great dining, a sizzling nightlife, Broadway quality stage plays, live music, movie theaters, cultural events, art galleries, excellent shopping, world-class golf and tennis, activities and excursions galore, and fun, fun, fun!


In Puerto Vallarta you can relax on a beautiful beach, play a round of championship golf, shop for Mexican handcrafts and dine in a wide variety of restaurants. There are also countless tours and activities to enjoy - from exciting jeep safaris and canopy tours in the tropical jungle to whale watching, sailing, snorkeling or scuba diving in Banderas Bay.


Visitors who appreciate cultural experiences will love the festivals and events hosted in Puerto Vallarta each year. A variety of cultural events, including the Gourmet Festival and an International Film Festival are designed for the cosmopolitan visitor, while Fishing, Tennis and Golf Tournaments are complemented by the Old Mexico flavor of this cozy seaside village.


And many visitors prefer to spend their days relaxing on the beach soaking up the warm tropical rays. Puerto Vallarta is a haven for weary vacationers who want nothing more than a good book, a tan and icy cold beers or margaritas delivered at regular intervals by an adept, and usually bilingual, waiter.

• B E L O W T H E F O L D •
Act II Summer Concert Series Highlights Local Talent

Marsha Ross

Act II is keeping Puerto Vallarta entertained this summer with the return of their famous Karaoke Party; Us Two's 'ABBA & Elton' show; the musical comedy 'Twist and Shout'; and an all new Puerto Vallarta Concert Series featuring a different local band every week!

---
Cheryl's Shoebox 4th Annual Summer Bash, August 4

Marie Callan

To raise funds for shoes for Puerto Vallarta students and supplies for local after-school programs, Cheryl's Shoebox is hosting their 4th Annual Summer Bash on August 4 at Babel Bar on La Isla Rio Cuale. Come enjoy a great afternoon of fun, games, live music and more - for a good cause!

---
Summer Entertainment is AMAZING at Act II Stages!

Marsha Ross

Voted the 'Best Performing Arts Venue in Banderas Bay' for the second year in a row by Vallarta Tribune readers, and the '#1 Cabaret, Theater and Concert Venue' and #2 'Things to Do in Puerto Vallarta' on TripAdvisor, Act II Stages is THE Place to go for Cool summer entertainment!

---
Estero El Salado to Celebrate 19th Anniversary July 27

Marie Callan

On Saturday, July 27, Estero El Salado, an urban eco-reserve in the heart of the Puerto Vallarta hotel zone, will be celebrating its 19th anniversary with special exhibitions, workshops, and an ecological fair with family-friendly activities that gives participants a chance to win prizes.

---
Vallarta Food Tours Wins 2019 Travelers' Choice Award

BanderasNews.com

The Downtown Vallarta Food Tour has been recognized as one of the world's top ten food experiences, ranking #5 out of over 2,200 food experiences in the 2019 TripAdvisor Travelers' Choice Awards. These tours have become a favorite for those eager to enjoy a culinary adventure.

---
VII Playa Platanitos Sea Turtle Festival, July 20-21

Lorena Sonrisas

Turtle nesting and release season has begun on the beaches of the Riviera Nayarit and with it comes the 7th Sea Turtle Festival, a family-friendly event set to be held in Playa Platanitos, a small coastal town in the municipality of Compostela, from July 20-21, 2019.

---
Daiquiri Dick's Makes Summer Sizzle in Puerto Vallarta

Banderas News Team

An authentic world kitchen can be found at Daiquiri Dick's. The menu at this popular restaurant on Los Muertos Beach is always evolving, and their bi-weekly Summer Sizzle dinner menu makes it easy to sample cuisines from all over the world - right here in Puerto Vallarta.

---
13th Banderas Bay Marlin & Tuna Fishing Tournament

Richard Dangler

Sportfishing fans are preparing their rods and reels to 'catch the big one' at the 13th International Marlin & Tuna Fishing Tournament, set to be held from July 18-20 in the waters off the coast of Vallarta-Nayarit, and hosted by Paradise Village Marina in Nuevo Vallarta.

---
Looking for Something Fun To Do? Head Over to Act II!

Banderas News Team

Looking for something fun to do this week? Act II's summer entertainment program is in full swing! Featuring Las Vegas-style cabaret shows, the best Karaoke Party in town and a series of concert by local bands, it's THE place to go for Cool Summer fun in Puerto Vallarta.

---
Democrats Abroad Vallarta Botanical Garden Tour, Aug. 4

Marie Callan

The Democrats Abroad Costa Banderas Summer Socials just keep getting better and better! Next month's get-together, set for at 10:00 am on Sunday, August 4th, will be an exclusive private tour of the Vallarta Botanical Garden, led by none other than its Founder, Bob Price!

---
July 27 Champagne Brunch a Fundraiser for SPCA de PV

Janice Gonzalez

The SPCA de PV is pleased to announce a special summer fundraiser to be held on Saturday, July 27. Make plans now to join us from 10 am to 2 pm for a delicious champagne brunch at Hacienda San Angel, the luxury boutique hotel overlooking downtown Puerto Vallarta.

---
Twist & Shout - Jukebox Hits of the 50's and 60's

Marsha Ross

Act II Stages invites you to take a journey back to the time of poodle skirts and rock 'n roll with the dynamic duo of Pedro Islas and Faride Talama, who present the high-energy, hilarious musical comedy, 'Twist & Shout,' every Saturday at 7:30 pm in The Red Room Cabaret.

---
July Full of Exciting Events in the Riviera Nayarit

Norma Hernández

This summer is getting off to a fantastic start in the Riviera Nayarit! Sporting, culinary, musical and ecological events are just some of the exciting activities that visitors can enjoy in Mexico's Pacific Treasure, and in its twenty-three coastal villages, in the month of July.

---
Vallarta to Celebrate 3rd Annual Mango Festival July 6th

María Francesca

Join the Club Rotario Puerto Vallarta A.C. and Sister City Highland Park, Illinois, as they raise money for three charitable causes with the juiciest event: the Third Puerto Vallarta Mango Festival, set to be held at Lazaro Cardenas Park on Saturday, July 6th from 4:00 to 10:00 pm.

---
World-Class Summer Entertainment at Act II Stages

Danny Mininni

Act II's Hot Summer Entertainment Season has begun with a bang! Come and enjoy a cool drink in the luxurious, air-conditioned Encore Bar, and then delight in some of the best music you have ever heard... right here at Act II Stages in Puerto Vallarta!

---
ExPats in Vallarta July 2019 Happy Hours and Events

Sara Wise

ExPats in Vallarta, a fun and friendly group of PV residents and visitors from other countries, has announced next month's schedule of events. In July, they'll be hosting Happy Hour gatherings every Tuesday from 5-7 pm, and special dinners on the 11th and 25th.

---
Us Two, 'Best of ABBA & Elton John,' in The Red Room

Marsha Ross

After its incredibly successful, SOLD-OUT RUN in Puerto Vallarta this year, Us Two is thrilled to be presenting their #1 show, "The Best of ABBA and Elton John," this summer. Don't miss this Vegas-style cabaret show, playing every Wednesday at 7:30 pm, in The Red Room at Stages.

---
Karaoke Party Every Tuesday in Act II's Encore Lounge

Marie Callan

Act II's famous Karaoke Nights return on Tuesday, June 25. With No Cover Charge, Happy Hour Drink Specials from 6-8 pm and the most entertaining karaoke party in town starting at 8:00 pm, this weekly event is the most fun you'll have in one place all summer long!

---
Saints Peter & Paul Battle it Out in Mexcaltitan

Banderas News Team

A traditional and magical festival will soon be taking place in Mexcaltitan, a small fishing village known as the 'Venice of Mexico,' in northern Riviera Nayarit. Every year on June 29th, the townspeople stage a battle between the island's patron saints: San Pedro and San Pablo.

---
ACT II Stages Makes Summer in Puerto Vallarta Fun

Marie Callan

Act II Stages will re-open on June 25th with its new summer schedule, including the return of their famous Karaoke Party; Us Two's 'ABBA & Elton' show; the musical comedy 'Twist and Shout'; and an all new Puerto Vallarta Concert Series featuring a different local band every week!

---
Two New HHI Episodes Feature TREG's Taniel Chemsian

Timothy Real Estate Group

A new episode of HGTV's 'House Hunters International' TV series featuring Timothy Real Estate Group agent Taniel Chemsian will be aired on June 20 and 21. And, if you missed the last Puerto Vallarta episode of HHI, you can watch it on YouTube or wait for the July 22-23 rerun on HGTV USA.

---
59th International Sportfishing Tournament in San Blas

BanderasNews.com

The Marina Fonatur in the historic port of San Blas is set to welcome the 59th San Blas International Sport Fishing Tournament June 27-29, 2019. With competitions in 3 categories: sailfish, marlin and dorado, this tournament is considered the best of its kind on the Mexican Pacific.

---
National Botanical Garden Day Celebrations at the VBG

Lorena Sonrisas

Every year, public gardens throughout Mexico observe National Botanical Garden Day to raise awareness about their role in the conservation and protection of the environment. This year's event is on June 22 and Vallarta Botanical Garden will celebrate with a day full of fun activites.

---
Let Daiquiri Dick's Do the Cooking This Summer

Banderas News Team

Baby, it's HOT outside! Too hot to even THINK about cooking, much less spending hours standing over a steamy stove. Fortunately, the chefs at Daiquiri Dick's Restaurant are once again serving up their Summer Sizzle menus, which offer hot deals on gourmet meals.

---
Site Map
•
Print this Page
•
Email Us
•
Top