Entertainment
Around the Bay and Beyond
No matter what your interests are, Puerto Vallarta is always ready to entertain, offering a wide variety of entertainment options that will keep everyone amused. But it's up to you to decide how you want to spend your time here....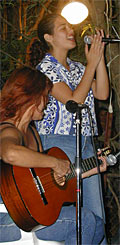 While every destination in Mexico has something to offer visitors, romantic Puerto Vallarta delivers something for everyone: beaches on a beautiful bay, great dining, a sizzling nightlife, movie theaters, cultural events, art galleries, excellent shopping, world-class golf and tennis, activities and excursions galore, and fun, fun, fun!


In Puerto Vallarta you can relax on a beautiful beach, play a round of championship golf, shop for Mexican handcrafts and dine in a wide variety of restaurants. There are also countless tours and activities to enjoy - from exciting jeep safaris and canopy tours in the tropical jungle to whale watching, sailing, snorkeling or scuba diving in Banderas Bay.


Visitors who appreciate cultural experiences will love the festivals and events hosted in Puerto Vallarta each year. A variety of cultural events, including the Gourmet Festival and an International Film Festival are designed for the cosmopolitan visitor, while Fishing, Tennis and Golf Tournaments are complemented by the Old Mexico flavor of this cozy seaside village.


And many visitors prefer to spend their days relaxing on the beach soaking up the warm tropical rays. Puerto Vallarta is a haven for weary vacationers who want nothing more than a good book, a tan and icy cold beers or margaritas delivered at regular intervals by an adept, and usually bilingual, waiter.

• B E L O W T H E F O L D •
'Laurel Canyon' Returns to The Red Room in March

Debbie White

Renee Armand and Paul Aleman are excited to return to Puerto Vallarta in March for encore performances of Laurel Canyon, the untold story. Performed brilliantly in songs and stories, Renee will share things that she has never talked about, on March 7, 9, 11, 14, 16 & 18 in the Red Room.

---
Eleventh Annual Vallarta Wine Fest, March 1-5, 2017

Banderas News Team

Throughout the 2017 Vallarta Wine Fest, set to take place March 1-5th, attendees will not only enjoy wine tasting and food pairing events at some of the finest restaurants and hotels in the Banderas Bay area, but also a wide variety of wine-related public events.

---
Purr Project Offers Cat Lovers 'Superior' Vallarta Tours!

Marilyn Khan

You've heard about the 175+ cats and kittens living happily at Puerto Vallarta's feline shelter. Now you can meet them! Purr Project is offering visits to the ranch in roomy, 10-passenger air-conditioned vans every other Wednesday. The next tour is set for February 22, 2017.

---
VYC Hosts WesMex International Small Boat Regatta

Richard Williams

Vallarta Yacht Club is gearing up for the International WesMex Regatta 2017. Set for March 10-12, the event typically attracts around 300 competitors from all over the world, and this year it has again been selected as one of 5 National Qualifier Regattas for all of Mexico.

---
CarnavalPV 2017, Puerto Vallarta's Mardi Gras Parade

Adam García

Puerto Vallarta's 9th annual Mardi Gras Parade, set to kick off on Tuesday, February 28th at 8:00 pm, promises to continue to show the world our vibrant community. So gather your masks and friends and get ready to catch beads, blow whistles and kisses, and stay out late.

---
Act II Brings the Music of The Beatles to Puerto Vallarta

BanderasNews.com

Are you a 'Fab Four' fan? Head over to Act II tonight for the debut of 'Come Together,' a celebration of the music of The Beatles, starring many of your favorite local entertainers. Not a Beatles fan? No worries. There's always a wide variety of music, theater and fun at STAGES.

---
Vallarta Pride 2017 "Together with Pride," May 21-28

Author

One of the first celebrities to confirm his participation in Vallarta Pride 2017, set for May 21 to 28, is Johnathan Celestin, a singer and songwriter from New York City who, in addition to being the Grand Marshal of the Pride parade, will have presentations at various events of the festival.

---
Quench Your Thirst for Shopping at Mercado Los Mangos

Adriana Garcia

Immerse yourself in the culture of Puerto Vallarta at it's newest 'buy local' market, Mercado Los Mangos. We offer a great selection of artisan products, live music and a children's crafting tent. When you're ready to quench your thirst, try the flavored waters of Refresca Aguas Artesanales.

---
Lorena Peril & Ray Jon Narbaitz Rocked Vallarta

Debbie White

Act II Entertainment was thrilled to welcome Lorena and Ray Jon back this month. With seating for around 200, the Main Stage theater was filled to the rafters with eager fans. On the last night of their three show engagement, I was fortunate to hear these incredible musicians.

---
Fearless Frida Exhibition Opens Feb 18 at Art VallARTa

Bill Makley

In 2016, record crowds at Art VallARTa's 'Fearless Frida' art exhibition inspired an even bigger revival of the theme for this year's redux: 'Frida and All Fearless (Persistent) Women - and the Men Who Champion Them.' The exhibit will open on February 18 and remain on display through March 11.

---
'Voces Unidas por Los Niños' to Benefit Casa Hogar

Rodrigo López

On February 18 at 6:30 pm, Platform 322 in Colonia Versalles will present sopranist Gabriel Delgadillo and singer-songwriter Kharla Barragan in 'Voces Unidas por Los Ninos,' a benefit concert for the 42 children who live at the Casa Hogar Máximo Cornejo orphanage in Puerto Vallarta.

---
Democrats Abroad Presents 'Academy Awards Week'

David Kamp

From February 18-25th, the Costa Banderas Chapter of Democrats Abroad Mexico will present 'Academy Award Week,' featuring seven of 2016's best films - all of which have been nominated for Oscars. The venue for the screenings will be the Jazz Foundation in downtown Puerto Vallarta.

---
How to Have a Good Laugh While Helping Others

Marie Callan

Avenue Q, the delightful laugh-out-loud American musical that has broken all box office records and raised 120,000 pesos for Puerto Vallarta charities, returns to Act II for 5 more shows! This week, monies will be raised for Cheryl's Shoebox after school soccer teams. Let's help make this goal!

---
Site Map
•
Print this Page
•
Email Us
•
Top