Entertainment
Around the Bay and Beyond
No matter what your interests are, Puerto Vallarta is always ready to entertain, offering a wide variety of entertainment options that will keep everyone amused. But it's up to you to decide how you want to spend your time here....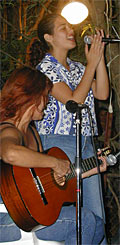 While every destination in Mexico has something to offer visitors, romantic Puerto Vallarta delivers something for everyone: beaches on a beautiful bay, great dining, a sizzling nightlife, movie theaters, cultural events, art galleries, excellent shopping, world-class golf and tennis, activities and excursions galore, and fun, fun, fun!


In Puerto Vallarta you can relax on a beautiful beach, play a round of championship golf, shop for Mexican handcrafts and dine in a wide variety of restaurants. There are also countless tours and activities to enjoy - from exciting jeep safaris and canopy tours in the tropical jungle to whale watching, sailing, snorkeling or scuba diving in Banderas Bay.


Visitors who appreciate cultural experiences will love the festivals and events hosted in Puerto Vallarta each year. A variety of cultural events, including the Gourmet Festival and an International Film Festival are designed for the cosmopolitan visitor, while Fishing, Tennis and Golf Tournaments are complemented by the Old Mexico flavor of this cozy seaside village.


And many visitors prefer to spend their days relaxing on the beach soaking up the warm tropical rays. Puerto Vallarta is a haven for weary vacationers who want nothing more than a good book, a tan and icy cold beers or margaritas delivered at regular intervals by an adept, and usually bilingual, waiter.

• B E L O W T H E F O L D •
ConComics Puerto Vallarta 2017 at Los Mangos Library

BanderasNews.com

On October 21 and 22 from 11 am to 6 pm, Centro Cultural Biblioteca Los Mangos will host ConComics Puerto Vallarta 2017, a multi-genre entertainment and comic convention similar to Comic-Con events in the United States, but on a smaller scale. Come join the fun!

---
Vallarta Readies for Beach Soccer Worldwide Tournament

Ricardo Acerco

After a 7-year absence, following the CONCACAF Beach Soccer Championship 2010, a qualifier for the FIFA Beach Soccer World Cup a year later, Puerto Vallarta returns to the international beach soccer circuit Oct. 20-22 with the Visit Puerto Vallarta Cup, part of the BSWW global tour.

---
Celebrating Life and Death in Puerto Vallarta, Mexico

María Francesca

In Puerto Vallarta, Mexico, the dead will soon walk the Earth - so let the celebrations begin! From October 29 through November 2, there will be Day of the Dead altars, Catrina displays, singing, dancing, parades and other 'spooktacular' events in various venues throughout the city.

---
Vallarta Heroes 911 Calendar Launch Party, November 9

Banderas News Team

Puerto Vallarta first responders will set off some sparks Nov. 9 at the 9-1-1 Calendar Launch Party hosted by Paco's Ranch. Festivities begin at 7 pm and include 2x1 drinks, live entertainment by Amy Armstrong, raffle, mini-auction and, of course, appearances by our calendar models.

---
5th Annual La Cruz International Fishing Tournament

BanderasNews.com

Offering 2.5 million pesos in prizes, the 5th Annual La Cruz International Fishing Tournament, scheduled to be held October 18-21, 2017 at Marina Riviera Nayarit in La Cruz de Huanacaxtle, promises some hot and heavy competition in the sailfish, marlin, tuna and dorado categories.

---
Marina Vallarta Thursday Market Resumes October 19

Puerto Vallarta Tourism Trust

The Marina Vallarta Art & Market resumes Oct. 19 and will run every Thursday from 6-10 pm through May 31, 2018. Market shoppers will find art & jewelery, organic foods & homemade breads, clothes & handicrafts, among many other wonderful things while enjoying live music and lots of fun.

---
El Arrayán Hosts Oaxaca Earthquake Relief FUNdraiser

BanderasNews.com

On Sunday, October 29, the owners of El Arrayán Mexican Restaurant in Puerto Vallarta will host a Pozole + LIVE Music Fiesta to support earthquake relief efforts in southern Oaxaca. 100 percent of all funds raised will provide direct relief to the town of San Francisco Ixhuatán, Oaxaca.

---
Flute Ensemble Concert to Raise Funds for I AM PV

BanderasNews.com

The Flute Ensemble of Puerto Vallarta, newly formed this summer, is pleased to announce their first performance at Incanto on October 22 at 4 pm. Proceeds from this fundraiser concert will be used to purchase equipment for I AM PV, the Instituto Artes Musicales de Puerto Vallarta.

---
Garbo to Host Democrats Abroad's October Social

Democrats Abroad Mexico

The Costa Banderas Chapter of Democrats Abroad Mexico invites you to join them on Tuesday, October 17 from 6-8 pm for a 'Social Hour' in the air conditioned comfort of Garbo Piano Bar, Pulpito #142, between Olas Altas and Amapas on the south side of Puerto Vallarta.

---
Mellow Mondays at Casa Karma Support Los Mangos

Biblioteca Los Mangos

Casa Karma now features Mellow Mondays, intimate soirees in which live music becomes the underscore for great conversation, a casual food fare menu and cash bar cocktails benefiting Puerto Vallarta non-profit organizations. In October, Biblioteca Los Mangos will be the recipient.

---
Boutique Kicks Off Theater Season with 'Transylvania'

Catherine Caldera

The Boutique Dinner Theatre is launching its busiest season yet of plays, concerts, and other entertaining events. The fun starts on Oct. 15 with 'Transylvania,' a musical performed in Spanish, and on Oct. 18 'Crooner Extraordinaire' Francis Dey will take the stage for his one-man show.

---
El Placer de Escuchar Presents: 'Saving Mr. Banks'

BanderasNews.com

The process undergone by composers and lyricists working together to compose the songs in a musical film make 'Saving Mr. Banks' an ideal choice for Paco Ojeda's music appreciation series at Biblioteca Los Mangos. The film will be screened at Los Mangos Library on Oct. 10 at 7 pm.

---
Piel Canela Joins No Way José! to Welcome Season 9

Banderas News Team

Award-winning Puerto Vallarta favorite, No Way Jose! Restaurant/Bar, invites you to help celebrate their Season 9 Opening Fiesta on Saturday, October 14, 2017. Piel Canela will provide entertainment and a portion of the night's proceeds will go to Mexico earthquake relief.

---
Breast Cancer Awareness Events in Puerto Vallarta

Pamela Thompson

October is Breast Cancer Awareness Month. As we work together as a community to promote awareness, honor breast cancer survivors and remember those that lost the fight, we hope that you will participate in Healthcare Resources Puerto Vallarta's October activities.

---
'Music For Mexico' Earthquake Relief Benefit Concert

BanderasNews.com

On October 1st, Act II will present 'Music For Mexico,' a benefit concert to help people in the areas hardest hit by the earthquakes that have devastated Mexico. Come show your support while bidding on wonderful donations from local businesses, and enjoying great entertainment!

---
'DeLIMITations' Opens at Vallarta's OPC on October 7

Pilar Perez

'DeLIMITations: Mapping the border of 1821 between Mexico and the United States,' a site-specific installation by artists Marcos Ramírez ERRE and David Taylor, will open on October 7 at Puerto Vallarta's Oficina de Proyectos Culturales. The expo continues through January 13, 2018.

---
ExPats in Vallarta October Happy Hours and Events

Sara Wise

ExPats in Vallarta, a totally social group offering informal fellowship and assistance for Expat residents, or visitors considering living in the Banderas Bay area, will be hosting three Happy Hour gatherings and two Special Event Dinners during the month of October. Join us!

---
Site Map
•
Print this Page
•
Email Us
•
Top