Entertainment
Around the Bay and Beyond
No matter what your interests are, Puerto Vallarta is always ready to entertain, offering a wide variety of entertainment options that will keep everyone amused. But it's up to you to decide how you want to spend your time here....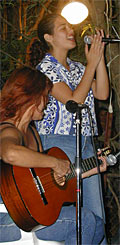 While every destination in Mexico has something to offer visitors, romantic Puerto Vallarta delivers something for everyone: beaches on a beautiful bay, great dining, a sizzling nightlife, Broadway quality stage plays, live music, movie theaters, cultural events, art galleries, excellent shopping, world-class golf and tennis, activities and excursions galore, and fun, fun, fun!


In Puerto Vallarta you can relax on a beautiful beach, play a round of championship golf, shop for Mexican handcrafts and dine in a wide variety of restaurants. There are also countless tours and activities to enjoy - from exciting jeep safaris and canopy tours in the tropical jungle to whale watching, sailing, snorkeling or scuba diving in Banderas Bay.


Visitors who appreciate cultural experiences will love the festivals and events hosted in Puerto Vallarta each year. A variety of cultural events, including the Gourmet Festival and an International Film Festival are designed for the cosmopolitan visitor, while Fishing, Tennis and Golf Tournaments are complemented by the Old Mexico flavor of this cozy seaside village.


And many visitors prefer to spend their days relaxing on the beach soaking up the warm tropical rays. Puerto Vallarta is a haven for weary vacationers who want nothing more than a good book, a tan and icy cold beers or margaritas delivered at regular intervals by an adept, and usually bilingual, waiter.

• B E L O W T H E F O L D •
19th Annual San Pancho Music Festival Set for Feb 22-24

Chris Parsons

The 2019 San Pancho Music Festival will be held Friday, February 22 through Sunday, February 25 in San Francisco, Nayarit. This year the Music Festival will feature performing artists from the Riviera Nayarit region, as well as musicians from the U.S., Canada and Mexico.

---
Champagne Brunch & Fashion Show to Benefit SPCA de PV

Janice Gonzalez

SPCA de PV is pleased to announce our upcoming 'Beauty and the Beast' fundraiser on Tuesday, February 19. Make plans now to join us for a delicious champagne brunch and Spring fashion show, featuring local designers, in The Iguana Restaurant & Tequila Bar in Casa Kimberly.

---
Get Ready for the Sixth Annual Taste of Lo de Marcos

BanderasNews.com

The 6th Annual Taste of Lo De Marcos, set to be held at the Centro de Fiestas Los Delfines on Sunday, February 17, 2019 from 3-8 pm, will feature local restaurants, artisanal booths and live music, with proceeds benefiting Amigos de Lo de Marcos and Comite de Accion Ciudadana.

---
There are Jaguars on the Puerto Vallarta Malecón!

María Francesca

Vallarta Botanical Garden has installed 'JAGUARS - From Ancestral Myth to Current Conservation Imperative,' a visual exhibit of stunning images and interpretive texts on the Malecón. The exhibit was inaugurated January 10 and will remain on display through February 10, 2019.

---
Act II is in Full Swing at the Height of the Season!

Daniel R. Mininni

Act II is in Full Swing at the height of the Puerto Vallarta entertainment season, with two of the season's most anticipated musicals opening this week. 'I Got Rhythm,' from the team that brought you 'Some Enchanted Evening' last season, and the iconic American musical, 'Chicago.'

---
Kaiser Maximilian Offers Vallarta Diners Oysters & More

Marie Callan

Though best-known for serving Puerto Vallarta residents and visitors exceptional Austrian fare, Kaiser Maximilian invites you to dive into the special 'Oysters and More' menu, which is being served, along with the restaurant's regular menu, through February 2nd.

---
Puerto Vallarta Can't Get Enough of 'Active Measures'

Democrats Abroad Costa Banderas

If you missed the Democrats Abroad Costa Banderas Chapter's first two showings of 'Active Measures' at Incanto, you can still see the sold-out movie everyone in Puerto Vallarta is talking about! A third screening & discussion of the film is scheduled for January 22 at 6 pm.

---
Nine Day Festival Honors Patron Saint of Bucerías

Banderas News Team

The festival of Our Lady of Peace, the patron Saint of Bucerias, Nayarit, began January 16 and continues through the 24th. Besides a carnival in the town's main plaza, festivities include a boat parade, daily masses and processions, fireworks and entertainment nightly.

---
2019 Vallarta Bird Festival at Vallarta Botanical Garden

Marie Callan

Vallarta Botanical Garden is home to over 200 different species of birds, and will be the site of the 2019 Vallarta Bird Festival, March 8-10. These three fun-filled days of birding tours and presentations will help fund the construction and installation of Military Macaw nest boxes.

---
Branden & James Return to The Palm Cabaret January 19

Debbie White

Branden & James return to Puerto Vallarta for a 5-week residence at The Palm Cabaret, where they'll present their new show, 'The Phantom of The Greatest Showman.' In this show, the cello and vocal duo performs some of the beloved melodies from these two epic movie musicals.

---
Site Map
•
Print this Page
•
Email Us
•
Top