Entertainment
Around the Bay and Beyond
No matter what your interests are, Puerto Vallarta is always ready to entertain, offering a wide variety of entertainment options that will keep everyone amused. But it's up to you to decide how you want to spend your time here....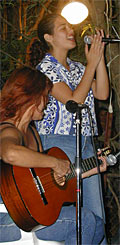 While every destination in Mexico has something to offer visitors, romantic Puerto Vallarta delivers something for everyone: beaches on a beautiful bay, great dining, a sizzling nightlife, Broadway quality stage plays, live music, movie theaters, cultural events, art galleries, excellent shopping, world-class golf and tennis, activities and excursions galore, and fun, fun, fun!


In Puerto Vallarta you can relax on a beautiful beach, play a round of championship golf, shop for Mexican handcrafts and dine in a wide variety of restaurants. There are also countless tours and activities to enjoy - from exciting jeep safaris and canopy tours in the tropical jungle to whale watching, sailing, snorkeling or scuba diving in Banderas Bay.


Visitors who appreciate cultural experiences will love the festivals and events hosted in Puerto Vallarta each year. A variety of cultural events, including the Gourmet Festival and an International Film Festival are designed for the cosmopolitan visitor, while Fishing, Tennis and Golf Tournaments are complemented by the Old Mexico flavor of this cozy seaside village.


And many visitors prefer to spend their days relaxing on the beach soaking up the warm tropical rays. Puerto Vallarta is a haven for weary vacationers who want nothing more than a good book, a tan and icy cold beers or margaritas delivered at regular intervals by an adept, and usually bilingual, waiter.

• B E L O W T H E F O L D •
Hedda Lettuce, the 'Queen of Green,' in The Red Room

Debbie White

Back for her fourth season at Act II's Red Room, Hedda Lettuce has a reputation of being outrageously funny, and her shows always turn out to be a roller coaster ride of laughs and crazy surprises! Catch her on Tuesdays at 5 pm and on Thursdays & Fridays at 9:30 pm.

---
Puerto Vallarta Busy Preparing Semana Santa Activities

María Francesca

With the two-week Easter holiday period fast approaching, the municipal government of Puerto Vallarta is busy preparing a series of activities through the Tourism Department that are designed to attract tourists to the city's historic downtown area.

---
Kim Kuzma in 'Dancing Queen' - Tuesdays at The Palm

Debbie White

Puerto Vallarta's most endearing and enduring songstress, Kim Kuzma, has an electrifying new show this season called 'Dancing Queen.' Combining the iconic music of Cher and ABBA, Kim & her band offer two spectacular performances every Tuesday night at The Palm Cabaret.

---
This Week's South Side Shuffle Expo at Galleria Dante

Gena Guarniere

Exhibitions by artists Nora Maciel and MO open at Galleria Dante on Friday, March 22, as part of this week's South Side Shuffle. Stop by Puerto Vallarta's largest and most eclectic art gallery to meet the artists and enjoy complimentary cocktails from 6:00-10:00 pm.

---
Paul Fracassi's 'Walk Like A Man' in The Red Room Cabaret

Debbie White

Singing sensation Paul Fracassi has returned to Puerto Vallarta this month for a limited run of his hit show 'Walk like a Man,' an exciting tribute to the legendary New Jersey-based recording stars Frankie Valli and The Four Seasons, in The Red Room at Act II Entertainment Stages.

---
Democrats Abroad's Film Series Continues This Week

Democrats Abroad Costa Banderas

The Costa Banderas Chapter of Democrats Abroad's 2019 Academy Award and Documentary Film Series has been extended once again by popular demand, with Puerto Vallarta audience favorites playing on Incanto's big screen at 3:00 pm most every day this week, through March 22.

---
Have 'Dinner with Hnoi' at Daiquiri Dick's This Weekend

Marie Callan

Daiquiri Dick's is pleased to announce the (temporary) return of former Manager and Chef Hnoi Lattitham. Hnoi is visiting Puerto Vallarta this weekend, and she's cooking up a special Pacific Rim menu that's being served from 5:00 to 11:00 pm through March 17, 2019.

---
March Madness: It's Still 'High Season' at Act II Stages!

Marsha Ross

Even as Puerto Vallarta's 'high season' winds down, March Madness continues at Act II Stages. Here's a look at this week's exciting lineup of entertainment, which includes the return of Paul Fracassi with his popular Frankie Valli tribute show, 'Walk Like A Man.'

---
DA Wednesday Film Celebrates Women's History Month

Democrats Abroad Costa Banderas

In recognition of Women's History Month, the documentary 'Dolores' will be shown at 6:00 pm on March 20 at Nacho Daddy Restaurant on the south side of Puerto Vallarta. This docudrama replaces the previously scheduled Democrats Abroad Wednesday film, 'Active Measures.'

---
Third Dama Juana Raicilla Festival, March 15-17

Diego Sancho

A distilled spirit made from the agave plant, Raicilla is made by artisans with recipes passed down from generation to generation. From March 15-17, Puerto Vallarta will be celebrating 'the grandfather of tequila' on the Rio Cuale Island - and everyone is invited!

---
Oscar Winning & Documentary Films Series Continues

Democrats Abroad Costa Banderas

The Democrats Abroad 2019 Academy Award Movie Series Encore continues in Puerto Vallarta through March 18th, with Oscar-winning film screenings scheduled for March 14th & 15th, and political documentaries back by popular demand on March 17th & 18th.

---
Puerto Vallarta International Film Festival Returns

Lorena Sonrisas

With Chile as guest of honor, the Nineteenth Annual Puerto Vallarta International Film Festival kicked off March 11 and continues through the 22, giving movie buffs the opportunity to enjoy free screenings of films from Mexico, and around the world, at various venues around town.

---
Jimmy James: 'Fashionista & Legendary Voices' at The Palm

Marie Callan

After his very successful run in Puerto Vallarta back in November/December 2018, award-winning entertainer, singer and voice impressionist, Jimmy James, has been asked to come back to The Palm Cabaret and Bar for another two week run, March 22-31, 2019.

---
Pasitos de Luz Kids will be Surfing with Nixon March 14

Chris Jacobs

Pasitos de Luz has partnered with Arizona-Based charity, Surfing With Nixon, to launch Mexico's first-ever surf day for children with disabilities. Everyone is invited to come out to Beach #1 in Nuevo Vallarta on March 14 from 10 am to 2 pm to watch the kids learn to surf.

---
And The Hits Keep Marching On at Act II Stages!

Daniel R. Mininni

As we head into mid-March, the hits keep 'marching on' at Act II Stages - THE PLACE to go for the best in live cabaret, music, stage plays and drag shows. Here's a look at this week's lineup, which includes the return of Paul Fracassi & the world-premiere of The Kinsey Sicks' new show!

---
March 8 Puerto Vallarta News Brief and Weekend Events

Banderas News Team

There's always so much going on in Puerto Vallarta and around Banderas Bay it can be difficult to keep up with it all. Here's a look at some of this week's Puerto Vallarta news, community announcements, and a couple of this weekend's events that you won't want to miss.

---
It's Been an Amazing Season – But it's Not Over Yet!

Alex Bourgeau

The Palm Cabaret likes to shake things up a bit, to introduce Puerto Vallarta audiences to new and diverse acts. With a little over a month to go in the 2019 season, this popular southside venue shows no sign of slowing down, with new shows and returning favorites still to come.

---
Learn Vallarta through Cultural Experiences

...take an easy walking tour!

The Mexican culture as reflected in its people, history, architecture, artisanal crafts and ecology can be experienced best by taking a walking tour. Puerto Vallarta Walking Tours offers eight such walks that immerse you in the local culture for a couple of hours.

---
2019 Chacala Music & Art Festival, March 16-17

María Francesca

Something magical and musical is coming to the heart of Riviera Nayarit, in the crown jewel village of Chacala-by-the-sea, a traditional fishing village 50 miles north of Puerto Vallarta. The Sixth Annual Chacala Music & Art Festival returns March 16-17, 2019.

---
Celebrate Mardi Gras in Vallarta at Daiquiri Dick's

Laura Gelezunas

One of the largest celebrations in the world, Carnival is known for crazy parades, wild parties and fabulous food. If you are in Puerto Vallarta, stop by Daiquiri Dick's for a Mardi Gras menu featuring Cajun cuisine that will make you want to dance in the streets.

---
Mariachis, Margaritas & More - a Real Mexican Fiesta

Viviana Testón

The beautiful stone-colonnaded interior courtyard of the Presidencia – Puerto Vallarta's historic Town Hall in the heart of Old Town – will be the site of a fabulous Mexican Fiesta sponsored by the Viejo Vallarta and Amapas Neighborhood Associations on Thursday, March 28.

---
Entertainment Season Keeps 'Marching On' at Act II

Daniel R. Mininni

Even though the Puerto Vallarta 'high' season will soon start winding down, Act II Entertainment is still in 'high' gear with two new shows opening in The Red Room this month, and three of the winter season's most successful Main Stage shows extended through April due to popular demand.

---
Don't Miss 'The Gabest Show on Earth, 2.0' at Act II

Gary R. Beck

'Gabelicious' was discussed as a possible title for Gabe Arcineaga's new show at Act II, 'The Gabest Show on Earth, 2.0.' Filled with beautiful music, poignant stories, incredible comedy and exuberant dancing, Puerto Vallarta audiences can't get enough of this must-see show!

---
ExPats in Vallarta March 2019 Happy Hours and Events

Sara Wise

ExPats in Vallarta, a fun and friendly group of PV residents and visitors, have a variety of entertaining social events scheduled for March - from Happy Hours, Wine & Appetizer Evenings in private homes and Group Dinners at local restaurants, to free Zumba classes.

---
Site Map
•
Print this Page
•
Email Us
•
Top