Entertainment
Around the Bay and Beyond
No matter what your interests are, Puerto Vallarta is always ready to entertain, offering a wide variety of entertainment options that will keep everyone amused. But it's up to you to decide how you want to spend your time here....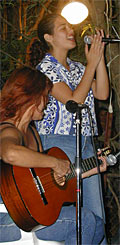 While every destination in Mexico has something to offer visitors, romantic Puerto Vallarta delivers something for everyone: beaches on a beautiful bay, great dining, a sizzling nightlife, movie theaters, cultural events, art galleries, excellent shopping, world-class golf and tennis, activities and excursions galore, and fun, fun, fun!


In Puerto Vallarta you can relax on a beautiful beach, play a round of championship golf, shop for Mexican handcrafts and dine in a wide variety of restaurants. There are also countless tours and activities to enjoy - from exciting jeep safaris and canopy tours in the tropical jungle to whale watching, sailing, snorkeling or scuba diving in Banderas Bay.


Visitors who appreciate cultural experiences will love the festivals and events hosted in Puerto Vallarta each year. A variety of cultural events, including the Gourmet Festival and an International Film Festival are designed for the cosmopolitan visitor, while Fishing, Tennis and Golf Tournaments are complemented by the Old Mexico flavor of this cozy seaside village.


And many visitors prefer to spend their days relaxing on the beach soaking up the warm tropical rays. Puerto Vallarta is a haven for weary vacationers who want nothing more than a good book, a tan and icy cold beers or margaritas delivered at regular intervals by an adept, and usually bilingual, waiter.

• B E L O W T H E F O L D •
ExPats in Vallarta July Happy Hours and Events

Sara Wise

Summer gatherings continue to be a huge success with local expats, so ExPats in Vallarta are continuing their full schedule of events during the Summer months this year. During the month of July, ExPats in Vallarta will be having two Happy Hour gatherings and two ExPats Dinners. Join the fun!

---
The Top Ten Summer Camps in The Riviera Nayarit

Jorge Jiménez

School is about to let out for the Summer and soon it will be time for family vacations. Many families look for summer camps for their kids, so the Riviera Nayarit Conventions and Visitors Bureau has put together a list of ten excellent options for children and teens.

---
American Legion Hosts Free July 4th Event for Veterans

Dennis Rike

On July 4th from 12-2 pm, the Puerto Vallarta American Legion Post 14 will host a free Independence Day event, offering hot dogs, chili, and more, to every military veteran, their spouses and friends, who wish to come to Steve's Sports Bar, 286 Basilio Badillo on the south side of Vallarta.

---
Ángeles en Libertad Collecting Bottlecaps for Life

BanderasNews.com

Ángeles en Libertad invites everyone to participate in this year's 'Destapate y Dona Vida' (bottle caps for life) campaign. They will be collecting plastic bottle caps and aluminum can pull-tabs at an entertaining awareness- and fund- raising event at Los Arcos del Malecón on June 24.

---
June 23 Vallarta-Nayarit News Brief & Weekend Events

Banderas News Team

There's always so much going on in Puerto Vallarta and around Banderas Bay it can be difficult to keep up with it all. Here's a look at some of this week's Vallarta-Nayarit headlines, community announcements and a couple of this weekend's events that you won't want to miss.

---
Act II Entertainment Rocks Summer, Prepares for Winter

Marie Callan

Act II has done it again and shows no sign of slowing down. Danny Mininni and team kicked off the Summer season with a brand-new series, 'Spotlight on Vallarta,' which highlights the incredible talent of people that live here - and they are already gearing up for the Winter season!

---
July Events Heat Up the Summer in The Riviera Nayarit

Jorge Jiménez

Summer is heating up in the Riviera Nayarit, and Mexico's Pacific Treasure has a variety of smoking hot events planned for July. Sports dominate the calendar, but there is plenty going on in the music, nature and beauty pageant arenas that are sure to spark your interest.

---
1st Annual Mango Festival to Benefit Jay Sadler Project

Dennis Rike

Join the Jay Sadler Project as they raise money for the Vista Hermosa playground with the juiciest event: the 1st Puerto Vallarta Mango Festival! Set to be held July 1 at Lazaro Cardenas Park, the festival will feature various dishes made with the 'King of Tropical Fruit' and live entertainment.

---
Rafffle at 4th of July Party in PV Offers Great Prizes

Marilyn Khan

If you are in Puerto Vallarta, make plans now to celebrate the 4th of July at Langostinos on Los Muertos Beach from 6-9 pm. You'll enjoy an unlimited buffet loaded with all your favorite July 4th foods, music by Sylvie Scopazzo and The Zippers, and a raffle for great prizes!

---
2017 Corona Sunsets Festival Coming to San Pancho

CasaCupula.com

After a 17 country world tour, Corona Sunsets is coming back to Mexico for its 5th edition. This spectacular music festival will be held on July 22 on San Pancho beach, an hour's drive north from Puerto Vallarta. According to Casa Cupula, it will be well attended by Vallarta's LGBT community.

---
Let Daiquiri Dick's Do the Cooking This Summer

Banderas News Team

Baby, it's HOT outside! Too hot to even THINK about cooking, much less spending hours standing over a steamy stove. Fortunately, the chefs at Daiquiri Dick's Restaurant are once again serving up their Summer Sizzle menus, which offer Puerto Vallarta diners hot deals on gourmet meals.

---
Marina Riviera Nayarit Summer Solstice/Sailstice 2017

Katrina Liana

Gather up the family and head out to Marina Riviera Nayarit in La Cruz de Huanacaxtle on Saturday, June 24, because all you need is a dinghy, kayak, surf or paddle board - and an umbrella - to be a part of the 2017 'Summer Sailstice' Umbrella Downwinder Regatta and SUP Rally!

---
Weekend Events in Puerto Vallarta & Around Banderas Bay

Banderas News Team

Even in mid-June, there's so much going on in Puerto Vallarta and around Banderas Bay that it can be difficult to keep up with it all, so we've put together a brief overview of some of this weekend's events and happenings in Vallarta-Nayarit that you won't want to miss.

---
'The Gabest Show on Earth' Returns to Act II June 29

Daniel R. Mininni

Act II's first Spotlight On Vallarta performances, 'The Gabest Show On Earth,' opened June 15 to a sold-out house. Gabe Arcineaga, the talented singer who entertained us last season while performing in Encore Lounge, lived up to his promise of delivering an incredible show.

---
Puerto Vallarta Weekend Events & Upcoming Happenings

Banderas News Team

There's always so much going on in Puerto Vallarta and around Banderas Bay, it can be difficult to keep up with it all. Here's a look at some upcoming happenings around the Bay, a few community announcements, and a couple of this weekend's events that you won't want to miss.

---
Marigalante Returns to Vallarta With New Look, New Show

Lorena Sonrisas

After an absence of almost two months, Puerto Vallarta's famous pirate ship, The Marigalante, will soon return to the waters of Banderas Bay. After an extensive remodel, she's set to sail again on Monday, June 19, 2017 - and she'll do it with a brand-new look and all new shows on board.

---
The Jazz Foundation Celebrates Two Years in Vallarta

María Francesca

From June 9-11, 2017 The Jazz Foundation will be celebrating 24 months of bringing live music and culture to Puerto Vallarta with a tribute to Mexican Jazz musician, drummer and producer - the king of the versatile style - Ferdinand Toussaint, and everyone is invited!

---
4th of July Barbecue on the Beach at Langostinos

Marilyn Khan

If you find yourself in Puerto Vallarta on the USA's Independence Day, head over to Langostinos on Playa Los Muertos for a red hot BBQ on the beach that includes all your favorite 4th of July foods, fun and live music by one of PV's hottest bands, Sylvie and The Zippers.

---
Daiquiri Dick's Makes Summer Sizzle in Puerto Vallarta

Banderas News Team

One of the best things about Summertime in Puerto Vallarta is the return of Daiquiri Dick's Summer Sizzle Menu. From June through August this popular beachside restaurant will once again be offering diners a choice of three delectable courses (appetizer, entree, dessert) for $399 pesos.

---
Democrats Abroad June Social Hour at Nacho Daddy

David Kamp

The Costa Banderas Chapter of Democrats Abroad Mexico invites you to join them for a June 'Social Hour' in the air conditioned comfort of the upstairs lounge at Nacho Daddy, located at Basilio Badillo #287 on the south side of Puerto Vallarta, on Tuesday, June 20, 2017 from 5-7 pm.

---
Puerto Vallarta is Revving Up for June Color Runs

María Francesca

Whether you are looking for a fun way to stay in shape, or a chance to 'strut your stuff' in friendly competition, Puerto Vallarta is the place to be in June! The city is revving up for a series of Color Runs that focus less on breaking records and more on getting active and having a good time.

---
12th Annual Motofiesta Roars into Rincón de Guayabitos

Banderas News Team

Hundreds of motorcyclists and thousands of enthusiasts are raring to go for the 12th edition of the Motofiesta Guayabitos. This year's event is set to take place in Rincón de Guayabitos, Nayarit June 16-18, 2017 - and it promises to deliver a rip-roaring good time for the whole family!

---
Dogs in The Diner? At Some Vallarta Restaurants, Yes.

Boardwalk Realty PV

Questions have arisen lately about the appropriateness of allowing your dog to accompany you to local restaurants. This is Mexico and some people assume things are a bit looser here. They are, and there are many restaurants in Puerto Vallarta that DO accept pets.

---
Act II's New Summer Series 'Spotlight on Vallarta'

BanderasNews.com

Act II, in its effort to provide top-quality, year-round entertainment to the community, has created a brand-new summer series, 'Spotlight on Vallarta!' This series, which highlight the incredible talent of people that live full-time in Puerto Vallarta, kicks off on June 15 in The Red Room.

---
Celebrating El Día De La Marina in Puerto Vallarta

Banderas News Team

June 1st is El Dia de la Marina, commemorating the launching of the first 100% Mexican crewed ship, the Tabasco, on June 1, 1917, from the Port of Veracruz. Today, 'Navy Day' is celebrated in port towns all across Mexico - and Puerto Vallarta is no exception.

---
A New, Innovative, Fun & Free Way to Tour Downtown

AZ Noticias

A new, fun and free way to visit all of the tourist attractions in downtown Puerto Vallarta was introduced this week - and it's called the 'Turicleto.' This sustainable vehicle, powered by pedaling, has an approximate capacity of 20 people, 10 of whom are working the pedals.

---
ExPats in Vallarta June Happy Hours and Events

Sara Wise

ExPats in Vallarta, a totally social group with informal fellowship and assistance for Expat residents or visitors living, working, investing, or considering a move to Puerto Vallarta or the greater Banderas Bay area, has announced the events scheduled for the month of June 2017.

---
Site Map
•
Print this Page
•
Email Us
•
Top