Entertainment
Around the Bay and Beyond
No matter what your interests are, Puerto Vallarta is always ready to entertain, offering a wide variety of entertainment options that will keep everyone amused. But it's up to you to decide how you want to spend your time here....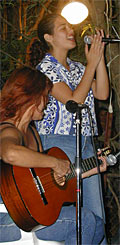 While every destination in Mexico has something to offer visitors, romantic Puerto Vallarta delivers something for everyone: beaches on a beautiful bay, great dining, a sizzling nightlife, movie theaters, cultural events, art galleries, excellent shopping, world-class golf and tennis, activities and excursions galore, and fun, fun, fun!


In Puerto Vallarta you can relax on a beautiful beach, play a round of championship golf, shop for Mexican handcrafts and dine in a wide variety of restaurants. There are also countless tours and activities to enjoy - from exciting jeep safaris and canopy tours in the tropical jungle to whale watching, sailing, snorkeling or scuba diving in Banderas Bay.


Visitors who appreciate cultural experiences will love the festivals and events hosted in Puerto Vallarta each year. A variety of cultural events, including the Gourmet Festival and an International Film Festival are designed for the cosmopolitan visitor, while Fishing, Tennis and Golf Tournaments are complemented by the Old Mexico flavor of this cozy seaside village.


And many visitors prefer to spend their days relaxing on the beach soaking up the warm tropical rays. Puerto Vallarta is a haven for weary vacationers who want nothing more than a good book, a tan and icy cold beers or margaritas delivered at regular intervals by an adept, and usually bilingual, waiter.

• B E L O W T H E F O L D •
May is Full of Fun Events and Local Traditions

Boardwalk Realty PV

The month of May is a wonderful time of year to be in Puerto Vallarta! Many snowbirds have flown north for the summer, and tourism drops off somewhat, yet fun events and local traditions keep the town popping like a string of firecrackers on Chinese new year.

---
ExPats in Vallarta May 2017 Happy Hours and Events

Sara Wise

ExPats in Vallarta has announced their schedule of events for May 2017. During the month of May, the Expats are changing things up a bit; they will be having three Happy Hour gatherings at three new locations! They'll also be hosting a Special Dinner at Las Adelitas Restaurant.

---
Get Ready for the 28th International Sports Classic

BanderasNews.com

Every May, just when it seems the high season is winding down, hot and heavy sporting events fire up competitive spirits at the Puerto Vallarta International Sports Classic. This year's competitons will be held from May 5-7, and everyone is invited to come out and watch the games - for Free!

---
2017 Fiestas de Mayo de La Parroquia de La Santa Cruz

Benjamin Martinez

If you would like to experience a true Mexican tradition in Old Town Puerto Vallarta, then come join in all the festivities during the Fiestas de Mayo being held outside of Parroquia de la Santa Cruz in Colonia Emiliano Zapata from Sunday, April 23 until Wednesday, May 3, 2017.

---
Exhibit by Artist Bill Megrail Opens at Galleria Dante

Claire Guarniere

An exhibition by artist Bill Megrail opens at Galleria Dante on Friday, April 21st, as part of the last Southside Shuffle of the 2016-2017 season. Stop by the largest and most eclectic art gallery in Puerto Vallarta to meet the artist and enjoy complimentary cocktails from 6-10 pm.

---
Spring / Summer Season of Entertainment at Act II STAGES

Corie DuChateau

Act II STAGES, the biggest entertainment venue in Puerto Vallarta, is kicking off the Spring / Summer season with a bang! New shows are wowing audiences, Karaoke night returns this week, and there's a fun-filled line-up of music, theater and amusement planned all summer long.

---
8th Annual Riviera Nayarit Wind Festival in Bucerías

Marie Callan

Kitesurfers from all over Mexico are ready to hit the beaches of Riviera Nayarit as they prepare for 3 days of spectacular kitesurfing during the 2017 Festival del Viento. Competitions are scheduled to take place on the waters between Bucerias and La Cruz de Huanacaxtle May 19-21.

---
'A Night in Argentina' with Bohemia Viva, April 19 & 26

Debbie White

After wowing audiences at Banderas Bay live music venues all season long, Bohemia Viva will soon be heading back to the US for the summer. Before they leave, Andrea and Luis, one of Vallarta's favorite performance duos, will present 'A Night in Argentina' on April 19 and 26.

---
Daiquiri Dick's Special Menu Features a Taste of Asia

BanderasNews.com

Asia is a huge continent with many different cultures and each has its own way of cooking. To get a taste of it all, you'd have to do a lot of traveling. Unless you happen to be in Puerto Vallarta, where Daiquiri Dick's special menu will feature a Taste of Asia from April 19-30th. (Closed on Tuesdays.)

---
April 23 Bucerias Oyster Festival Offers Free Food & Fun

Banderas News Team

Since oyster harvesting is the mainstay of the economy in Bucerías, every year after Easter this laid-back seaside community hosts the Feria de Ostiones. This year the fun begins at 5 pm with the hosts welcoming attendees to enjoy thousands of oysters & hundreds of kilos of ceviche - for free!

---
Puerto Vallarta Offers Easter Vacationers Exciting Events

Banderas News Team

Municipal authorities, the Puerto Vallarta Tourism Trust and local businesses are working together to offer an exciting schedule of events with an emphasis on food, music and Mexican traditions for the thousands of visitors who will be here during the Easter holidays - and beyond! - to enjoy.

---
Act II STAGES Not Slowing Down For the Spring Season

Marie Callan

It may be April but, with new shows wowing audiences, ongoing favorites still 'packing them in,' encore performances of some of PV's favorites, and the return of the best Karaoke party in town, the fun never ends at the biggest entertainment venue in Puerto Vallarta - Act II STAGES.

---
Vallarta Yacht Club Junior Sailing Program Fundraiser

vallartayachtclub.org

The Vallarta Yacht Club will hold it's Semi-Annual Fundraiser for Banderas Bay's only Junior sailing program on Saturday, April 29th at the Vallarta Yacht Club in Nuevo Vallarta's Paradise Village. You'll enjoy a 3 course dinner, raffles, live and silent auctions - all for a good cause!

---
Salty Paw Jazz Orchestra at The Jazz Foundation May 7

Andrea Jupina

The Salty Paw Jazz Orchestra, Vallarta's first and only youth-based jazz orchestra, will be returning to The Jazz Foundation on Sunday, May 7th for the 3rd presentation in their First-Sunday-of-the-Month concert series.

---
Stolie's 2nd Season in Vallarta Comes to an End April 14

BanderasNews.com

After her second successful winter season singing for grown-ups in Puerto Vallarta, Mexico, singer-songwriter Rebecca 'Stolie' Stoelinga is getting ready to pack up and head home to Chicago, where she will turn her focus back to performing for children all summer long.

---
11th Annual Puerto Vallarta Folkloric Dance Festival

María Francesca

From April 27 through May 7th, 16 dance groups from twelve Mexican states and three South American Countries will participate in the Eleventh Puerto Vallarta Folkloric Dance Festival, a celebration that brings the colors, music and traditions of Mexico to life through dance.

---
Easter Bonnet Brunch Features Creative Mexican Cuisine

Kennedy Furtado

Taste Restaurant at Casa Cupula is pleased to announce the 4th Annual Easter Bonnet Brunch on Easter Sunday, April 16. This year's Brunch, which offers all you can eat for $399 pesos, will benefit SETAC, Puerto Vallarta's LGBT community center dedicated to fighting HIV/AIDS.

---
Celebrating Semana Santa & Pascua in Puerto Vallarta

Lorena Sonrisas

In Mexico, the Easter holidays, known as 'Semana Santa,' are a time of pageantry, reverence and celebration. But Semana Santa is much more than a religious occasion. Like all holidays in Mexico, it is also a festive occasion, a time to hit Banderas Bay beaches for a few days of fun in the sun.

---
Kim Kuzma & Piel Canela Dinner Show at Coco's Kitchen

Debbie White

Don't miss the opportunity to see the very best of Puerto Vallarta entertainment in a late season show. Join Kim Kuzma and Piel Canela in Coco Kitchen's charming garden for a spectacular evening of great food and quality music on April 11th as they present their 4th annual 'Dinner and a Show.'

---
Hop Over to Daiquiri Dick's for the Easter Specials Menu

Banderas News Team

Spring is here, Easter is just around the corner, and Daiquiri Dick's has a new Flavors of the World a la carte Menu! Through April 15, you can take your taste buds on a world tour - and you don't even have to leave Puerto Vallarta to do it! - so hop on over to Daiquiri Dick's!

---
Kaiser Maximilian Offers Seafood Specialties in April

BanderasNews.com

Though Kaiser Maximilian Restaurant is best-known for serving Puerto Vallarta residents and visitors exceptional Austrian fare, through April 22nd this charming European-style café is also offering diners a taste of something different... mouth-watering seafood specialties.

---
Danny Mininni Returns to the Stage in 'Casa Valentina'

Marie Callan

Since opening the three-venue Act II Entertainment complex in Puerto Vallarta, managing partner Danny Mininni has been so busy 'running the show' that he hasn't had time to perform, until now! Don't miss his return to the stage in 'Casa Valentina,' on Saturday, April 8 at 7 pm.

---
Vallarta Democrats Abroad Present: 'Before the Flood'

David Kamp

The Costa Banderas Chapter of Democrats Abroad Mexico proudly presents 'Before the Flood,' the season's last movie in their Every Tuesday Night Film series. This 2016 documentary that examines climate change will be shown at The Jazz Foundation in downtown Vallarta on April 4 at 7 pm.

---
13th Annual Vallarta Altruism Festival Set for May 14th

Banderas News Team

Scheduled to be held in the beachfront garden at the Marriott CasaMagna Resort on May 14, the 13th Annual International Altruism Festival promises to deliver a wonderful mix of charity, culture, entertainment, delicious food, and good energy to Puerto Vallarta residents and visitors.

---
42 Participating in This Year's Vallarta Restaurant Week

Juan Pablo Hernandez

From May 15-31, 2017, forty-two restaurants located in both Puerto Vallarta and Riviera Nayarit will participate in the 13th edition of Restaurant Week, providing tourist and residents with the opportunity to enjoy special, three-course, fixed-price menus at affordable prices.

---
Spring Brings New Shows, Returning Favorites to Act II

Corie DuChateau

Act II is celebrating the best season of entertainment yet, and there's still a whole lot more in store for Puerto Vallarta audiences! Act II is saying goodbye to winter and hello to spring with an incredible line-up of music, theater and fun in all three venues at STAGES.

---
Mercado Los Mangos Extends Season Through June

Paco Ojeda

Not even ten weeks have gone by since Mercado Los Mangos opened its doors to the public for the first time, January 28, and the response from vendors and Puerto Vallarta shoppers has been so positive, organizers have already decided to extend its season until the end of June.

---
Democrats Abroad Tuesday Night Film: 'White Frog'

David Kamp

As part of their Every Tuesday Night Film series, the Costa Banderas Chapter of Democrats Abroad Mexico is proud to present this week's movie, 'White Frog.' This 2012 drama-comedy will be shown at The Jazz Foundation in downtown Puerto Vallarta tonight (March 28) at 7 pm.

---
Site Map
•
Print this Page
•
Email Us
•
Top