Entertainment
Around the Bay and Beyond
No matter what your interests are, Puerto Vallarta is always ready to entertain, offering a wide variety of entertainment options that will keep everyone amused. But it's up to you to decide how you want to spend your time here....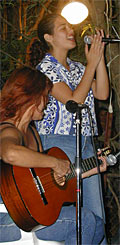 While every destination in Mexico has something to offer visitors, romantic Puerto Vallarta delivers something for everyone: beaches on a beautiful bay, great dining, a sizzling nightlife, Broadway quality stage plays, live music, movie theaters, cultural events, art galleries, excellent shopping, world-class golf and tennis, activities and excursions galore, and fun, fun, fun!


In Puerto Vallarta you can relax on a beautiful beach, play a round of championship golf, shop for Mexican handcrafts and dine in a wide variety of restaurants. There are also countless tours and activities to enjoy - from exciting jeep safaris and canopy tours in the tropical jungle to whale watching, sailing, snorkeling or scuba diving in Banderas Bay.


Visitors who appreciate cultural experiences will love the festivals and events hosted in Puerto Vallarta each year. A variety of cultural events, including the Gourmet Festival and an International Film Festival are designed for the cosmopolitan visitor, while Fishing, Tennis and Golf Tournaments are complemented by the Old Mexico flavor of this cozy seaside village.


And many visitors prefer to spend their days relaxing on the beach soaking up the warm tropical rays. Puerto Vallarta is a haven for weary vacationers who want nothing more than a good book, a tan and icy cold beers or margaritas delivered at regular intervals by an adept, and usually bilingual, waiter.

• B E L O W T H E F O L D •
Amy Armstrong & Piel Canela's Vallarta Pride Show

Gary R. Beck

If you are in Puerto Vallarta for Pride Week, you have one more chance to see Amy Armstrong and Piel Canela perform their popular 'Respect the Queen' show. They'll be taking the upstairs stage at Nacho Daddy on Saturday, May 25 at 9:00 pm. Get your tickets today!

---
Jackie Nava Fight Will Put Vallarta in the Spotlight

Ricardo Acerco

Puerto Vallarta will take center ring on May 25, when Mexico's WBA Gallo World Champion, Jackie 'Princess Azteca' Nava, takes on Argentina's Supergallo FIB World Champion, Marcela 'Tigresa' Acuña, in a spectacular boxing match at Agustín Flores Contreras Sports Stadium.

---
Guayabitos Revving Up for 14th Annual Motofiesta

Banderas News Team

Rincón de Guayabitos is revving up for the 14th Motofiesta Guayabitos. Set to take place May 31-June 2, hundreds of motorcyclists and thousands of visitors will come together to enjoy a rip-roaring good time, a flashy main street parade, concerts, and contests.

---
Enjoy Vallarta Restaurant Week 2019 at No Way José!

Patricia Martinez

What better place to enjoy Restaurant Week 2019 than at 'Tu Casa en Vallarta'? Award-winning Mexican restaurant, No Way José!, is offering a scrumptious three course menu for just $466 pesos. Come and enjoy an unforgettable meal that will exceed your expectations.

---
Vallarta Hosts Mexican Open Beach Volleyball Tournament

Diego Sancho

The 2019 Mexican Beach Volleyball Open is set to take place at Playa Camarones in downtown Puerto Vallarta from May 24 to 26, with 104 of the best doubles teams in the country seeking volleyball glory, and their share of the $80,000 pesos to be distributed among the winners.

---
Vallarta Pride Week Shows Close Spring Season at Act II

Daniel R. Mininni

Act II will present a full slate of Vallarta Pride Week shows before closing the Spring season on Monday, May 27 with the 'Farewell Diana Villamonte Concert' and the closing of Mama Tits in 'Triple D.' But never fear, they'll reopen on June 19 with great Summer entertainment!

---
Treat Yourself to Restaurant Week at Daiquiri Dick's

Laura Gelezunas

Vallarta Restaurant Week offers everyone a chance to dine at some of their favorite restaurants at discounted prices. Daiquiri Dick's has participated every year, and this year Executive Chef Ignacio Uribe and his team have designed a wonderful $399 peso menu that you'll love!

---
International Reggae Fest Riviera Nayarit, May 17-19

Norma Hernández

The International Reggae Fest - Riviera Nayarit 2019 is coming to San Pancho, Nayarit May 17-19, 2019. This cultural, artistic, and musical event that pays tribute to Bob Marley will bring together two nations - Jamaica and Mexico - to share the best of both cultures.

---
Win Fabulous Prizes Playing Vallarta Pride Adult Bingo

Marie Callan

As part of the 2019 Vallarta Pride celebrations, Nacho Daddy will welcome everyone's favorite 'Diva Loca,' Amy Armstrong, who, in addition to performing 3 shows, will be hosting a special edition of Adult Bingo on Tuesday, May 21 at 3:00 pm to benefit SETAC and PuRR Project.

---
Democrats Abroad Presents 'Knock Down the House'

Mike Lyman

The Costa Banderas Chapter of Democrats Abroad Mexico will present the Sundance Film Festival award-winning documentary, 'Knock Down the House,' on Thursday, May 23 at 3:00 pm, in air-conditioned comfort at Incanto on the south side of Puerto Vallarta.

---
Kaiser Maximilian Celebrates 24 Years, Restaurant Week

Banderas News Team

Restaurant Week gives everyone a chance to sample some of the best food in Puerto Vallarta at exceptional prices. Participating restaurants offer three-course menus with three options for each course, but Kaiser Maximilian gives diners more choices for the same low price.

---
José Alfredo's Birthday Bash Supports Cheryl's Shoebox

No Way José!

Our favorite fiesta of the year celebrates José Alfredo's cumpleaños in the traditional No Way José! style - with amazing food, music, friends and fun! We invite you to join in the fiesta while enjoying our Restaurant Week Menu, on Sunday, May 19, starting at 7:30 pm.

---
Amy Armstrong Returns to Nacho Daddy for Pride Week

María Francesca

After selling out every show during her month-long residency in Puerto Vallarta in January and two encore performances of 'Respect the Queen' in February, the amazing Amy Armstrong returns to Nacho Daddy for Vallarta Pride! Concerts are scheduled for May 20, 22 & 25 at 9 pm.

---
'Avenue Q,' Music, Dance, Drag & More at Act II Stages

Marsha Ross

As the #1 performing arts venue in Banderas Bay, Act II is THE PLACE to go for live entertainment in Puerto Vallarta. Featuring the hit Broadway musical, 'Avenue Q,' along with the best cabaret, music, dance and drag shows, there is definitely something for everyone at Stages.

---
May 24 Pulpito Drag Derby Part of 2019 Vallarta Pride

Robert M. Schley

Vallarta Pride 2019 will once again feature the Púlpito Drag Derby, one of the most unique block parties in the world! Mark your calendar for Friday, May 24, so you don't miss this fun event that's part fashion show, part kick-ass competition, part SETAC fundraiser, and 100% entertaining!

---
Hook the Cure Returns to Puerto Vallarta this November

Gary Green

Fishing and golf enthusiasts are already making plans to visit Puerto Vallarta November 7-10, 2019 for a long weekend of fun and friendship at the 14th edition of the Cystic Fibrosis Foundation's premiere fishing, golf & spa outing, 'Hook the Cure Powered by IOTEC.'

---
Puerto Vallarta Celebrates 101st Anniversary May 10-31

Marie Callan

From May 10-31, 2019 Puerto Vallarta will commemorate its 101st anniversary as a municipality and 51st year as a city during Mayo Fest 2019, an annual celebration that offers a series of cultural and sporting events that are free and open to the public.

---
2019 Riviera Nayarit Wind Festival/Kitesurf Competition

Marie Callan

Kitesurfers from all over Mexico - and the world! - are preparing to hit the beaches of the Riviera Nayarit for three days of spectacular kitesurfing during the 2019 Festival del Viento (Wind Festival) set to be held May 17-19 at Maritima Nuevo Vallarta in Flamingos, Nayarit.

---
Award-Winning Musical 'Avenue Q' Returns to Act II

Banderas News Team

'Avenue Q,' the most popular musical ever presented in Puerto Vallarta, returns to Act II this month for a 3-week run that begins tonight at 7:00 pm. This delightful, laugh-out-loud American musical will take The Main Stage every Monday, Wednesday and Saturday through May 25.

---
Vallarta Hosts 17th International Fireworks Symposium

Margarita Bonita

Puerto Vallarta will explode in a profusion of light, color and sound from May 6-10, as the city hosts internationally famous pyrotechnic manufacturers and showmen, who will present spectacular displays on the Malecon, during the 17th International Fireworks Symposium.

---
Site Map
•
Print this Page
•
Email Us
•
Top