Entertainment
Around the Bay and Beyond
No matter what your interests are, Puerto Vallarta is always ready to entertain, offering a wide variety of entertainment options that will keep everyone amused. But it's up to you to decide how you want to spend your time here....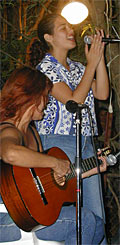 While every destination in Mexico has something to offer visitors, romantic Puerto Vallarta delivers something for everyone: beaches on a beautiful bay, great dining, a sizzling nightlife, Broadway quality stage plays, live music, movie theaters, cultural events, art galleries, excellent shopping, world-class golf and tennis, activities and excursions galore, and fun, fun, fun!


In Puerto Vallarta you can relax on a beautiful beach, play a round of championship golf, shop for Mexican handcrafts and dine in a wide variety of restaurants. There are also countless tours and activities to enjoy - from exciting jeep safaris and canopy tours in the tropical jungle to whale watching, sailing, snorkeling or scuba diving in Banderas Bay.


Visitors who appreciate cultural experiences will love the festivals and events hosted in Puerto Vallarta each year. A variety of cultural events, including the Gourmet Festival and an International Film Festival are designed for the cosmopolitan visitor, while Fishing, Tennis and Golf Tournaments are complemented by the Old Mexico flavor of this cozy seaside village.


And many visitors prefer to spend their days relaxing on the beach soaking up the warm tropical rays. Puerto Vallarta is a haven for weary vacationers who want nothing more than a good book, a tan and icy cold beers or margaritas delivered at regular intervals by an adept, and usually bilingual, waiter.

• B E L O W T H E F O L D •
Three New Show Open This Week at Act II Entertainment

Danny Mininni

Conveniently located close to the beach, restaurants and bars in the Romantic Zone, Act II Entertainment is THE PLACE to go to see a show when you are in Puerto Vallarta. Offering three venues and 3-5 performances to choose from every night, there is something for everyone at STAGES!

---
This Week's Line Up at Nacho Daddy/Boutique Theatre

Catherine Beeghly

Known as THE place to go for affordable nightlife in Puerto Vallarta's Zona Romantica, Nacho Daddy Mexico is where locals, ex-pats and tourists from around the world gather to eat, drink, dance, listen to great music, or catch a great show upstairs at The Boutique Dinner Theatre.

---
'Fat Tuesday' Celebrated with Style in Puerto Vallarta

PVRPV.com

The incredible floats, colorful costumes, towering stilt walkers and street performers that are all part of Puerto Vallarta's annual Fat Tuesday festivities provided an unforgettable show for the more than 30,000 residents and tourists who lined the 3k route to watch the CarnavalPV parade.

---
Tintoc Ballet to Perform at 5th Taste of Lo de Marcos

Galvan Real Estate

The Bahía de Banderas Municipal Folkloric Ballet 'Tintoc' has just been added to the line-up of free entertainment that will be part of the 5th Annual Taste of Lo de Marcos taking place from 3:00 to 8:00 pm on Sunday, February 18th in Lo de Marcos, Nayarit.

---
Romance Your Valentine with Dinner at Kaiser Maximilian

Laura Gelezunas

Are you spending Valentine's Day in Puerto Vallarta? You can celebrate this sweetheart of a holiday with a romantic dinner at Kaiser Maximilian. Executive Chef Juan Carlos Palomer has created a tempting special a la carte menu with some wonderful selections especially for the occasion.

---
Puerto Vallarta International Jazz Festival, Feb. 16 & 17

Andrea Jupina

The Salty Paw Jazz Orchestra, Puerto Vallarta's first and only youth-based jazz orchestra, is one of the high-school bands that will be performing on February 16 and 17 on the Malecón, as a part of the International Jazz Festival Puerto Vallarta hosted by sister city Highland Park, Illinois.

---
2018 Vallarta Bird Festival at Vallarta Botanical Garden

Nancy Holland

Vallarta Botanical Garden is home to over 200 different species of birds, and will be the site for the 2018 Vallarta Bird Festival, March 9-11. Three action packed days of birding and nature walks in unique habitats with expert guides will satisfy even the most advanced birders.

---
Dwight Blake at The Jazz Foundation on February 14

Debbie White

Join R&B artist Dwight Blake on February 14th at 6:30 pm for his special 'Heart & Soul' performance at The Jazz Foundation on the Malecón in downtown Puerto Vallarta. Come and enjoy an evening of Jazz, Soul and R&B smoothly delivered by a top, international, musical headliner.

---
This Week's South Side Shuffle Expo at Galleria Dante

Gena Guarniere

On Friday, February 16 from 6-10 pm, a cocktail reception will open an art exhibition by Spanish artist Manuel Adria at Galleria Dante, Basilio Badillo #269, in Puerto Vallarta's Romantic Zone. Be sure to stop by and meet the artist while you're out doing this week's South Side Shuffle.

---
Film Series: 2018 Academy Awards Best Picture Nominees

Democrats Abroad Costa Banderas

From February 23 through March 3, the Costa Banderas Chapter of Democrats Abroad will present 'Academy Award Week,' featuring nine of 2018's best films - all of which have been nominated for Oscars - at The Jazz Foundation on the Malecon in downtown Puerto Vallarta.

---
Celebrate Mardi Gras in Vallarta at Daiquiri Dick's

Media Diva International

Puerto Vallarta's Carnaval celebration is magical at Daiquiri Dick's Restaurant. Executive Chef Ignacio Uribe, Chef de Cuisine Hugo Mejia and Sous Chef Rogelio Garcia have assembled a festive menu so you can get into the Mardi Gras mood with delicious food, through February 13.

---
Puerto Vallarta Coffee Fest Aims to Break World Record

María Francesca

A new date has been set for the Puerto Vallarta Coffee Fest. Make plans now to be on the Malecon at 6:00 pm on Saturday, February 17, when the city will attempt to set a new Guinness World Record for the largest number of people drinking coffee simultaneously in a single venue.

---
6th Annual Puerto Vallarta Charity Chili Cook-Off

Dennis Rike

The 6th Annual Charity Chili Cook-Off is set for Saturday, February 24 at El Rio BBQ Bar in Paso Ancho. Jim Sullivan will chair this year's 'All you can eat' chili feast, featuring recipes from some 16 Puerto Vallarta area bars and restaurants - all competing for trophies and bragging rights.

---
Wine and Dine Your Valentine at Daiquiri Dick's

Laura Gelezunas

Valentine's Day is a time to celebrate love. The idea behind this tradition is to get love and give love to everyone around us. If you are in Puerto Vallarta, gather your loved ones together and head over to Daiquiri Dick's for a superb Valentine's dinner on the beach.

---
Act II: THE PLACE to Go for Live Entertainment in PV

Danny Mininni

Act II is THE PLACE to go to see quality live entertainment in Puerto Vallarta. With 3-5 shows to choose from every night, there is something for everyone. Shows start at 5:00 pm every day (except Sunday and Monday), featuring Banderas Bay's best performers.

---
Vallarta Vocalista Ensemble 2018 Concert Schedule

Banderas News Team

The Vallarta Vocalista Ensemble has announced its 2018 concert series, 'In Perfect Harmony: From Baroque to Broadway,' with 6 performances scheduled in February and March. This series promises an intriguing mix of musical genres, with afternoon and evening performances scheduled.

---
'Where in the World is Miss Conception' at The Palm

Gary R. Beck

Miss Conception has returned to The Palm Cabaret for her annual run of shows in Puerto Vallarta. Very few impersonators match her expertise and creativity. Miss C. does not raise the bar. She IS the bar. Catch her every Monday at 7:00 & 9:30 pm and Thursday at 9:30 pm thru March 29.

---
Puerto Vallarta Garden Club February 2018 Events

BanderasNews.com

The PV Garden Club supports not only a more beautiful, clean and verdant city, but is making it more attractive to tourism, thus creating a vibrant economy to support all the other great causes in Puerto Vallarta. Please mark your calendar and join us for our February events.

---
Celebrate Mardi Gras in Vallarta at Kaiser Maximilian

Laura Gelezunas

Puerto Vallarta is getting ready for CarnavalPV, the city's annual Mardi Gras celebration, on Fat Tuesday. Kaiser Maximilian Restaurant is right on the parade route and you can have a front row seat while enjoying a special three-course meal with choices for each course.

---
It's Duck Carnitas Season in Vallarta at No Way José!

Julie Guerrero

We apologize in advance to those who are not in Puerto Vallarta this week, or worse, those who just left! We're about to make your mouth water. More than a few of our family of friends who visit No Way José! regularly have asked about this season's Duck Carnitas special. It's here!

---
Site Map
•
Print this Page
•
Email Us
•
Top