Entertainment
Around the Bay and Beyond
No matter what your interests are, Puerto Vallarta is always ready to entertain, offering a wide variety of entertainment options that will keep everyone amused. But it's up to you to decide how you want to spend your time here....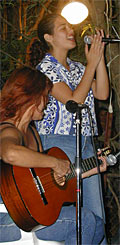 While every destination in Mexico has something to offer visitors, romantic Puerto Vallarta delivers something for everyone: beaches on a beautiful bay, great dining, a sizzling nightlife, movie theaters, cultural events, art galleries, excellent shopping, world-class golf and tennis, activities and excursions galore, and fun, fun, fun!


In Puerto Vallarta you can relax on a beautiful beach, play a round of championship golf, shop for Mexican handcrafts and dine in a wide variety of restaurants. There are also countless tours and activities to enjoy - from exciting jeep safaris and canopy tours in the tropical jungle to whale watching, sailing, snorkeling or scuba diving in Banderas Bay.


Visitors who appreciate cultural experiences will love the festivals and events hosted in Puerto Vallarta each year. A variety of cultural events, including the Gourmet Festival and an International Film Festival are designed for the cosmopolitan visitor, while Fishing, Tennis and Golf Tournaments are complemented by the Old Mexico flavor of this cozy seaside village.


And many visitors prefer to spend their days relaxing on the beach soaking up the warm tropical rays. Puerto Vallarta is a haven for weary vacationers who want nothing more than a good book, a tan and icy cold beers or margaritas delivered at regular intervals by an adept, and usually bilingual, waiter.

• B E L O W T H E F O L D •
Daiquiri Dick's 2017 Summer Sizzle Wraps Up August 31

Banderas News Team

Don't miss your last chance this season to take your taste buds on a world tour without leaving Puerto Vallarta. That's right, Daiquiri Dick's 2017 Summer Sizzle is coming to an end. Through August 31, you can choose one dish from each of the 3 courses on the menu for $399 pesos.

---
V National Playa Guayabitos Volleyball Festival 2017

Riviera Nayarit CVB

Rincón de Guayabitos, Nayarit is ready to host the V National Playa Guayabitos Youth Beach Volleyball Festival 2017 - the first of its kind held outside southwestern Mexico - which will take place from August 23-27. Teams from nearly every state in the Republic are expected to attend.

---
Cannes Film Fest-Winning 'Las Hijas de Abril' a Must-See

remezcla.com

Bringing the same touching tenderness and unnerving verve that characterized his previous movies, it's no surprise that 'Las Hijas de Abril,' a touching family melodrama set in Puerto Vallarta, won Michel Franco the Special Jury Prize at this year's Cannes Film Festival.

---
Vidanta Riviera Nayarit Kicks Off Gastronómica 2017

Riviera Nayarit CVB

Vidanta's 2017 Gastronómico Kick-Off, starring a group of national and international chefs, is ready to go from August 14-16 and marks the start of the activities for the 9th Vallarta Nayarit Gastronómica, which will take place in October of this year.

---
Las Animas Gay Adventure Starts November 3, 2017

GAYPV Magazine

Imagine being stranded on an exotic beach paradise at sunset where you must befriend other guys from all over the world to survive. Then, get ready for a new, fun-filled tour offered by Vallarta Bar Hopping. In November 2017, they'll be adding the Las Animas Gay Adventure!

---
This Week - and Beyond! - at Act II Entertainment
Daniel R. Mininni

If you haven't been to STAGES recently, you don't know what you've been missing! Act II Entertainment's STAGES is the biggest entertainment venue in the Banderas Bay area, offering Wednesday night Karaoke and a full line-up of amazing shows in The Red Room Cabaret and The Main Stage.

---
Live By These Rules If You Want To Drink Good Tequila

Huffington Post

Tequila - it's one of the most divisive spirits in the market, and for good reason. For many the word is reminiscent of horrible hangovers. But what you may not realize is that true tequila doesn't have to be a regret, and can in fact be a spirit that rivals the best of them.

---
First PechaKucha Night in Puerto Vallarta, August 26

Paco Ojeda

If you are an artist, are involved in a non-profit project, or have a truly fulfilling pastime, and need to talk about your activities with those around you, you won't want to miss the first PechaKucha Night in Puerto Vallarta. Come share your ideas and projects on August 26 at 8:30 pm at Incanto.

---
Act II's 'Spotlight On Vallarta' Shows Are Huge Hits!

Danny Mininni

This summer's 'Spotlight On Vallarta' series has turned out to be one of the most well-received projects that Act II Entertainment has ever done! It has allowed Act II to showcase some of the incredible talents of people living right here in Puerto Vallarta.

---
PV is the Promised Land for 'Vallartazo' Participants

Puerto Vallarta Tourism Trust

The 2017 edition of 'Vallartazo,' an annual motorsport event in which people from all over Mexico rev up their motorcycles, ATVs, jeeps and 4x4s for an off-road trip to Puerto Vallarta, begins this weekend and continues every weekend through the end of September.

---
2nd Vallarta Garden Club Summer Social Set for Aug 17

PV Garden Club

Grab your friends and join the Vallarta Garden Club at Incanto, 109 Insurgentes at the Rio Cuale, on Thursday, August 17 from 6-8 pm for our second social of the summer. You'll enjoy drinks and appetizers and a photographic tour of our many plantings from the Fall and Spring.

---
Democrats Abroad August Social at Garbo Piano Bar

Democrats Abroad Costa Banderas

The Costa Banderas Chapter of Democrats Abroad Mexico invites you to join us for a 'Social Hour' in the air conditioned comfort of Garbo Piano Bar on Tuesday, August 15 from 6-8 pm. Everyone is invited to come out to enjoy an evening of fun and friendship at Happy Hour prices.

---
Site Map
•
Print this Page
•
Email Us
•
Top