Horoscope
This Month in The Stars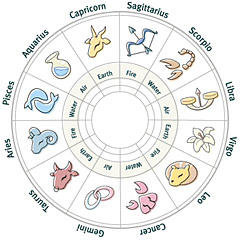 A new year is beginning and with it comes the opportunity to reflect upon ourselves and makes some positive changes. We have resolutions perfectly suited for every sign in the zodiac, to help you live your best life in 2017.


We wish all of our readers a very Happy New Year, and remember, keep your eyes to the stars and your feet in the sand.


January 2017

Capricorn The Go-Getter (December 22 - January 19)


Resolution - Appreciate the Little Things. Capricorn often get hung up on the big markers of success and chasing after them. In 2017, take the time to appreciate the value and beauty in who and what surrounds you, to see the real measure of your accomplishments.


Aquarius The Sweetheart (January 20 - February 18)


Resolution - Face Your Fears. Be bold in 2017 and open yourself up to challenges that scare you. By facing your fears, you will find new windows of opportunity open in both relationships and in your professional life.

Pisces The Dreamer (February 19 - March 20)


Resolution - Less Judgement. 2016 was a challenging year, as you often found your opinions at odds with others. This year, practice acceptance and allow others to have a differing point of view without being judgmental of their choices.


Aries The Daredevil (March 21 - April 19)


Resolution - Slow Down and Relax. Aries are very goal and challenge-driven, but this year, resolve to go easier on yourself and not take on every project that comes your way, to enjoy 2017 with less stress and pressure.


Taurus The Enduring One (April 20 - May 20)


Resolution - Go for It! This is the year to set challenges for yourself, aim high and step out of your comfort zone in work, travel or relationships. Your self-motivation will be rewarded throughout the year in unexpected ways.


Gemini The Chatterbox (May 21 - June 20)


Resolution - Step Away from the Keyboard. 2016 had you all fired up on social media, but in 2017, resolve to stop seeking to change the minds or opinions of others on the Internet and focus that energy in more productive ways.


Cancer The Protector (June 21 - July 22)


Resolution - Be More Independent. Whether is financially, emotionally or just learning to not care so much about the opinions of others, 2017 is the year for Cancers to really come into themselves and end the year feeling stronger than ever.


Leo The Boss (July 23 - August 22)


Resolution - Be a Boss. This is the year to take charge of your own destiny and start taking the risks needed to get you where you want to be. Don't let your pride or fear of failure get in your way... what seem like set-backs will eventually work out in your favor.


Virgo The Perfectionist (August 23 - September 22)


Resolution - Don't Sweat the Small Stuff. Detail-oriented Virgos are always on an endless search for perfection, but this year, resolve to let the little things go and just take pleasure in the beauty that you have surrounding you.


Libra The Harmonizer (September 23 - October 22)


Resolution - Just Say No. Libra loves to be a people-pleaser, but this year, empower yourself to say no to things that don't work for you or your schedule without feeling guilty. Not feeling socially obligated all the time will be what sets you free in 2017.


Scorpio The Intense One (October 23 - November 21)


Resolution - Get Involved. This is the year for putting it out there for Scorpio. Whether it's adding to your social circle, taking on more responsibility at work or working with a local Puerto Vallarta charity, in 2017, Scorpio will reap what they sow.


Sagittarius The Happy-Go-Lucky One (November 22 - Dec 21)


Resolution - Stay Focused. Remember your 2016 resolution? The one you gave up on by January 10th? This year, make it your mission to see projects through to fruition. Stay focused by making small, achievable goals and rewarding yourself when you attain them.

Brought to you by Marco Mata, a real estate and vacation rental agent at Ron Morgan Properties, who not only keeps an eye on the tropical stars but also on properties around Banderas Bay. When you feel the stars are aligned and telling you to make a move to paradise, email him at marco(at)ronmorgan.net.
Site Map
•
Print this Page
•
Email Us
•
Top