Dazed & Confused | Jokes
A man feared his wife wasn't hearing as well as she used to and he thought she might need a hearing aid. Not quite sure how to approach her, he called the family doctor to discuss the problem. The Doctor told him there is a simple informal test the husband could perform to give the doctor a better idea about her hearing loss.


Here's what you do," said the Doctor, "stand about 40 feet away from her, and in a normal conversational speaking tone see if she hears you. If not, go to 30 feet, then 20 feet, and so on until you get a response."


That evening, the wife was in the kitchen cooking dinner, and he was in the den. He says to himself, "I'm about 40 feet a way, let's see what happens."


Then in a normal tone he asks, 'Honey, what's for dinner?"


No response.


So the husband moves closer to the kitchen, about 30 feet from his wife and repeats, "Honey, what's for dinner?"


Still, no response.


Next he moves into the dining room where he is about 20 feet from his wife and asks, "Honey, what's for dinner?"


Again he gets no response.


So, he walks up to the kitchen door, about 10 feet away.. "Honey, what's for dinner?"


Again there is no response.


So he walks right up behind her... "Honey, what's for dinner?"


"Ralph, for THE FIFTH time, CHICKEN!!"
- Don Gomolski
---
An 86-year-old man went to his doctor for his quarterly check-up...


The doctor asked him how he was feeling, and the 86-year-old said, "Things are great and I've never felt better. I now have a 20 year-old bride who is pregnant with my child. So, what do you think about that Doc?"


The doctor considered his question for a minute and then began to tell a story.


"I have an older friend, much like you, who is an avid hunter and never misses a season. One day he was setting off to go hunting. In a bit of a hurry, he accidentally picked up his walking cane instead of his gun. As he neared a lake, he came across a very large male beaver sitting at the water's edge. He realized he'd left his gun at home and so he couldn't shoot the magnificent creature. Out of habit he raised his cane, aimed it at the animal as if it were his favorite hunting rifle and went 'bang, bang.' Miraculously, two shots rang out and the beaver fell over dead. Now, what do you think of that?" asked the doctor.


The 86-year-old said, "Logic would strongly suggest that somebody else pumped a couple of rounds into that beaver."


The doctor replied, "My point exactly."
- Don Gomolski
---
It's Been a Tough Year: The economy is so bad that...


I got a pre-declined credit card in the mail.


I ordered a burger at McDonald's, and the kid behind the counter asked, "Can you afford fries with that?"


CEO's are now playing miniature golf.


If the bank returns your check marked "Insufficient Funds," you have to call them and ask if they mean you or them.


Hot Wheels and Matchbox stocks are trading higher than GM.


McDonald's is selling the 1/4 'ouncer'.


Parents in Beverly Hills and Malibu are firing their nannies and learning their children's names.


A truckload of Americans was caught sneaking into Mexico.


Dick Cheney took his stockbroker hunting.


Motel Six won't leave the light on anymore.


The Mafia is laying off judges.


BP Oil laid off 25 Congressmen.


Congress says they are looking into the Bernard Madoff scandal. Oh Great!! The guy who made $50 Billion disappear is being investigated by the people who made $1.5 Trillion disappear!


And, finally...


I was so depressed last night thinking about the economy, wars, jobs, my savings, Social Security, retirement funds, and our bleak future, that I called the Suicide Lifeline and was connected to a call center in Pakistan. When I told them I was suicidal, they got all excited and asked if I could drive a truck.
---
Train Ride: A man and a woman who had never met before, but who were both married to other people, found themselves assigned to the same sleeping room on a trans-continental train. Though initially embarrassed and uneasy over sharing a room, they were both very tired and fell asleep quickly, he in the upper berth and she in the lower.


At 1:00 AM, the man leaned down and gently woke the woman saying, "Ma'am, I'm sorry to bother you, but would you be willing to reach into the closet to get me a second blanket? I'm awfully cold."


"I have a better idea," she replied, "Just for tonight, let's pretend that we're married."


"Wow! That's a great idea!" he exclaimed.


"Good," she replied ... "Get your own blanket."


After a moment of silence ... he farted.
- Dave Reilly
---
Deer Camp: Four guys have been going to the same deer camp for many years. Two days before the group is to leave, Mike's wife Lisa puts her foot down and tells him he isn't going. Mike's friends are very upset that he can't go, but what can they do.


Two days later the three get to the camping site only to find Mike sitting there with a tent set up, firewood gathered, and dinner cooking on the fire. "Damn man, how long you been here, and how did you talk your wife into letting you go?" they asked.


"Well, I've been here since yesterday. Yesterday evening, I was sitting in my chair and my wife came up behind me and put her hands over my eyes and said, 'Guess who?' I pulled her hands off, and she was wearing a brand new see through nightie. She took my hand and pulled me to our bedroom... The room had candles and rose petals all over. On the bed she had handcuffs, and ropes! She told me to tie and cuff her to the bed, and I did. And then she said, 'Do what ever you want.' So, Here I am."
---
A Trip to Costco: Yesterday I was at my local COSTCO buying a large bag of Purina Dog Chow for my loyal pet, Biscuit, the Wonder Dog and was in the checkout line when a woman behind me asked if I had a dog. What did she think I had, an elephant?


So since I'm retired and have little to do, on impulse I told her that no, I didn't have a dog, I was starting the Purina Diet again. I added that I probably shouldn't, because I ended up in the hospital last time, but that I'd lost 50 pounds before I awakened in an intensive care ward with tubes coming out of most of my orifices and IVs in both arms.


I told her that it was essentially a perfect diet and that the way that it works is to load your pants pockets with Purina nuggets and simply eat one or two every time you feel hungry. The food is nutritionally complete so it works well and I was going to try it again. (I have to mention here that practically everyone in line was now enthralled with my story.)


Horrified, she asked if I ended up in intensive care because the dog food poisoned me. I told her no, I stepped off a curb to sniff an Irish Setter's ass and a car hit us both... Costco won't let me shop there anymore.
- Dave ReillySilver Teapot: Bubba was fixing a door and found that he needed a new hinge, so he sent his wife, Mary Louise, to the hardware store. At the hardware store, Mary Louise saw a beautiful teapot on a top shelf while she was waiting for Bob to finish waiting on a customer. When Bob was finished, Mary Louise inquired about the cost of the teapot.


"The teapot is silver and costs $100," Bob informed her.


"My goodness, that sure is a lot of money," Mary Louise exclaimed. She then proceeded to describe the hinge that Bubba had sent her to buy, and Bob went to the backroom to find a hinge. From the backroom Bob yelled: "Mary Louise, you wanna screw for that hinge?"


"No," Mary Louise replied: "but I will for the teapot."
- Ryan Murphy
---
Unexplained Illness: "I can't find a cause for your illness," the doctor said to his patient: "Frankly, I think it's due to drinking."


"In that case," his patient replied: "I'll come back when you are sober."
---
A Real Lady: man wanted to determine whether both his wife and mistress were faithful to him. So he decided to send them on the same cruise, then later question each one on the other's behavior.


When his wife returned, he asked her about the people on the trip in general, then casually asked her about the specific behavior of the passenger he knew to be his mistress.


"She slept with nearly every man on the ship," his wife reported.


The disheartened man then rendezvoused with his cheating mistress to ask her the same questions about his wife.


"She was a real lady," his mistress said.


"How so?" the encouraged man asked.


"She came on board with her husband and never left his side."
- Ryan Murphy
---
Grand Opening: A guy was walking down the street when a hooker stopped him.


"Wanna have a good time?" she asked seductively.


He nodded his head and they went off to the nearest motel. As the hooker took off her clothes, she noticed the man wouldn't stop staring at her.


"Is this the first pussy you've seen since you crawled out of one?" she asked.


"Nope," the man replied: "just the first one I've seen big enough to crawl back into."
---
The Balloonist: A woman in a hot air balloon realized she was lost. She reduced altitude and spotted a man below. She descended a bit more and shouted: "Excuse me, can you help me? I promised a friend I would meet him an hour ago but I don't know where I am."


The man below replied, "You're in a hot air balloon hovering approximately 30 feet above the ground. You're between 40 and 41 degrees north latitude and between 59 and 60 degrees west longitude."


"You must be a Safety Engineer," said the balloonist.


"I am," replied the man, "how did you know that?"


"Well," answered the balloonist, "everything you have told me is probably technically correct, but I've no idea what to make of your information and the fact is, I'm still lost. Frankly, you've not been much help at all. If anything, you've delayed my trip by your talk."


The man below responded, "You must be in management."


"I am," replied the balloonist, "but how did you know?"


"Well," said the man, "you don't know where you are or where you're going. You have risen to where you are, due to a large quantity of hot air. You have made promises, which you've no idea how to keep, and you expect people beneath you to solve your problems. The fact is you are in exactly the same position you were in before we met, but now, somehow, it's my fault."
---

The Job, was created by Screaming Frog Productions. Written & dDirected by Jonathan Browning and acted & crewed by some of the most amazing people on the planet! The Job has played at over 135 film festivals around the world and has been honored with 28 international awards.
---
During a visit to the mental asylum, I asked the Director how do you determine whether or not a patient should be institutionalized.


"Well," said the Director, "we fill up a bathtub, then we offer a teaspoon, a teacup and a bucket to the patient and ask him or her to empty the bathtub."


"Oh, I understand," I said. "A normal person would use the bucket because it's bigger than the spoon or the teacup."


"No." said the Director, "A normal person would pull the plug. Do you want a bed near the window?"
---
A husband and wife came for counseling after 20 years of marriage.


When asked what the problem was, the wife went into a passionate, painful tirade listing every problem they had ever had in the 20 years they had been married.


She went on and on and on: neglect, lack of intimacy, emptiness, loneliness, feeling unloved and unlovable, an entire laundry list of unmet needs she had endured over the course of their marriage.


Finally, after allowing this to go on for a sufficient length of time, the therapist got up, walked around the desk and, after asking the wife to stand, embraced and kissed her passionately as her husband watched with a raised eyebrow. The woman shut up and quietly sat down as though in a daze.


The therapist turned to the husband and said, 'This is what your wife needs at least three times a week. Can you do it? The husband thought for a moment and replied, 'Well, I can drop her off here on Mondays and Wednesdays, but on Fridays, I fish.'
- D Reilly, Connecticut
---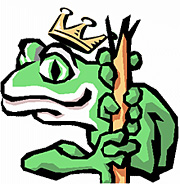 Once upon a time, in a land far away, a beautiful, independent, self-assured princess happened upon a frog as she sat contemplating ecological issues on the shores of an unpolluted pond in a verdant meadow near her castle.


The frog hopped into the princess' lap, and said: "Elegant Lady, I was once a handsome prince, until an evil witch cast a spell upon me. One kiss from you, however, and I will turn back into the dapper, young prince that I really am. And then, my sweet, we can marry and set up housekeeping in your castle with my mother, where you can prepare my meals, clean my clothes, bear my children, and forever feel grateful and happy doing so."


That night, as the princess dined sumptuously on lightly sauteed frog legs seasoned in a white wine and onion cream sauce, she chuckled and thought to herself: "I don't fucking think so."
---
Redneck MaMa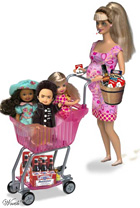 A woman walks into the downtown welfare office, trailed by 15 kids...


"WOW," the social worker exclaims,"are they ALL YOURS???"


"Yep they are all mine," the flustered momma sighs, having heard that question a thousand times before. She says, "Sit down Leroy."


All the children rush to find seats.


"Well," says the social worker, "then you must be here to sign up. I'll need all your children's names."


"This one's my oldest - he is Leroy."


"OK, and who's next?"


"Well, this one he is Leroy, also."


The social worker raises an eyebrow but continues. One by one, through the oldest four, all boys, all named Leroy. Then she is introduced to the eldest girl, named Leighroy!


"All right," says the caseworker. "I'm seeing a pattern here. Are they ALL named Leroy?"


Their Momma replied,! "Well, yes-it makes it easier. When it is time to get them out of bed and ready for school, I yell, 'Leroy!'


An' when it's time for dinner, I just yell 'Leroy!' an' they all comes arunnin.'


An' if I need to stop the kid who's running into the street, I just yell 'Leroy' and all of them stop. It's the smartest idea I ever had, namin' them all Leroy."


The social worker thinks this over for a bit, then wrinkles her forehead and says tentatively, "But what if you just want ONE kid to come, and not the whole bunch?"


"I call them by their last names."
---
Wal-Mart has EVERYTHING!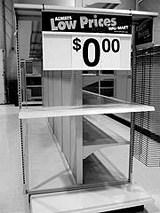 One day, in line at the company cafeteria, Joe says to Mike behind him, "My elbow hurts like hell. I guess I better see a doctor."


"Listen, you don't have to spend that kind of money," Mike replies. "There's a diagnostic computer down at Wal-Mart. Just give it a urine sample and the computer will tell you what's wrong and what to do about it. It takes ten seconds and costs ten dollars. A lot cheaper than a doctor."


So Joe deposits a urine sample in a small jar and takes it to Wal-Mart. He deposits ten dollars, and the computer lights up and asks for the urine sample. He pours the sample into the slot and waits. Ten seconds later, the computer ejects a printout: "You have tennis elbow. Soak your arm in warm water and avoid heavy activity. It will improve in two weeks. Thank you for shopping @ Wal-Mart."


That evening while thinking how amazing this new technology was, Joe began wondering if the computer could be fooled. He mixed some tap water, a stool sample from his dog, urine samples from his wife and daughter, and a sperm sample for good measure. Joe hurries back to Wal-Mart, eager to check the results. He deposits ten dollars, pours in his concoction, and awaits the results.


The computer prints the following:
1. Your tap water is too hard. Get a water softener. (Aisle 9)
2. Your dog has ringworm. Bathe him with anti-fungal shampoo.
(Aisle 7)
3. Your daughter has a cocaine habit. Get her into rehab.
4. Your wife is pregnant. Twins. They aren't yours. Get a lawyer.
5. If you don't stop playing with yourself, your elbow will never
get better.


Thank you for shopping @ Wal-Mart.
---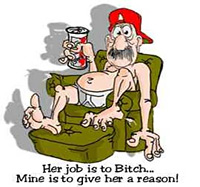 Ok, ok, not PC but funny...

How many men does it take to open a beer?
None. It should be opened when she brings it.


Why do women have smaller feet than men?
It's one of those "evolutionary things" that allows them to stand closer to the kitchen sink.


How do you know when a woman is about to say something smart?
When she starts a sentence with "A man once told me..."


Why do men fart more than women?
Because women can't shut up long enough to build up the required pressure.


If your dog is barking at the back door and your wife is yelling at the front door, who do you let in first?
The dog, of course. He'll shut up once you let him in.


I married a Miss Right - I just didn't know her first name was Always.


Scientists have discovered a food that diminishes a woman's sex drive by 90% - it's called a Wedding Cake.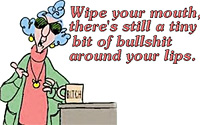 Women will never be equal to men until they can walk down the street with a bald head and a beer gut, and still think they are sexy.


In the beginning, God created the earth and rested. Then God created Man and rested. Then God created Woman. Since then, neither God nor Man has rested.
---
For those who love the philosophy of hypocrisy and ambiguity...


1. Don't sweat the petty things and don't pet the sweaty things.


2. One tequila, two tequila, three tequila, floor.


3. Atheism is a non-prophet organization.


4. If man evolved from monkeys and apes, why do we still have monkeys and apes?


5. The main reason Santa is so jolly is because he knows where all the bad girls live.


6. I went to a bookstore and asked the saleswoman, "Where's the self-help section?" She said if she told me, it would defeat the purpose.


7. What if there were no hypothetical questions?


8. If a deaf person swears, does his mother wash his hands with soap?


9. If someone with multiple personalities threatens to kill himself, is it considered a hostage situation?


10. Is there another word for synonym?


11. Where do forest rangers go to "get away from it all?"


12. What do you do when you see an endangered animal eating an endangered plant?


13. If a parsley farmer is sued, can they garnish his wages?


14. Would a fly without wings be called a walk?


15. Why do they lock gas station bathrooms? Are they afraid someone will clean them?


16. If a turtle doesn't have a shell, is he homeless or naked?


17. Can vegetarians eat animal crackers?


18. If the police arrest a mime, do they tell him he has the right to start speaking?


19. Why do they put Braille on the drive-through bank machines?


20. How do they get deer to cross the road only at those yellow road signs?


21. What was the best thing before sliced bread?


22. One nice thing about egotists: they don't talk about other people.


23. Does the Little Mermaid wear an algae-bra?


24. How is it possible to have a civil war?


25. If one synchronized swimmer drowns, do the rest drown, too?


26. If you ate both pasta and antipasto, would you still be hungry?


27. If you try to fail, and succeed, which have you done?


28. Whose cruel idea was it for the word "Lisp" to have "S" in it?


29. Why is it called tourist season if we can't shoot at them?


30. Why is there an expiration date on sour cream?


31. If you spin an oriental man in a circle three times does he become disoriented?
---
Heaven's Clocks

A man died and went to heaven. As he stood in front of St. Peter at the Pearly Gates, he saw a huge wall of clocks behind him. He asked, "what are all those clocks?"


St. Peter answered, "those are Lie-Clocks, everyone on Earth has a Lie-Clock. Every time you lie the hands on your clock will move."


"Oh," said the man, "whose clock is that?"


"That's Mother Teresa's, the hands have never moved, indicating that she never told a lie."


"Incredible," said the man, "and whose clock is that one?"


St. Peter responded, "that's Abraham Lincoln's clock. The hands have moved twice, telling us that Abe told only two lies in his entire life."


"Where's Bush's clock?" asked the man.


"Bush's clock is in Jesus' office - he's using it as a ceiling fan."
---
A man went into a pharmacy and asked to talk to a male pharmacist. The woman at the counter said that she was the pharmacist and that she and her sister owned the store, so there were no males employed there.


She then asked if there was something she could help the gentleman with.


The man said "this is embarrassing for me, but I have a permanent erection which causes me a lot of problems and severe embarrassment.


I was wondering what you could give me for it?"


The pharmacist said "Just a minute, I'll go talk to my sister. When she returned, she said, "the best we can do is 1/3 ownership in the store and $3000 a month in living expenses.
---
Three guys are drinking in a bar when a drunk comes in, staggers up to them, and points at the guy in the middle, shouting, "Your mamma's the best sex in town!"


Everyone expects a fight, but the guy ignores him, so the drunk wanders off and bellies up to the bar at the far end.


Ten minutes later, the drunk comes back, points at the same guy, and says, "I just did your mamma, and it was sw-e-et!"


Again the guy refuses to take the bait, and the drunk goes back to the far end of the bar.


Ten minutes later, he comes back and announces, "Your mamma loved it!"


Finally the guy interrupts... "Go home, Dad, you're drunk!"
---
A woman decides to have a facelift for her birthday. She spends $5,000 and feels pretty good about the results.


On her way home she stops at a newsstand to buy a paper. Before leaving, she asks the sales clerk, "I hope you don't mind my asking, but how old do you think I am?" "About 32," the clerk replies. "I'm actually 47," the woman says happily.


A little while later she goes into McDonald's and upon getting her order, asks the counter girl the same question. She replies, "I'd guess about 29." The woman replies, "Nope, I am 47." Now she is feeling really good about herself.


While waiting for the bus home, she asks an old man the same question. He replies, "I'm 78 and my eyesight is starting to go. Although, when I was young, there was a sure way to tell how old a woman was, but it requires you to let me put my hands up your shirt and feel your breasts. Then I can tell exactly how old you are."


They waited in silence on the empty street until curiosity got the best of the woman and she finally says, "What the hell, go ahead."


The old man slips both hands up her shirt, under her bra, and begins to feel around. After a couple of minutes she says, "Okay, Okay, how old am I?" He removes his hands and says, "You are 47."


Stunned the woman says, "That is amazing. How did you know?"


The old man replies, "I was behind you in line at McDonalds."
---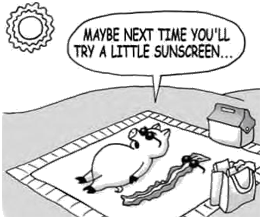 A Swiss guy, looking for directions, pulls up at a bus stop where two Englishmen are waiting. "Entschuldigung, koennen Sie Deutsch sprechen?" he says. The two Englishmen just stare at him.


"Excusez-moi, parlez vous Francais?" The two continue to stare. "Parlare Italiano?" No response, "Hablan ustedes Espanol?" Still nothing. the Swiss guy drives off, extremely disgusted.


The first Englishman turns to the second and says, "Y'know, maybe we should learn a foreign language..."


"Why? What for?" says the other, "That bloke knew four languages, and it didn't do him any good!"

Click here for more jokes...
Send us your original jokes, humorous stories and other funny stuff to Humor@BanderasNews.com
Tell a Friend
•
Site Map
•
Print this Page
•
Email Us
•
Top