Dazed & Confused | Jokes
The Top 20 Ways to Say
"Your Fly Is Open"

20) The cucumber has left the salad.
19) I can see the gun of Navarone.
18) Someone tore down the wall, and your Pink Floyd is hanging out.
17) You've got Windows in your laptop.
16) Sailor Ned's trying to take a little shore leave.
15) Your soldier ain't so unknown now.
14) Quasimodo needs to go back in the tower and tend to his bell.
13) Paging Mr. Johnson... Paging Mr. Johnson...
12) You need to bring your tray table to the upright and locked position.
11) Your pod bay door is open, Hal.
10) Elvis Junior has LEFT the building!
9) Mini me is making a break for the escape pod.
8) Ensign Hanes is reporting a hull breach on the lower deck, Sir!
7) The Buick is not all the way in the garage.
6) Dr. Kimble has escaped!
5) You've got your fly set for "Monica" instead of "Hillary."
4) Our next guest is someone who needs no introduction...
3) You've got a security breach at Los Pantalones.
2) I'm talking about Shaft, can you dig it?

And The Number One Way To Tell Someone Their Fly Is Unzipped...

1) I thought you were crazy; now I see your nuts.

One day, this man, Tony, died. When he was sent to be judged, he was told that he had committed a sin, and that he could not go to heaven right away. He asked what he did and God told him that he cheated on his income taxes, and that the only way he could get into heaven would be to sleep with a 500 pound, stupid, butt-ugly woman for the next five years and enjoy it. Tony decided that this was a small price to pay for an eternity in heaven. So off he went with this enormous woman, pretending to be happy.


As he was walking along, he saw his friend Carlos up ahead. Carlos was with an even bigger, uglier woman than he was with. When he approached Carlos he asked him what was going on, and Carlos replied, "I cheated on my income taxes and scammed the government out of a lot of money...even more then you did."


They both shook their heads in understanding and figured that as long as they have to be with these women, they might as well hang out together to help pass the time.


Now Tony, Carlos, and their two beastly women were walking along, minding their own business when Tony and Carlos could have sworn that they saw their friend Jon up ahead, only this man was with an absolutely drop dead gorgeous supermodel/centerfold. Stunned, Tony and Carlos approached the man and in fact it was their friend Jon. They asked him how is he with this unbelievable goddess, while they were stuck with these god-awful women.


Jon replied, "I have no idea, and I'm definitely not complaining. This has been absolutely the best time of my life (and I'm dead) and I have five years of the best sex any man could hope for to look forward to. There is only one thing that I can't seem to understand. After everytime we have sex, she rolls over and murmur's to herself, "Damn income taxes!"
---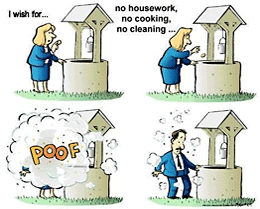 After her husband's checkup, a woman was called into the doctor's office.

The doctor told her, "Your husband has a serious disease. There are several things you'll have to do for him, or he will surely die. Each morning, fix him a healthy breakfast. Be pleasant to him. Make him a nutritious lunch for work, and an especially nice meal for his dinner at night. Don't give him chores, or that will increase his stress. Don't discuss your problems with him either. Try to relax him in the evenings by wearing lingerie and giving him backrubs. Let him watch his favorite sports on TV. And most importantly, make love to him several times a week and satisfy his every whim. If you do these things for the next 10 months to a year, I think he'll pull through."


On the way home, the husband asked his wife what the doctor had told her.


"You're going to die," she replied.
---
The teacher gave her fifth grade class an assignment: Get their parents to tell them a story with a moral at the end of it. The next day the kids came back and one by one began to tell their stories.


Ashley said, "My father's a farmer and we have a lot of egg-laying hens. One time we were taking our eggs to market in a basket on the front seat of the pickup when we hit a big bump in the road and all the eggs went flying and broke and made a mess." "And what's the moral of the story?" asked the teacher. "Don't put all your eggs in one basket!" "Very good," said the teacher.


Next little Sarah raised her hand and said, "Our family are farmers too. But we raise chickens for the meat market. We had a dozen eggs one time, but when they hatched we only got ten live chicks, and the moral to this story is, "don't count your chickens before they're hatched." "That was a fine story Sarah."


"Michael, do you have a story to share?" "Yes, ma'am, my daddy told me this story about my Aunt Karen. Aunt Karen was a flight engineer in Desert Storm and her plane got hit. She had to bail out over enemy territory and all she had was a bottle of whiskey, a machine gun and a machete. She drank the whiskey on the way down so it wouldn't break and then she landed right in the middle of 100 enemy troops. She killed seventy of them with the machine gun until she ran out of bullets. Then she killed twenty more with the machete till the blade broke. And then she killed the last ten with her bare hands.


"Good heavens," said the horrified teacher, "what kind of moral did your daddy tell you from that horrible story?" "Stay the hell away from Aunt Karen when she's been drinking."

Click here for more jokes...
Send us your original jokes, humorous stories and other funny stuff to Humor@BanderasNews.com
Tell a Friend
•
Site Map
•
Print this Page
•
Email Us
•
Top