Dazed & Confused | How To
How To Spot Fake Ones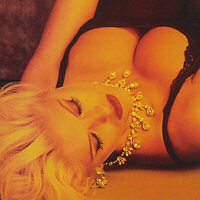 Jugs, bosoms, ta-tas...we love 'em all, real or fake. But it's nice to know whether you're in the presence of two of Mammy Nature's miracles - or if squeezing her too tight is gonna make her spring a leak.

We called Quadalajara cosmetic surgeon Tito Rivera, who's seen more yabos than any one man deserves to, and asked him how to separate the bogus from the bona fide.

Signs her breasts are bogus:


1 They're softball-round. "If the top half is as full and round as the bottom, they're probably implants."
2 They look alien, as though someone stuffed water balloons into her chest and stretched the skin over them too tight. "Demi Moore is an example of this. She's thin and has had kids, which means she has less cushioning tissue to disguise the implant."
3 She has scars. "The scars fade from red to white, but it she's tan or dark-skinned, you may notice lighter areas where she's lost pigment under her arm or around her nipple." (But some women have their scars tattooed normal flesh color. Sneaky, huh?)
4 They're exactly the same size and shape. "Symmetry is a fundamental giveaway."
5 They appear rippled. "Sometimes you can see ripples under the skin with large saline implants. Rent a B-rated porno movie (oh, twist our arms!) and you'll notice that some of the actresses' breasts look scalloped."
6 They're too high. "If the capsules have been placed too high on her chest - as though they're trying to kiss the sky - they're fake." Tori Spelling's made-for-TV melons demonstrate this well.
7 They're too firm. When you touch them (woohoo!), her jigglers feels firmer than regular tissue. "It's hard to tell the difference with silicone implants, but saline implants are noticeably firmer."
8 They don't lie down - even when she does. "Even if she's a DD, real breasts will flatten out across her chest when she's on her back." Fake ones will look like blimps yearning to fly.
Tell a Friend
•
Site Map
•
Print this Page
•
Email Us
•
Top