Dazed & Confused | How To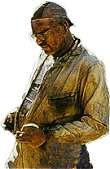 How To Get Your Car Unstuck
Even that shiny new 4X4's gonna get stuck - here's how to get it out!


Around here, there's only two seasons - dust and mud - and your search for a place to enjoy them is going to lead you into some pretty remote areas before you get back home. Remember, other than bulkin' up your wallet, that triple-A card you're carrying is about useless on the back-roads and beaches while you're traveling in Mexico.


Sand:
"As soon as the car starts to sink, stop," says Marv Felwell, owner of 4X4 Tuff (www.4x4tuff.com), a custom off-road and sand dragster shop in California. "Put something under the wheel in the direction you want to go. Wood blocks, branches... a lot of things will work." (Even floor mats in a pinch.) Don't floor it. "If you spin the tires, the car will bury itself," says Marv. To increase traction and widen your "footprint," lower tire pressure by five to 10 psi, then pack detritus behind the tires, straighten the wheels, and follow your tracks to the road. A push will help here, too, but make sure your girlfriend takes off her heels first.

Mud:
There are lots of good times to be had in the mud, but very few involve rope, rubber, and two-by-fours. To get your slop-happy pig back on the tarmac, build a simple gadget called a mud ladder. You'll need to cut a two-by-four into ten 18-inch lengths; then line 'em up and drill holes near each end. Thread long ropes through, knotting the rope after each "rung" to form your ladder. "Put that under the drive wheel [the one that's spinning] and it'll dig you right out," Marv says. The tire will climb the ladder as the motion pushes it down to stable ground. If you're still stuck, entice a sexy passerby to join you in the mud until help arrives. - George Langford
Tell a Friend
•
Site Map
•
Print this Page
•
Email Us
•
Top