Local Profiles
"Agua Man"
a profile of Sr. Eliseo Bello Almeida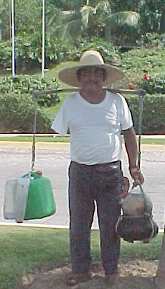 Sr. Eliseo Bello Almeida, better known as "Señor del Agua de Tuba," is a familiar face around Marina Vallarta. Recently, he shared his story and knowledge with us.


43-year old Eliseo is from the state of Guerrero, where he lives with his five children. Thirteen years ago, in an effort to make more money for his family, he started coming to Puerto Vallarta every summer to sell the traditional "tuba" water.


Despite the loss of one of his arms in an accident, he has kept the positive attitude that is necessary to prepare the drink every morning and to face the heat of the day as he goes out to sell his product. This strength of spirit is not only admirable but also necessary in order to provide for his family.


"Señor del Agua de Tuba" told us that tuba water has its origin in Colima and that about 50 years ago, this beverage made its appearance on the Pacific coast of Mexico. Today, it can be found on the beaches of Acapulco, Mazatlán and Manzanillo as well as here in Puerto Vallarta.


It is made of fermented coconut with little pieces of yellow or red apple, chunks of nuts and a little sugar added. This unique combination makes the water more refreshing than soft drinks or other waters that are prepared with fruit.


The water is then retained in gourds made from the rinds of a pumpkin-like fruit, called "bules." These gourds keep the water very cold even in high temperatures. When he serves it to his afternoon customers the water still has small pieces of ice floating in it even though it was prepared very early in the morning.


He told us that traditionally it was used to clean the kidneys and helps to prevent urinary tract problems. It is also reported to kill amoebas in the stomach. Whether or not this is true, we do not know, but we do know that it has a unique flavor and is very refreshing.


If you one day see Don Eliseo in the streets of Marina Vallarta, do not hesitate to buy a glass of this unique and refreshing "tuba water." It is healthy, made of purified water and it will give you an incredibly cool sensation in the warm summer weather that we experience here in Puerto Vallarta.

If you have a suggestion for a future profile, email us at Profiles@BanderasNews.com
Tell a Friend
•
Site Map
•
Print this Page
•
Email Us
•
Top