Local Profiles
Golf, Vallarta Style
a profile of Ben Wright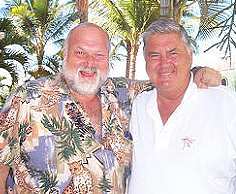 On behalf of Banderas News, Richard Kaplan [on photo left] recently interviewed Ben Wright during a recent visit to Puerto Vallarta. Ben Wright is a golf commentator for the BBC and CBS, as well as a golf player and course designer.
BN: How are you today Mr. Wright?

Ben: Very well, thank you. I recently spent six weeks away from golf, and when I returned to South Carolina I played in a new tournament called "buy.com" on the first golf course I designed in the United States. It was obviously a huge honor for me to be able to stage a new tournament that promises to be a multi-million dollar stop on the PGA tour.

BN: What are your feelings about the future of golf in Vallarta?

Ben: Well I think that Puerto Vallarta is an ideal golf destination because so much of the world is under snow and ice from November to April. Golf destination vacationers love to play golf, so I think this city and its ambiance has a huge future in the golf world, drawing from the United States, Canada, Europe and even Asia.


A tournament in Hawaii that I recently participated in had no shortage of players who put up $11,500 each to play in 10 events. There's no reason why this location could not sponsor the same kind of tour.

BN: Jack Nicklaus and Tom Weiskopf designed two new golf courses at Vallarta Vista. Would you tell me about your friendship with them?

Ben: Jack Nicklaus and Tom Weiskopf were both born in the Columbus, Ohio area. I first met Jack Nicklaus in 1959 at Muirfield, Scotland when he was a member of the American team in the Walker Cup matches in which the Americans scored an enormous victory. Nicklaus played a golf game like no one had ever seen before; so brutal in its length and strength it was totally uncanny.


Tom Weiskopf had the superior swing to Jack, but Tom readily admits that he didn't have the concentration Nicklaus had. There's always been a great rivalry and respect between them since boyhood. During their respective careers, Jack beat Tom like a rug. Nicklaus won 18 majors as a professional while Weiskopf only won one major, the British Open in 1973.


However, Weiskopf as a designer is superior because he has more flair and more feel. Weiskopf has a hugely sympathetic attitude to golf course design with regard to players who are not very good.


Nicklaus admits that in his early days he was guilty of designing golf courses that were too difficult to play, and I think his newer courses are infinitely superior to those he designed in his early years.

BN: What do you see as your future in Puerto Vallarta?

Ben: Well, I'm officially retired from golf and I hate winters. I'm looking at Puerto Vallarta as a place to come for at least six months a year. . . or, possibly a lifetime.

If you have a suggestion for a future profile, email us at Profiles@BanderasNews.com
Tell a Friend
•
Site Map
•
Print this Page
•
Email Us
•
Top