Local Profiles
Life Begins at 50
a profile of Sportswriter Bob Cohen

"Will I reach my goal to play competitively within the next 13 months? If I do, it will be a great accomplishment, actually an extremely lofty goal to set for myself. If I don't, I will still be a better tennis player; will have enjoyed the training, the healthy lifestyle, and the making of new friends I haven't met yet."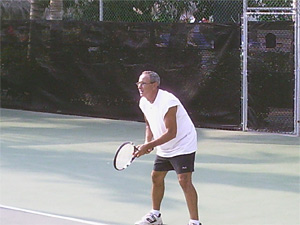 Bob playing at El Tigre Sports and Racquet Club, 12 pounds lighter than 6 months ago.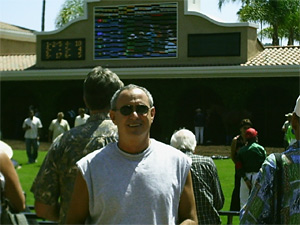 Bob never wanted to be a professional jockey but still frequents the thoroughbred racetracks in California.




Bob Cohen moved to Puerto Vallarta just before he turned 50 years old, deciding to opt for an early retirement rather than battle the hustle bustle and high cost of living in San Diego.


With romantic ideas of lying on the beach or in a hammock with a Diet Coke in his hand, he did just that for about three months before he realized that it got "old" pretty quick. He asked a friend if he could write a weekly sports column in a local newspaper and thus began his new (unpaid) career.


Bob moved on to write for Vallarta Today. Some time later, he joined the Banderas News team, reporting not only on sports, but also writing people profiles and covering local events.


Never one to sit still, Bob began to play tennis, a game he played on and off in the U.S. in between a busy work schedule. "I played tennis on vacations, and then followed it up with a weekly game that tended to last about a month," Cohen stated.


"I never was able to play consistently, so I waited for my next vacation to play again. The inability to find a regular playing partner on the same level as me made things difficult, and working almost 60 hours a week led to a bit of sloth on my few days off," he added.


Bob found that living an American lifestyle around only English speaking people got old pretty fast, and retirement was not all that it was cracked up to be. He moved to a Spanish speaking Colonia and began to embrace the local culture.


"I never really realized how self absorbed we Americans can be, until I began to watch the news on TV from other than CNN. I didn't speak a word of Spanish and was forced to learn living in a part of town where I heard virtually no English," Bob stated. "I was still close to the beach, which was a necessity for me and formed a close relationship with a local family here that changed my whole outlook on life."


Bob's new friends actually became family and the Parras allowed him to build a condo above their residence, which he believes will be his home permanently. He has grown so happy and comfortable here that he even dreads going back to the states, except for short one week visits to see his Dad in Florida.


A year ago, Bob decided to pick back up his tennis racquet and play once again at the Canto Del Sol Tenis Club. Bob told us, "I have always been athletic, never took a tennis lesson and figured I would be just fine. To my surprise I was injured three times with tendonitis and sought treatment."


"At 52, it's not like being a bullet proof kid, and found that I needed not only lessons, but I needed to buy a quality racquet and tennis shoes. I originally bought a Wal-Mart $250 peso ($25) racquet made of titanium, which sounded like a great material; after all I once played with a wooden racquet before the metal ones were introduced."


"Martin Parra, the tennis director at Canto Del Sol and good friend, put a $200 racquet in my hands and insisted I take some lessons. Martin told me if I kept doing what I was doing, I soon wouldn't be able to play."


Martin helped pave the road for Bob to improve his game. "I began to play in singles tournaments locally and was defeated badly in my first two," Bob told us. "It appeared that my opponents were easy to beat, but I learned yet another lesson. Players in 'B' and 'C' divisions that win are those that keep the ball in play, waiting for their opponents to make mistakes. Against my nature, I was taught to become more patient and wait for the opportune time to try to hit a winner."


Bob's professional coach and trainer is Jesus Martinez who teaches at the Canto Del Sol Tennis Club. "A month ago, looking at my upcoming 54th birthday, with my tennis game much improved, I asked Jesus to train me for tournament play. My good friend Kosmas Mamadopoulos, who spends winters in Puerto Vallarta and lives in Athens, Greece, became an inspiration to me. At 57 years of age, Kosmas became the top ranked 55+ year old player in Greece. His world ranking this summer went from 770 to 185 in the division. If Kosmas can accomplish this, why can't I?"


Currently, instead of swinging in his hammock, Bob is swinging a tennis racquet six days a week. "Jesus works me hard and insists that I think a better game before I even make contact with the ball."


"Preparation is more than 75% of one's chance for success and if all the mechanics are in place, I have learned that I can swing smoother, with less effort and the results are tremendous. There are four teaching pros at the club, Polo Torres, Polo Martinez, Leonardo Lopez and Jesus, and all help me, but I chose to study under Jesus because his stroke is more like my natural stroke."


Bob told us, "The level of competition in Puerto Vallarta is good and I find myself defeating many of the players that beat me just six months ago. Currently I am reaching the 'B' division, but still play 'C' in tournaments. There is only one big difference between the two divisions; consistency and preparation! I turn 54 late in August and hope to move up to 'B' in tournament play. 'A' is many, many sets and matches away, but my goal is to get there. Never did I think I could play on such a level, but I have become more of a student of the game. God has graced me with athletic ability, but not common sense, which is why I need a coach. I watch the best in the world on TV; Federer, Nadal, etc. and they all have coaches and trainers that couldn't win a single game against them. That shows me something; everyone still has a lot to learn, even the best."


"Will I reach my goal to play competitively within the next 13 months? If I do, it will be a great accomplishment, actually an extremely lofty goal to set for myself. If I don't, I will still be a better tennis player; will have enjoyed the training, the healthy lifestyle, and the making of new friends I haven't met yet. Sports goals are nothing new to me; when I was in the Little League I truly believed I would play professional baseball. When I began college I was sure I could play in the NBA one day and at 21 I aspired to play professional jai alai. I didn't achieve any of these goals, but I also believed that life ended at 40. Just look at me now."

If you have a suggestion for a future profile, email us at Profiles@BanderasNews.com
Tell a Friend
•
Site Map
•
Print this Page
•
Email Us
•
Top