Local Profiles
A Legend at Legends
a profile of Fher, the lead singer of Maná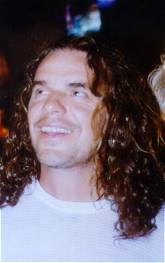 There's no way to know what's going to happen on a Saturday night in PV. After making the circuit of local nightspots I heard from Octavio, the bouncer and front man at Legends that this night was going to be an event.


Aguijon, the hottest band in PV, and the house band for Legends had invited a friend to stop by, enjoy the club and maybe perform. That friend, I came to find out, was Fher, the lead singer of Maná, a band that has taken Latin America, the U.S., and the world by storm. The band won a Grammy Award for their 1999 performance on MTV unplugged and are considered the kings of Latino rock.


It was amazing to see the response of the people in the club when Fher finally arrived, nationals and tourists alike swarmed around the rock superstar as he entered the bar. Russ, the bar's owner, had reserved a special spot on one of the balconies, but the superstar chose instead to sit at the bar where he had a better vantage point to listen to and see Aguijon play and to talk to fans and admirers whom he greeted warmly.


A while into his visit Fher agreed to hop on stage and perform, captivating the audience with songs that sounded just as clean, full, and powerful as they do on the albums that have gone Gold and Platinum. Fher and Aguijon electrified Legends, whipping the crowd into a frenzy. The bar was dancing room only; people were dancing on the bar, standing atop chairs and tables and having the time of their lives.


After the superstar left the stage Aguijon continued to play until late into the night with an awesome sound of their own, a mix of original music and stylized cover tunes. It was the first time I have seen a bar in Puerto Vallarta have to turn customers away... it was again the only place to be that Saturday night. Any time you go to Legends it is memorable, this night in particular was one that few will soon forget.


Sample the music of Maná from 'Cuando los Ángeles Lloran'


IMPORTANT NOTE: These files are hosted by BanderasNews. They offer the option of downloading files in mp3 (highly recommended), or listening to lesser quality streaming Windows Media. If you need to install the Windows Media Player [Win/Mac] click here to download Windows Media Player.


We urge all users to download mp3s for the best sound quality and congestion free, portable listening. If you need mp3 software, get a copy of the best FREE mp3 player around, Nullsoft's Winamp.

If you have a suggestion for a future profile, email us at Profiles@BanderasNews.com
Tell a Friend
•
Site Map
•
Print this Page
•
Email Us
•
Top