Local Profiles
Tennis Director - Canto Del Sol Resort and Tennis Club
a profile of Martin Parra by Bob Cohen

Born in Puerto Vallarta in 1963, Parra started playing tennis at the age of ten with a passion that grew to put Puerto Vallarta on the map as a tennis destination.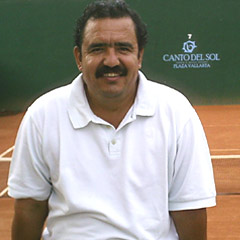 Martin Parra will host the 21st Annual Copa Canto Del Sol - the longest running tournament in Puerto Vallarta - at the Canto Del Sol Resort in July.




Martin Parra and tennis are synonymous in Puerto Vallarta. In all reality, Martin put Puerto Vallarta on the map as a tennis destination. Born in Puerto Vallarta in 1963, Parra started playing tennis 32 years ago at the age of ten, when he started working after school every day as a ball boy at Tennis Vallarta–Doral.


At that time, there weren't many tennis courts in Puerto Vallarta. Tennis Vallarta–Doral, which has since closed, offered eight tennis courts that were open to the public for court fees or tennis club memberships. The only other court open to the public for a fee was a single court in Las Glorias. Los Tules had two courts and the Camino Real had one, but both were for resort guests only.


Fortunately, Martin's job as a ball boy at Tennis Vallarta–Doral gave him his membership, but in fact, most of Parra's early tennis playing years were spent on the roof of Woolworth's, where a private court was built by Alejandro Mesa, the owner of Lans department stores.


Martin took his first lessons on Saturday mornings from a man who became his mentor, Luis Palafox, a tennis pro from Guadalajara. He took to the game quickly and entered his first competitive tournament in Manzanillo when he was just 11 ˝ years old. Although Parra didn't win the tournament, he continued to play competitively and pursue his lifelong dream of becoming become a professional tennis player.


Since there were no local competitive tennis tournaments at the time, it was necessary for the young Parra to travel out of town to compete in tournaments, many of which were held in Guadalajara. In 1979, at the age of 16, Parra reached the goal he had set for himself when he first picked up a tennis racquet - to become a tennis professional and compete in events around the world.


At the age of 19, Martin competed in his first professional international tournament - a big event held in San Luis Potosi in 1982, in which he lost in the first round. He went on to play in ten more big international tournaments, not winning any. Parra stands only about 5 foot 9 inch and this was in the era of the "big, tall, powerful" players bursting onto the tennis scene. Most tournaments were ATP tour Satellite events with purses of $50,000 and the competition was intense, which rapidly turned him towards dedicating himself to becoming a teaching pro and event promoter.


In the summer of 1984, he had the opportunity to teach at a private club in Maine, and when he returned to Puerto Vallarta, he became an assistant tennis pro at Los Tules, under the tutelage of former Mexican Davis Cup player, Joaquin Loyo Mayo. He then began teaching and promoting tournaments at the resort, as three more courts were added.


Parra was fortunate enough to be invited back to Maine to teach for the next eight summers, which gave him more experience and knowledge to bring back to Puerto Vallarta. During that period, Parra went to Yale University and studied promotions, which has since become his area of expertise.


In 1982, the John Newcombe Tennis Center was built in Puerto Vallarta, and in early 1985, Parra was lured away from Los Tules and hired as a pro at the new center. He has been there ever since, except for a short one-year hiatus in 2001, when the resort last changed hands. It wasn't the first time the resort had changed hands, as it was originally the Plaza Las Glorias, then The Fiesta Americana Plaza Vallarta, taken over by The Continental (the name most associated with the racquet club), and lastly by current owner Canto Del Sol.


In 1994, Parra promoted the first ATP professional tournament ever held in Mexico with a purse of $25,000 at the tennis center. For that venture the ATP presented him with a trophy signifying the event as the year's best tournament in Latin America. That only got him started. he then promoted The Ladies Challenge, an international $25,000 tournament that ran from 1996-1998.


For the next four years Parra promoted the tournament known as the "2nd 100," which was a competitive tournament for international professionals ranked at 100 and above. The purse was $50,000 and many players spring-boarded into top level competition from the event, most notably Martin Puerta, the Argentine who finished as runner up of the 2005 French Open. Numerous other professionals, whose names are well known to tennis fans, have graced the courts at the racquet club.


Not only did this make Martin the top tennis promoter in Mexico, but it also encouraged celebrities to request private lessons from him. In earlier years, Parra taught Anthony Quinn to play and spent some time hanging out with his pal and neighbor, Richard Burton. Football players Ed "Too Tall" Jones and Cliff Branch have also been tutored privately by Martin, and less than a year ago, actor Robin Williams and his family spent a week at a lavish ranch in Sayulita and invited Parra out to give daily tennis lessons to the whole family.


After ten years as the Tennis Director at the Tennis Center, Martin took the year off because he had been leasing the tennis club after the John Newcombe name left, and when Canto Del Sol purchased the resort the new owners decided to run the facility themselves.


From there, he went to the Marival in Nuevo Vallarta to promote a new national tournament with a $5000 purse, but mostly he took a well-deserved year off. Then one day, the phone rang and Canto Del Sol asked him to come back. Parra has become such a big name in Mexican tennis that the tennis club's membership had drastically reduced when he made the decision to leave. A lesson learned was that one could have the best facilities in town, but without the proper promotion of those facilities, play became rather stagnant.


That is what Martin Parra can provide, and since his return in 2003, the club's four covered courts have once again been full, even in the hot rainy season, giving Canto del Sol the only place in town that has those bragging rights. Parra has been bringing tournaments back and recently hosted "The Kids Cup," a tournament in which every state in Mexico sent their top youth to compete.


The winners of each division of "The Kids Cup" won a free trip to Morocco to compete in the Kids World Cup, and potential future stardom. The event was spectacular, but Martin is already lobbying and promoting to get "The Americas Kids Cup" here next year. The end of July will host the 21st Annual Copa Canto Del Sol, the longest running tennis tournament in Puerto Vallarta with professional, all levels of amateurs and kids competing in the event.


Parra currently has four teaching professionals working with him. The tennis programs are headed by a long time amigo, the popular Polo Torres. Other pros are Polo Martinez, Leonardo (Chino) Lopez and Jesus Martinez. All are bi-lingual and are frequently seen teaching and playing with members and guests.


Martin has been an invited guest to the U.S. Open and Wimbledon, and Puerto Vallarta is lucky to have him keeping us competitive, young and fit. BanderasNews.com is also proud to announce that Martin will be writing a regular tennis column for our newspaper. After all, who better than the man who knows what is going on in the tennis world and also brings tournaments here for us all to enjoy?

If you have a suggestion for a future profile, email us at Profiles@BanderasNews.com
Tell a Friend
•
Site Map
•
Print this Page
•
Email Us
•
Top