Local Profiles
Fusing Ethnicity, Technique and Imagination
a profile of Chef Guillermo "Memo" Wulff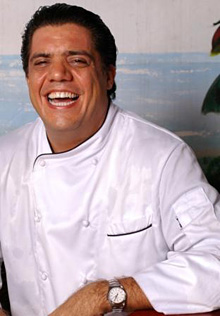 Chef Guillermo "Memo" Wulff carries on the family tradition of wining and dining the people of Puerto Vallarta at El Dorado Restaurant on Los Muertos Beach.




Under one of the biggest palapas on Los Muertos Beach, with the blue waters of the Mexican Pacific only a few sandy feet away, El Dorado is a landmark restaurant of Puerto Vallarta's Romantic zone.


Officially the second oldest established restaurant on the beach, it has been owned by the same family for almost 50 years. Luis Wulff, son of the original owners Guillermo and Nelly Wulff, still greets new and old friends alike at El Dorado, and their grandson Guillermo mans the kitchen.


One of Guillermo "Memo" Wulff's earliest recollections is white linen dining with his grandparents in Mexico City and Europe, learning about taste and manners. Gourmet food and fine dining have always been at the forefront of his experiences. He grew up in this Pueto Vallarta restaurant family and can't recall a time when he wasn't around El Dorado on the beach at Los Muertos.


Chef Wulff studied and cooked and soaked up the food scene in San Francisco while getting his culinary arts degree from San Francisco Culinary Institute. He is a student of innovation, fusing ethnicity and technique and imagination.


Memo loves pushing the envelope - wielding a Mexican household kitchen tool, the tortilla press, he creates an Italian style carpaccio of scallops, served with Japanese wasabi and Mexican chile oils; he is experimenting with a baked clay crust, using clay from his south Vallarta property to encase a dizzying combination of ingredients. He hopes that soon the same land will yield the organic produce that his San Francisco/Mexican-style kitchen demands.


Puerto Vallarta is famous for the wide variety of sensational cuisines - especially during the month of November, when the city's finest restaurants serve extraordinary culinary delights to visitors from around the world during the annual Festival Gourmet International Vallarta.


El Dorado is proud to be counted among the select group of restaurants that participate in this annual ten day festival. Chef Wulff's successful first experience in Festival Gourmet International Vallarta XI in 2005 led to an invitation to the XIIth annual Festival.


But Chef Wulff's resume doesn't stop there. In September of 2006, Chef Memo cooked with Chef Luis Fitch in the Taste of Puerto Vallarta event at James Beard House in New York.


The James Beard House is the most prestigious venue in the US for culinary artists to showcase their talent, and these two Puerto Vallarta chefs attracted worldwide attention by presenting a gastronomic explosion of international dimensions to top food and travel journalists from around the world.

El Dorado Restaurant • Bar • Playa
Pulpito 102 (South Side)
Tel 52 (322) 222-4124, 222-1511
Open daily: 8:30 am - 11:30 pm
Website: ElDoradoPV.com


If you have a suggestion for a future profile, email us at Profiles@BanderasNews.com
• B E L O W T H E F O L D •
El Dorado Festival Gourmet Magic

Kathy Taylor

During Festival Gourmet Vallarta XII, from Nov 9th-19th, Chef Memo Wulff and Guest Chef Sonia Montero invite you to step up for a big helping of exciting "Culinary Madness" El Dorado style at this popular restaurant on Los Muertos Beach.

Tell a Friend
•
Site Map
•
Print this Page
•
Email Us
•
Top