Local Profiles
3 Generations of Champions
a profile of Juan Moll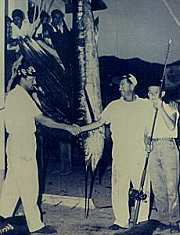 Juan Moll, better known in Puerto Vallarta as Mr. Marlin, has gained notoriety through the international press. Three programs on ESPN's Sport Challenge and several interviews in Marlin Magazine and other fishing publications have made one of the most famous people in Puerto Vallarta a prominent name in sportfishing worldwide.


Puerto Vallarta has yet to become a household word among big-game anglers because the standard guidebooks have publicized Mazatlán to the north, Cozumel on the Yucatán Peninsula, and southern Baja California as the places to go in Mexico for serious billfishing. But Juan's history speaks for itself.


With a sterling reputation as one of the greatest fisherman on the Bay of Banderas, Juan's business is booming. According to Moll, the locals themselves took notice of the marlin only recently. Not surprisingly, Moll was one of those who contributed to the discovery, which perhaps, explains why many of his friends refer to him as "Mr. Marlin of Puerto Vallarta."


And marlin are not the only fish in the sea. According to Juan, the type of fish to be found in the waters around the Bay of Banderas varies according to season. August through December is marlin fishing season. Sailfish can be caught from August thru March, and dorado from August thru February. From June to November, yellowfin tuna abound, and from February to April yellowtail are plentiful, making the Bay of Banderas a fisherman's paradise.


Juan's experiences, memories and triumphs over his forty-eight years of sportfishing have left him feeling "full and satisfied." He is proud to be a part of a family that has made an effort to be professional sportfishermen. Moll's father served as Vallarta's first 'Captain of the Port' and holds the record for the largest sailfish ever caught in the Mexican Pacific.


Juan holds the record for the heaviest marlin ever caught in the history of Puerto Vallarta, and has won numerous tournaments over the years. He has participated in fishing tournaments in Kona Hawaii, Cabo San Lucas, Manzanillo and in San Blas. Most recently, in February's Billfish tournament held in Barra de Navidad, Moll's team Penicilinos won first place by bringing in the largest sailfish.


The family tradition continues with Moll's son, Juan Pablo, who at the tender age of eleven won the national championship in Puerto Vallarta's International Fishing Tournament by catching a sailfish weighing 37 kilos. Now twenty-one, Juan Pablo plans to manage his father's business, appropriately named "Mr. Marlin" sometime in the near future.


Mr. Marlin's services are available in his tackle store-delicatessen located in Marina Vallarta. His fleet of fishing boats includes the 33' Bertram Top Gun, the 36' Alura Barrabas, and the 50' Pacemaker Mr. Marlin. All of the boats are fully outfitted with top-of-the-line equipment and have English-speaking captains. Juan also offers taxidermy service for those who would like a trophy to go along with their memories of a great day of fishing.


Click here to see the Mr Marlin photo gallery.

If you have a suggestion for a future profile, email us at Profiles@BanderasNews.com
Tell a Friend
•
Site Map
•
Print this Page
•
Email Us
•
Top