Restaurant Owner, Columnist and Poet
a profile of Nacho Cadena by Elena del Barrio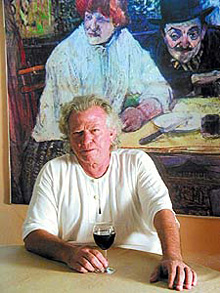 Restaurant owner, columnist and poet, Nacho Cadena, devotes a lot of time to promoting cultural and social activities in Puerto Vallarta.




Nacho Cadena is a celebrity in Vallarta for his charismatic personality and active cultural and social life. He claims to follow the sun, and this is no flippant remark, but his inspired way of saying he lives the moment.


However, there are things in life one never forgets and which last a lifetime. Nacho Cadena has always cherished his passion for cooking, which brings memories of his home, where meals were a ritual of delights.


His mother was a learned French woman and brought to her home the excellence of subtle tastes and intellectual insight. His father was a military doctor and quite a spirited man. He used to work form dawn to dark, but after that there was still some time left to look after his gardening and rose bed, to fish, to hunt, and to make up a thousand and one variations of his inventions.


Nacho has a vivid memory of his father galloping through the dessert of Sonora to assist his patients, and, perhaps, his son inherited his extraordinary energy. Nacho Cadena is a restaurant owner, a dedicated columnist, a poet by day and, to top it all amid verses, rhymes and metaphors, he still has time to participate in a radio program.


Besides his intellectual concerns, creative interests and many recipes, he devotes a lot of effort to others by promoting culture and organizing social activities to provide enlightening social entertainment. He is also responsible for bringing the Alianza Francesa the cultural scene of Vallarta, which has made French language skills available for many young Mexican students.


Though he comes from the desert, Nacho Cadena came to the most fertile land to live at one with the sea. He vividly remembers the day his father took him to their first rendez-vous. They left inland Hermosillo to enjoy an exciting day with Indians, horses and pirouettes, and there, sitting by the shore, he saw the ocean's smiling gloss.


This childhood vision crystallized in Vallarta and mesmerized his poetic imagery, as he speaks of the sea and goes beyond the deep motions of the ocean to the wonders of the stars with telescopic and philanthropic ingenuity.


However, before coloring and voicing his images, he first learned to dream and to work hard. He speaks enthusiastically about his first years in Vallarta in the mid 70's, when he worked as a real estate developer in charge of major projects such as Los Tules, Fiesta Americana and Fiesta Condesa, which are a source of great satisfaction to this day.


His restaurant, La Petite France, he says is his little toy. He spends a lot of his time there because he can do a bit of everything. At times, he likes to play the boss or help the chef out, and he always has time to marvelously host and entertain his guests. In this, his little kingdom, all abide to La Chaîne de Rostisseurs, the international culinary board, where Nacho Cadena is a vice-counselor.


He says that cooking soothes his spirit and poetry stirs his mind, and for each temperament he has a small tête a téte. Up in the mezzanine, that middle floor that leads nowhere, guests talk of artistic wonders and admire the work of Toulouse Lautrec, though the owner claims he dreams with the yellows of Van Gogh.


In contrasts, on the ground floor guests rejoice to the wonders of food, wine and the company of good friends and an occasional merry toast to "Vive la France!"

Revista: "Vallarta Lifestyles", Year 12 No.4, Fall - Winter 2001
If you have a suggestion for a future profile, email us at Profiles@BanderasNews.com