Local Profiles
I Love to Cook
an Interview with Oscar Galvan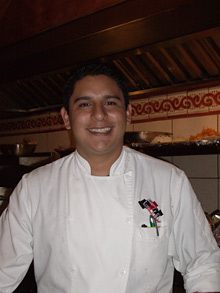 A few days following his fist win in a professional cooking contest, the Thierry Blouet Vallarta Trophy, Kathy Taylor had the pleasure of interviewing one of Mexico's hottest young chefs, Oscar Galvan.

He is handsome, talented, bright, and passionate about food and his heritage. He answers questions thoughtfully in English until he gets hooked on an idea - describing a certain dish, or an ingredient, or a favorite restaurant, and then he rushes headlong, the conversation whirring in a blender of Spanish and English phrases, flashing smiles, and expressive hands.


He is working on the night of this interview, a few days following his fist win in a professional cooking contest. No one else has interviewed him yet; he exudes happiness and enthusiasm. The evening rush is over, he sits and talks:


He was a twelve year old boy when he first worked in a professional kitchen, a large bustling traditional Mexican restaurant in Mexico City, "not fancy." "I needed money for tennis shoes and other things," he said, " I was a bus boy and a kitchen helper and right away I knew I wanted to cook." "My mom told me how to make arroz Mexicana and I went in and cooked it - then that became my job too."


Oscar Galvan, as with many great chefs, was inspired by his mother's cooking. He watched her make moles and salsas and carnitas; her basic traditional dishes became part of a repertoire that would ground him as he made his forays into the world of international cuisine.


He attended CONALEP in Mexico City, the Colegio Nacional de Educacion Profesional Tecnica (National School for Technical Professional Education) and studied Culinary Arts. As his skills in classic French technique grew, so did his passion for the roots of Mexican cuisine.


Ambrosia, Mexico's premiere culinary institute, was the next stop for the young Oscar Galvan. He flourished under the tutelage of renowned chef Ricardo Munoz, who has been proclaimed "a Prophet and Preserver of a culinary tradition".


They shared a zeal for Mexico's culinary heritage, and Oscar's innate talent and gastronomic range took full flight. At Ambrosia, Galvan became Chef de Partie of Mexican cuisine, always his focus and passion.


On graduation from Ambrosia, Chef Galvan packed his knives and youthful enthusiasm for a 5 month stint in a Barcelona restaurant noted for its Catalan and French cuisine. One evening he was requested to cook for a party of very influential government and business guests. What did he cook? Mexican food, of course.


"I cooked carnitas, arroz mexicana, and guacamole. They loved it." That evening, that meal, was a pivotal event in his young career. What he already knew in his heart was revealed and reinforced. "I realized I had to return to Mexico."


At the age of twenty one, Oscar opened the Sheraton in Mexico City, and helped establish its International restaurant, Los Dones. Within a year, with self proclaimed "hard work and good luck," he was named the Executive Sous Chef of the hotel and all its restaurants. In the same year, he entered his first professional contest "Joven Chef Mexico," placing sixth.


It was in the heat of this contest that Oscar caught the eye of Puerto Vallarta restaurateur William Carballo. Carballo is the owner of Barcelona Tapas, acclaimed for both its spectacular views of Banderas Bay and its spectacularly delicious tapas and comfortable well designed wine list.


Camarone ice cream, one of Galvan's daring creations in that contest, was the item that spoke volumes to William Carballo. That boldness and his obvious passion for classic Mexican cuisine with an innovative twist made Oscar the obvious choice for Carballo's newest venture.


In 2004, one of Puerto Vallarta's finest tequila cellars became Agave Grill, with Chef Oscar Galvan designing a menu that has its feet firmly rooted in classic Mexican cuisine and its soul soaring into a sophisticated gourmet stratosphere.


It was a confident Oscar Galvan who entered Puerto Vallarta's Thierry Blouet Vallarta Trophy Cooking Competition recently in March of 2006. After long evenings fronting the open pueblo style kitchen of Agave Grill, creating his signature dishes, like the Pato en Nogada, duck basted with tequila with salsa of nogada originating from Puebla, and a garnish of lukewarm wheat and fruits, he would practice. At 3:00 in the morning he would fire up the grill, and line up the requisite ingredients: duck, rice, cranberries. Oscar Galvan refined his ideas, timed his menu, and perfected his presentation.


He was pleased to win, but not surprised. Agave Grill's owner, William Carballo, is happy that he listened to the strong voice that told him that Oscar Galvan was the creative influence that his vision needed. "I am very proud of him," says Carballo.


According to the rules of the contest, Galvan cannot enter again for a number of years, but that doesn't bother him. There are other contests, other challenges in his future.


"I cook what I love," he declares, laughing. With warranted confidence, this young chef asserts, "I want to be the finest Mexican restaurant in Puerto Vallarta, even in Mexico."


He just loves to cook.

If you have a suggestion for a future profile, email us at Profiles@BanderasNews.com
Tell a Friend
•
Site Map
•
Print this Page
•
Email Us
•
Top