Local Profiles
Encore! Encore!
a profile of Paco Rentería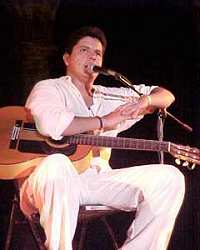 Originally from Guadalajara, Jalisco, Paco Rentería is a musician who has combined the basis of Flamenco music with elements of Classical, Árabe and Latin Music, creating a variation that has been called "Flamenco Rumba World," through which he reveals his creative expressionism with a guitar.


Paco's parents influenced him by guiding him towards classical music at a young age. In his musical creations there are influences of the resplendent sounds of famous guitarist such as Escudero, David Moreno, and Paco de Lucióa. Rentería's musical education is based on formal studies with such notable teachers as: Jésus Contreras (popular and classic guitar), Fernando Martínez (classic and Spanish guitar), Villaserna (contemporary guitar), and Jorge Aragon Rosemary (harmony modern, composition and current technical personnel: Music school of the University of Guadalajara).


Paco Rentería and his group "Viento y Arena" have performed in the foremost theaters of this country including the Cervantino Classical Music Festival in Guanajuato. He has also played in the United States in such places as San Francisco, Napa Valley, and Santa Elena, California. In the coming year, Paco plans an international tour to include such countries as The United States, Egypt, Japan, and Austria among others.


Experts in the music industry describe the creations of Rentería as "an electronic virtuoso." Paco de Lucia commented, "To hear his music and to see how he interprets it is a mountain of sensations." Additionally, the film director Oliver Stone has shown an interest in his art for the musical content of his coming productions.


During his recent visit to Puerto Vallarta, we had an opportunity to speak with Paco:

BN: How do would you define Paco Rentería at this moment?

Paco: I find myself in a highly emotional state with rising dreams and in a state of maturity and projection.

BN: How do you define your general music at this time?

Paco: I define it as Flamenco Rumba World, Beat Jazz World, or something like that. (He smiles)

BN: What is the result of a full year of work given your artistic plans?

Paco: We played with Carlos Santana; I initiated a work with Oliver Stone. We have a figure of 130,000-140,000 people who have heard us on a national level and in foreign countries. We were in new situations in new countries and new states trying to open frontiers. I can't stay still. Countries that I can mention: Puerto Rico, Brazil, Guatemala, the US, and Canada, among others.

BN: What are your plans for this year?

Paco: To promote my third live disk and complete it in San Francisco, California, and we will be occupied all year with concerts in different countries.

BN: What message do you leave for the people of Vallarta?

Paco: First, thank you for your support and we hope that more people know us. We are planning a macro-concert for the 150th anniversary that will be the 13-16 of December. We will see how we can organize it.

BN: What message do you want to leave with the national and foreign visitors?

Paco: That they return to this beautiful place, this aphrodisiac and fountain of inspiration for all of those who make art. Though in any case return and carry the better nature of Vallarta and of its people with them. With respect to preserving the nature, there is no problem, as nature continues.


What we need to care for are the children, especially those that live in the streets and those who are mistreated and exploited. This for me is damaging to our own nature. If there is a group that can protect these children, we will cooperate to the fullest extent possible.


Sample the music from Paco's first CD Latin Gypsy


IMPORTANT NOTE: These files are hosted by BanderasNews. They offer the option of downloading files in mp3 (highly recommended), or listening to lesser quality streaming Windows Media. If you need to install the Windows Media Player [Win/Mac] click here to download Windows Media Player.


We urge all users to download mp3s for the best sound quality and congestion free, portable listening. If you need mp3 software, get a copy of the best FREE mp3 player around, Nullsoft's Winamp.


Click here to see photos from a recent concert in Puerto Vallarta.

If you have a suggestion for a future profile, email us at Profiles@BanderasNews.com
Tell a Friend
•
Site Map
•
Print this Page
•
Email Us
•
Top