Local Profiles
...and fell in love with Mexico
a profile of Dr. Peter Gordon by Bob Cohen

After graduation from the University Autonomia in Guadalajara, Dr Gordan returned to the United States, but promised he would one day go back to Mexico to practice medicine.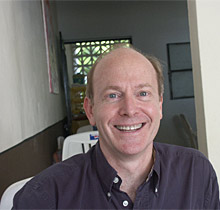 Doctor Peter Gordon
Plaza Marsol, Local North
Hotel Zone - Puerto Vallarta
(322) 293 1553
PGordon@mejorred.com
PGordon.FamilyDoctors.net




I was in the waiting room of Dr. Peter Gordon when a cruise ship passenger walked in and asked for a prescription for strong painkillers. Dr. Gordon, seemingly used to these requests suggested he make an appointment and look for the proper alternative treatment. The doctor smiled after the man angrily left, telling me how many times the cruise ship passengers come in looking for drugs, believing that all doctors in Mexico just pull out a pen and give patients what they want. Since the doctor's office is located at the cruise ship marina he tends to be their first target.


Dr. Gordon has been a wealth of information for me in other areas of life in Puerto Vallarta, such as where to find a good reputable attorney, accountant and specialists in the medical field. His assistance in filling out insurance claims and how the system really works here has been an invaluable asset. His quest for information is non-stop, both in the medical field and just improving the quality of life in general.


Dr. Gordon, who graduated from medical school in Guadalajara at the Universidad of Autonomia de Guadalajara, which is supported by the private Rockefeller Foundation, graduated and went back to Michigan where he was offered a very lucrative job offer in a practice that would insure financial freedom. Looking for a practice to join, he was offered a position with a group and was told that if he was not earning $300,000 in his first year, then he was doing something wrong. His thoughts were that if he was making $300,000 in his first year he MUST be doing something wrong.


Turning down the position he wound up as a teaching physician for residents doctors at a Michigan hospital for ten years. A few months turned into a year, a few years and ultimately the ten years. Dr. Gordon started as a teaching physician, moving up to different capacities and ultimately the chair of the Utilization Review committee, where all policy was reviewed and dictated.


Why did he leave the states and come back to Mexico? He fell in love with Mexico as many have. Twenty seven years ago, when U.S. medical schools were at full capacity, it was suggested that he look for another doctorate degree, but he researched international medical studies in Europe as well as Mexico and found the Autonomia in Guadalajara, an accredited university backed by the World Health Organization. When he finished and went back to the United States, he promised he would one day return to Mexico to practice medicine.


He came back to Guadalajara seven years ago and started a practice there, but soon realized that there was an ample supply of family physicians there and decided to open his practice in Puerto Vallarta, which he did about five years ago. "There was a big need for doctors here that were well prepared, ethical, and humanitarian and there was a big need to fill gaps where they were lacking specialists," he stated.


A question I posed to the doctor was one that has been asked by many, "what are the biggest medical problems or obstacles that English speaking people face in Puerto Vallarta?" "Although in the last four years I've seen tremendous growth in medical facilities and physicians, we're still lacking many specialists. The biggest problem in that however is probably the language barrier. Patients often feel like they are being misunderstood, even when dealing with a good doctor, of which there are many. When patients visit me they are tend to be more confident because of the language and I always let them know if I refer them to a specialist, that they are extremely competent physicians even if they don't speak English clearly. I communicate with the specialists and we tell the patients exactly what needs to be done."


Asking about what foreign travelers face as far as health concerns, Dr. Gordon stated, "of course the two most common things are the food and water, but there are also environmental factors, especially being in the tropics, such as bug bites, scorpion bites, or even sting rays in the ocean. People have a misconception that if bitten by an insect, the ocean salt water is the best to heal it, but do not realize that whatever lives in that salt water has to survive as well, and are more potent, and often the infection becomes much worse."


"My philosophy is preventative and conservative and I don't like prescribing medications unless they are absolutely necessary. My reason for this is that we are not trying to just trying to blow away the smoke, but put out the fire," he added.


Dr. Gordon has a type of personal medical insurance plan, although he is not a fan of what has happened to the medical insurance industry in the United States. When he was still practicing in Guadalajara, a fellow doctor suggested that with his knowledge and experience with health insurance, he put his own little plan together in Mexico. "After a few years of trying to help people who would come to see me when they were really sick, I realized that if I could have helped them at an earlier time, at a better opportunity or when they needed follow up."


"People tended not to make those office visits. Then I created a simple plan, kind of like a fancy financial arrangement, in which the patients paid an annual inscription fee, which in turn lowered the office visit to a minimal amount. This allowed people to come in for a visit and we found we were better able to reduce sicknesses with preventative methods. It has been adjusted and refined throughout the years so as not to abuse the system, but reap the benefits."


Dr. Gordon is a 24 hour doctor, and receives calls at all hours and attends to his patients. Being completely bilingual, he is often seen at conferences for the community held by health professionals, holding the microphone as the interpreter. The biggest benefit beyond his own personal treatment of patients is his networking ability, as he keeps very current with all and any medical developments here in Puerto Vallarta, and is easily able to make proper referrals when necessary.


Doctor Peter Gordon can be reached at his office at (322) 293 1553, and is located at Plaza Marsol, Local North, Zona Hotelera right next to the cruise ship terminal, a very central location. On his business card he lists his cell phone number as well as a pager number, solidifying his availability 24 hours a day. You can also visit his website at www.pgordon.familydoctors.net or he can be emailed at pgordon@mejorred.com.

If you have a suggestion for a future profile, email us at Profiles@BanderasNews.com
Tell a Friend
•
Site Map
•
Print this Page
•
Email Us
•
Top