Talavera etc.

"...outstanding beauty and variety"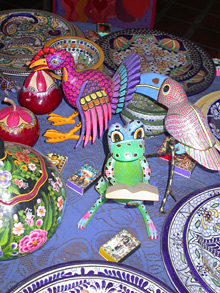 Talavera etc
Ignacio Vallarta 266
South Side, Puerto Vallarta
Tel: (322)222-4100
Email: info@talaveraetc.com
Website: TalaveraEtc.com

For more than 15 years, Talavera etc at Ignacio Vallarta 266 in Puerto Vallarta's Old Town, has been offering a wide selection of the finest traditional quality Poblana Talavera pottery from the foremost workshops in Puebla, Mexico.


Handmade and individually crafted by master craftsmen in Puebla Mexico for more than 400 years, Talavera ceramics have a long and colorful history. Today, individual families of master craftsmen are still using the age-old two-firing process that has been passed down through the centuries to create the unique color and sheen characteristic to authentic Talavera ceramics.


At Talavera etc, you'll find Talavera dinnerware sets, individual place settings, and unique pieces of Talavera pottery for your kitchen, bathroom and garden, as well as a large selection of high quality hand-painted Talavera Tiles and Murals that are ideal for decorating, remodeling, or accenting small spaces.


Though we specialize in quality Talavera tiles, sinks, ceramics and pottery, our beautiful little shop and art gallery also offers a wide selection of collectible Mexican folk art - dolls, saints, tin figures, retablos, milagros, nichos, Day of the Dead art, original paintings, masks, Huichol art, decoupage, wood carvings and many other wonderful Mexican Handcrafts from all over Mexico.


From small decorative items to complete sets of Talavera dinnerware, you are sure to find the perfect piece for that special place in your home. We invite you to stop by our Talavera Shop in Puerto Vallarta, Mexico to see and feel the vibrancy and warmth of the fine craftsmanship of Mexican Talavera pottery for yourself - or click HERE to visit our website at TalaveraEtc.com.