Sports
El Tamarindo Country Club
Disarming a dense jungle is no small endeavor, but El Tamarindo has done just that and offers the more adventurous golf traveler luxury in a wild tropical jungle that courses down a mountainside to a primordial seashore, its beaches truly pristine and natural. Sandwiched between forest ravines and dramatic cliffs with views down to the crashing surf is the spectacular El Tamarindo 18-hole championship golf course carved out of the raw landscape.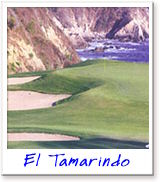 Rated in the top ten courses in Mexico by Best's Golf Guide, it is a must-play venue. Here you can take full advantage of having a course almost as your own. At the ninth hole rest area, have the chef serve up some fresh sea food as you relax overlooking the blue Pacific below. That is the charm of its 200 acres of tropical rain forest and 10 miles of undisturbed sandy beaches.


El Tamarindo has 28 thatched roof villas with beautifully styled and furnished interiors, open to fresh ocean breezes. Each villa is air-conditioned, has king-sized or twin beds, beautiful bathrooms and showers, and each with its own private garden. Architects Robert Trent Jones Jr. and David Flemming were given the run of this sublime site located in a vast ecological preserve - and here they created a masterpiece!


There is not one flawed hole on this 6,682-yard, par-72 course, and no less than fourteen holes could qualify for signature status. The thrills of El Tamarindo begin immediately at the 371-yard. par-tour 1st. A blind tee shot must he played to the left to avoid the encroaching jungle. The 3rd hole is a mesmerizing par-four that runs straight out to the beach, with a green flanked by side and back bunkers. "Numbers six, seven, eight and nine may be the best string of four holes in the world. Before dismissing this as an overstatement, try them," says Golf Odyssey Magazine.


Six is a stout. 472-yard par four from an elevated tee with a slight dogleg left. On the challenging, par-five 7th, a double dogleg, one can cut off some of the first dogleg, but specimen trees prevent any shortcuts on the second. The short par-four 8th is pure magic owing to its very elevated tee, long carry over a morass of wild hushes to the fairway far, far below, and trap-protected green framed by the sparkling Pacific Ocean.


After the breathtaking majesty of the 8th, players climb up to the tee of the par-three 9th. This promontory perch looks down toward a shallow green and a rousing stretch of untamed, rocky coastline. Hit a few shorts from here... it will be a while before one comes upon a hole like this again.


At this time, maybe you'll want to stop at the open-air Snack Bar and taste the best Margarita Sunrise served in the whole state of Jalisco; or maybe you'll like to delight a delicious guacamole or exquisite mahi-mahi ceviche. Then you'll be ready for the final nine holes, highlighted by the extraordinary par-five 18th, where water beside the green makes for a precarious approach.


To reap the glories of El Tamarindo inner on the greens and take in the fresh ocean breezes and tranquil views one need not rush at this club. Because the location is remote, you're unlikely to see much traffic. You'll probably feel as if you have the place to yourself. The course is very strategic. Along with the challenge and sheer beauty of the topography, it can be more of a pleasure to play here because of the casual peace and exceptional value. Even on busy days, El Tamarindo entertains only a few selected golfers.


El Tamarindo is well irrigated and from tee to green, the Bermuda grass is exquisitely conditioned. Jones and Flemming have accomplished marvelous things with El Tamarindo's greens. They are expertly cut, and although not at PGA speed, they are certainly fast enough. Heed warnings not to venture into the bush to look for wayward golf balls, less you come upon snakes and other jungle creatures.


The greatest challenge of the design was to not overwork the property, but to assist "mother nature" with what was given. The site contains a tremendous nature preserve, with spectacular plant diversity and exciting view corridors that rival the greatest golf courses of the world.


The jungle holes wander through valleys of giant native trees. According to nature's calendar, they explode into an incredible colorful display of blooms. Where the course exits the jungle onto three breathtaking ocean front holes, more shots are taken with cameras than golf clubs. The ocean, with spectacular beaches and crashing surf, is seen from nine holes.


El Tamarindo Country Club [locate on map]
Km. 7.5, Carretera Melaque - Pto. Vallarta
La Manzanilla, Jalisco C.P. 48970
Tell a Friend
•
Site Map
•
Print this Page
•
Email Us
•
Top