Sports
The Isla Navidad Golfing Experience
As a golf adventurer, you must visit Isla Navidad Resort and Golf Course at least once in your lifetime. Isla Navidad is located on the south end of the Mexican Riviera, 20 minutes from Manzanillo International Airport, served by AeroMexico, Mexicana, AeroCalifornia, Continental, American West and Alaska, as well as several charter flights.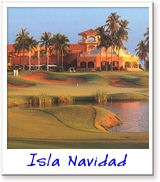 Set on the magnificent Pacific Coast against a spectacular mountain backdrop, the Grand Bay Hotel Isla Navidad Resort is a Wyndham Luxury Resort that reflects the rich heritage of Old Mexico while providing a modern-day paradise for golfers, beachgoers and water-sport lovers.


Golfers from around the world will enjoy the Isla Navidad golfing experience. Classic Mexican architecture and old-world charm combine with the distinctive attitude and superior quality of an exclusive private club.


The 27 holes golf course, created by Robert von Hagge, are equal to the world's best courses. With an unusually long ocean frontage, its design is a blend of golfing challenge and beauty.


Wind, light, and surface variance challenge different skill levels on greens that extend into the lagoon or the mountains, having as their backdrop magnificent views of the Pacific Ocean.


Dining and entertaining go hand in hand with the sheer pleasure of a well-played round. To match the master strokes at the golf course, the Clubhouse restaurant waits to tempt you with savory haute cuisine dishes to enjoy with friends.


This superb course is more than simply a golfing experience - it is like immersion in a fine work of art, a feast for the senses.


Niches displaying hand-made masterpieces of folk art delight the golfer at every turn. Stained-glass windows and doors, glazed tile accents on marble floors, and countless other evidences of the touch of master craftsmen are everywhere abundant.


Hole by hole and shot by shot, the setting never repeats itself. Every vista is unique, every setting different in the three nine-hole courses: Ocean, Mountain, and Lagoon.


Brush up your handicap on the practice green and in the golf clinics, and also join in national and international championship competition.


Quietly displaying a relaxed style and elegance, the clubhouse is the ideal setting to gather a fresh lease on life.


Soak in the classic Mexican architecture and old-world charm, with the distinctive attitude and exceptional quality of a country club.
IslaNavidad.com


Isla Navidad Golf & Country Club
Hotel and Reservations
(333) 641-5326
naceves@prodigy.net.mx
IslaNavidad.com
Tell a Friend
•
Site Map
•
Print this Page
•
Email Us
•
Top