Free Newsletter!
Click HERE to read a serialized and updated version of
Polly G. Vicars' sell-out book, Tales of Retirement in Paradise
.
Vallarta Living
Living in Puerto Vallarta Mexico
For many the thought of living in - or even near - a major tourist resort is about as appealing as a buying a condo in Disneyland. But here in Vallarta, the incredible natural beauty, combined with a small town atmosphere and the inherent warmth and friendliness of the local people, attracts foreign residents who enjoy the good life.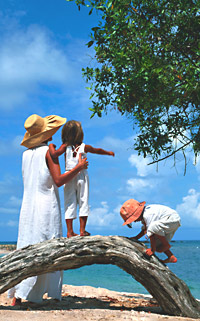 With a colorful blend of the old and the new, the Banderas Bay region offers an unrivaled combination of simple pleasures and sophisticated charms. Fine dining restaurants, art galleries, upscale shopping centers, internet cafes and nightclubs peacefully coexist alongside taco stands, street-side vendors and open air markets selling Mexican handcrafts, and strolling Mariachi bands.


But much of Puerto Vallarta's magic is in the hearts of her people. Often described as "one big, happy family," Vallartenses are known for their hospitality and for going out of their way to welcome foreign residents. And, since the Mexican people are extremely tolerant of different lifestyles, international residents and Mexican locals can live side-by-side in harmony - provided that the expatriate can learn to be creative and adaptable.


Puerto Vallarta is an unhurried refuge for people seeking more than just a beautiful beach. Those of us who choose to live here embrace the challenge of learning patience and understanding. Taking the time to "stop and smell the roses" along the road to becoming bicultural gives us the opportunity to grow - and to enjoy a more relaxed way of life.

• B E L O W T H E F O L D •
Looking For Some Fun Things To Do? Come to Act II!

Melissa Tropp

Puerto Vallarta is a great place to visit, even during the warm, humid summer. And Wednesdays are THE day to go to the beautiful, air-conditioned, Act II Entertainment venue. The fun starts with Happy Hour at 6 pm, followed by Us Two and their live band at 7:30, & Bob's Karaoke Party at 8:00.

---
Help Puerto Vallarta Win a 2018 Readers' Choice Award

Lorena Sonrisas

As one of Mexico's most attractive destinations, Puerto Vallarta continually receives accolades from the media and visitors. Now, travelers who have recently visited have the opportunity to help PV win the designation of 'Best City' in Condé Nast Traveler's Readers' Choice Awards.

---
Summer Sizzle Menu Returns to Daiquiri Dick's

Banderas News Team

One of the best things about Summertime in Puerto Vallarta is the return of Daiquiri Dick's Summer Sizzle Menu. Through the end of June this popular beachside restaurant is offering diners 3 delectable courses (with your choice of appetizer, entree and dessert) for just $399 pesos.

---
3 Gay Men's Choruses 'Dreaming Together' in Vallarta

Dean McIntyre

On Sunday, July 8, the Puerto Vallarta Gay Men's Chorus, together with the Coro Gay Ciudad de México and the New York City Gay Men's Chorus, will present a special concert, 'Dreaming Together,' at Teatro Vallarta. Ticket prices range from $100 to $500 Pesos, depending on seat location.

---
Keeping Your Home Cool... Without Air-Conditioning

Tropicasa Realty

With summer temperatures here, many Puerto Vallarta property owners are looking for ways to keep their homes cool without relying on air-conditioning. The real estate experts at Tropicasa Realty offer some simple tips to help you keep your home cool and fresh - and your utility bills low.

---
Democrats Abroad to Host Fourth of July Beach Party

Marilyn Khan

If you find yourself in Puerto Vallarta on the USA's Independence Day, head over to Daiquiri Dick's on Los Muertos Beach for an All-American 4th of July celebration hosted by the Costa Banderas Chapter of Democrats Abroad. This event always sells out, so get your tickets TODAY!

---
Biblioteca Los Mangos Offers Summer Courses for Kids

Margarita Bonita

The Puerto Vallarta Public Library, Biblioteca Los Mangos, is offering children ages 3-13 four fun-filled weeks of activities during this year's Summer Camp. Scheduled to take place from July 9th to August 3rd, all Summer courses are inclusive, educational and entertaining.

---
Vallarta-Nayarit Beaches Retain Blue Flag Certifications

María Francesca

In a major environmental achievement, 10 Vallarta-Nayarit beaches and the Marina Riviera Nayarit will retain their Blue Flag certifications for another year. The recognitions will be presented during the XIII Clean Beach National Assembly to be held in Bahías de Huatulco July 4-7, 2018.

---
Cochran Real Estate Launches 'Helping Hands' Initiative

Marie Callan

A GoFundMe campaign has been launched for the 'Cochran Real Estate Helping Hands Initiative,' a financial assistance program created by Vallarta realtor Harriet Cochran Murray, to provide meals to family members that are taking care of their loved ones at the Regional Hospital.

---
Third Vallarta Aquathlon Set for June 24, 2018

Ricardo Acerco

The 2018 Aquathlon Vallarta, a continuous, three-stage race involving running, then swimming, followed by more running, is set to take place on Sunday, June 24. Whether you are looking for a fun way to stay in shape, or to show off your athletic prowess, you won't want to miss this!

---
Act II is The Place to Go for Summer Entertainment

Melissa Tropp

Act II Stages is very happy to present two of its most popular high season shows this week for your enjoyment! Come and enjoy a cool cocktail in the luxurious (and air-conditioned!) Encore Lounge, then delight in some of the best music you have ever heard - right here in Puerto Vallarta!

---
Bishop to Visit Vallarta's Christ Church By The Sea

George Fulton

The Right Reverend Ricardo Joel Gomez Osnaya, Bishop of the Western Diocese, Anglican Church of Mexico, will be visiting the Anglican Parish of Christ Church by the Sea in Puerto Vallarta on June 17, 2018. Bishop Gomez will officially dedicate and consecrate the new church sanctuary.

---
Mango Season in Vallarta: Try These Healthy Recipes

Dr. Leslie Korn

Mangoes are considered the queen of fruits, and with good reason! Rich with vitamins and minerals, the fruit is filled with fiber, which reduces cholesterol and lowers the risk of gastrointestinal cancer; and its rich fount of antioxidants help protect you from heart disease.

---
June News & Inspirational Stories from Pasitos de Luz

BanderasNews.com

June news and inspirational stories from Pasitos de Luz, a Puerto Vallarta non-profit organization provides children with various handicaps with a caring and loving environment, along with treatment for individual rehabilitation, nutritional meals, physical stimulation and therapy.

---
Summer News from Vallarta's Parque de los Azulejos

Nancy Page

Local artist Natasha Moraga and Mosayko Vallarta volunteers are still diligently working on reshaping and transforming Lazaro Cardenas Park into another internationally recognized icon in Puerto Vallarta: 'El Parque de los Azulejos.' Here's the latest news from Tile Park PV.

---
Timothy Real Estate Group Open House at Villa Encantada

BanderasNews.com

Searching the Internet for just the right property can be frustrating, so Timothy Real Estate Group's Donna Davies will be hosting an Open House on Friday, June 15 from 5:00 pm - 8:00 pm at Villa Encantada, a luxury villa on the southern shores of Puerto Vallarta.

---
A BIG Week of Entertainment at Act II Stages

Melissa Tropp

Anyone who says there's nothing fun to do in Puerto Vallarta in mid-June has probably never heard of Act II Entertainment. It's a BIG week at Stages, with three of our most popular shows playing and a very special edition of Bob's Karaoke Party, for your Cool (air-conditioned) enjoyment.

---
Three Ways to Celebrate Father's Day at The River Café

María Francesca

Looking for a way to celebrate Dad on his special day? If he's into fantastic food and marvelous music, you can't go wrong at The River Café. There's no better way to show him your love than by treating him to a fabulous Father's Day brunch, lunch, or dinner at this landmark restaurant.

---
Get Your Taste Buds Ready for Summer at No Way José!

Julie Guerrero

You asked for it, you got it! No Way José! opens its downstairs air-conditioned bar for dinner service starting June 13. With a daily happy hour featuring 2x1 domestic cocktails, you can beat the heat and try the weekly cocktail and dinner specials especially suited for Vallarta summers.

---
Hurricane Bud Threatens Mexico with Flash Flooding

Ricardo Acerco

Hurricane Bud, now a Category 4, will threaten western Mexico with flooding rainfall this week. It is expected to continue moving northwestward into Wednesday, tracking closer to the Mexico coastline than Aletta. Bud is expected to weaken significantly before reaching Cabo on Friday.

---
Select Ballet to Perform 'Bolero' at Teatro Vallarta

Lorena Sonrisas

The Compagnie François Mauduit Select Ballet Company will be performing 'Bolero,' an original proposal of neoclassical ballet set to a compilation of emblematic works, for one night only on Saturday, June 16 at 8:00 pm, at Teatro Vallarta. Tickets are on sale now at the box office.

---
New Turtle Species Discovered in Puerto Vallarta

EFE

A new turtle species was discovered in the rivers of suburban Puerto Vallarta by UDG researchers, along with scientists from Mexico's Autonomous Juarez University of Tabasco, University of Guanajuato and the National Autonomous University of Mexico, CONACYT announced last week.

---
Tragedy Strikes Amapas Neighborhood Association Again

Don Pickens

Tragedy has stricken Puerto Vallarta's Amapas Neighborhood Association again. After suffering the recent loss of ANA President Tom Swale, ANA Administrator Viviana Testón learned that her husband Fernando Hernandez had a brain tumor. Here's how you can help.

---
It's Hot in Vallarta, But it's Cool at Act II Stages!

Melissa Tropp

Act II is proud to present three of our most popular shows for your Cool (air-conditioned) enjoyment this summer: Us Two on Wednesday, Diana Villamonte on Thursday, and Yudi Villamonte on Friday nights. Plus Bob's Karaoke Party, is back on Wednesday nights!

---
House Hunters Int'l Vallarta Episode 16 Airs June 22

Timothy Real Estate Group

If you love Puerto Vallarta, be sure to tune in to HGTV USA on June 22 for the premiere of Timothy Real Estate Group's latest episode of 'House Hunters International.' This marks the 16th time TREG and agent Taniel Chemsian have been featured on this popular reality series.

---
Garlic and Mango Festival Returns to The River Café

María Francesca

Mangoes are ripe for the picking over the next few months - especially at The River Café, where cuisine and nature meld exquisitely. Mango lovers will be rejoicing as this popular Puerto Vallarta restaurant brings back 'For the Love of Garlic and Mango' from June 11 through July 31.

---
Site Map
•
Print this Page
•
Email Us
•
Top