Free Newsletter!
Click HERE to read a serialized and updated version of
Polly G. Vicars' sell-out book, Tales of Retirement in Paradise
.
Vallarta Living
Living in Puerto Vallarta Mexico
For many the thought of living in - or even near - a major tourist resort is about as appealing as a buying a condo in Disneyland. But here in Vallarta, the incredible natural beauty, combined with a small town atmosphere and the inherent warmth and friendliness of the local people, attracts foreign residents who enjoy the good life.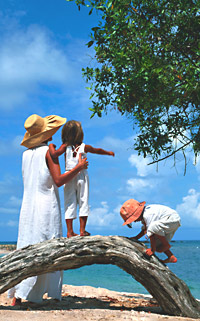 With a colorful blend of the old and the new, the Banderas Bay region offers an unrivaled combination of simple pleasures and sophisticated charms. Fine dining restaurants, art galleries, upscale shopping centers, internet cafes and nightclubs peacefully coexist alongside taco stands, street-side vendors and open air markets selling Mexican handcrafts, and strolling Mariachi bands.


But much of Puerto Vallarta's magic is in the hearts of her people. Often described as "one big, happy family," Vallartenses are known for their hospitality and for going out of their way to welcome foreign residents. And, since the Mexican people are extremely tolerant of different lifestyles, international residents and Mexican locals can live side-by-side in harmony - provided that the expatriate can learn to be creative and adaptable.


Puerto Vallarta is an unhurried refuge for people seeking more than just a beautiful beach. Those of us who choose to live here embrace the challenge of learning patience and understanding. Taking the time to "stop and smell the roses" along the road to becoming bicultural gives us the opportunity to grow - and to enjoy a more relaxed way of life.

• B E L O W T H E F O L D •
Punta Mita Eco Rally Celebrates National Parks Day

Communicare Nayarit

The Riviera Nayarit is joining in the celebration of National Parks Day with an Eco Rally on Saturday, August 18, in Punta de Mita. The event's goal is to promote the protection of this tourism destination's natural areas, under the tagline 'Enjoy, Learn, and Protect.'

---
Filling the Shoes of a Great Champion of Conservation

Neil Gerlowski

The passing of Panthera President and CEO Alan Rabinowitz on August 5th, 2018, leaves a big pair of shoes for us to fill as we march on in working to conserve our native fauna and flora. Staff and volunteers at the Vallarta Botanical Garden are stepping up to the challenge.

---
Mozzamare Beach Club Hosts 2018 Riviera Summer Weekend

Norma Hernández

Part of the Pool Fashion Party Circuit, the 2018 Riviera Summer Weekend will bring famous personalities together at Mozzamare Beach Club August 17-19. Celebrating the best of Riviera Nayarit, this glamorous event features signature cocktails, live performances and popular DJs.

---
Why Second Passports are Now More Valuable Than Ever

Marita Kelly

A second passport is a powerful tool. It facilitates overseas investment and career opportunities, and makes crossing international borders easier. A new report by International Living highlights how changing visa rules could make a second passport even more useful for U.S. citizens.

---
Vallarta Nominated for Four Food & Travel Mexico Awards

María Francesca

Puerto Vallarta has been nominated in four categories of the 2018 Food & Travel Mexico Magazine Reader Awards, an annual survey that recognizes the best in national tourism, including destinations, hotels, airlines, travel agencies, restaurants, spas, and cruises.

---
Summer News from the Entreamigos Community Center

entreamigos.org.mx

Summer news from Entreamigos, an active community center whose primary focus is to increase educational opportunities for the children of San Pancho, Nayarit. To achieve these goals, Entreamigos runs a collection of educational and community based initiatives.

---
Mexico's Velas Resorts Eliminate Single-use Plastic Straws

BanderasNews.com

In an ongoing dedication to sustainability, Velas Resorts in Puerto Vallarta, Riviera Nayarit, Los Cabos, and Riviera Maya are no longer offering single-use plastic straws. The Mexican resort collection estimates they will eliminate 1.6 million total straws in one year.

---
Stolie to Record Bilingual Kids' Album in Vallarta

Josef Jacobson

On her next trip to Puerto Vallarta Chicago-based singer-songwriter Rebecca Stoelinga, aka Stolie, plans on recording a bilingual kids' album with the musical friends she's made while performing at various entertainment venues in the Banderas Bay area every winter.

---
Amazon Prepares to Launch Alexa and Echo in Mexico

Venture Beat

Amazon recently announced that Alexa will soon speak Mexican Spanish as the company prepares to localize its smart virtual assistant for its first Latin American market. No date has been given for Alexa's launch in Mexico, but it will be 'later this year,' according to the company.

---
Sister Cities Celebrate Another Successful Art Exchange

sistercities.org

This past July, Highland Park, Illinois hosted a delegation from its sister city Puerto Vallarta, Mexico. Among those in the delegation were two artists, Abdallahy and Santiago Polvos. This visit was one of many art-focused exchanges between the two cities.

---
Wildlife Photography Goes 24/7 at PV's Botanical Garden

Neil Gerlowski

Diana Friedeberg, the Mexico Country Director for Panthera, a global nonprofit dedicated to the conservation of big cats in the wild, is working with Vallarta Botanical Garden to install motion detecting camera traps that will be used to monitor the local jaguar population.

---
Wednesday Night Karaoke Party Continues at Act II

Daniel R. Mininni

There's always something going on at Act II STAGES. Cool Summer fun can be had every Wednesday night with a 2x1 Happy Hour starting at 6:00 pm, followed by Bob's Karaoke Party at 8:00 pm. Meanwhile, the Act II team is busy getting everything ready for an exciting 2018-2019 season!

---
Jalisco Declares El Centro a Cultural Heritage Site

Puerto Vallarta Tourism Board

Puerto Vallarta's Historic Center is now a protected Cultural Heritage site in the State of Jalisco. The recognition includes the area from the beginning of the Malecón to the cobblestoned streets of the Romantic Zone and continues up to the historic Conchas Chinas neighborhoods.

---
Stop Telemarketers with Mexico's Do Not Call Registry

Two Expats Mexico

Did you know Mexico has a a national do-not-call registry very similar to that of the United States that allows people to avoid unwanted calls from telemarketers? Profeco's online registry makes it easy to add your Mexican phone number(s) in less than a minute.

---
Daiquiri Dick's Summer Sizzle Menu: World Flavors

Laura Gelezunas

World cuisines offer a great variety in terms of flavors, tastes and combinations. The chefs at Daiquiri Dick's have selected the top international cuisines to feature on their August 1-13 Summer Sizzle menu, so you don't have to leave Puerto Vallarta to savor the flavors of the world.

---
Puerto Vallarta Day Trips: San Sebastian del Oeste

Totes Newsworthy

If you want to find some authentic Mexican history and culture, look no further than San Sebastian. Nestled high up in the Sierra Madre, about 2 hours from Vallarta, this colonial town has its culture rooted back to 1605 when the Spaniards created it as a gold and silver mining center.

---
Sayulita to Host National Youth Surfing Championship

Norma Hernández

At least 150 young competitors from Mexico City, Nayarit, Jalisco, Colima, Baja California Sur, Baja California, Oaxaca, Guerrero, and Sinaloa are expected to participate in the 2018 Nayarit National Children and Teen's Surfing Championship to be held in Sayulita from August 8-12.

---
PV's Public Transportation System Renovations Stalled

Ricardo Acerco

The renovation of the public transportation system in Puerto Vallarta has not advanced as quickly expected due to unforeseen problems within the Transportes Unidos del Pacífico company, the firm that was contracted to operate the city's new bus system.

---
Democrats Abroad Costa Banderas August 2018 Events

Dean McIntyre

The Costa Banderas Chapter of Democrats Abroad Mexico continues in their efforts to register U.S. voters for the upcoming mid-term election. This month, they're hosting a Barrio Block Party and free voter registration assistance on Wednesdays at Daiquiri Dick's on the south side of Vallarta.

---
Act II Gears Up for New Season, Karaoke Parties Continue

Marsha Ross

Between rehearsals, costume and set designs for the exciting shows on its Main Stage schedule, Act II is going 'full speed ahead' to get everything ready for its amazing 2018-2019 season. But, somehow, they still manage to throw the best karaoke party in Puerto Vallarta every Wednesday.

---
Tropicasa's August Hot Property in Puerto Vallarta

Las Moradas Casa 4, Amapas

Las Moradas Casa 4 is a beautiful 3 bedroom, 3 1/2 bath, three-story home for sale in the Las Moradas complex, an exclusive and gated residential community of only 14 homes in the hills of Amapas, just a 5 minute drive from downtown Puerto Vallarta and the city's Romantic Zone.

---
Join the Community Clean-Up in Col. Emiliano Zapata

Julie Guerrero

The JG Group's Colonia Clean-ups continue throughout the summer to keep raising awareness and getting residents and visitors alike involved in keeping our colonia clean. If you are going to be in Puerto Vallarta on the first Saturday of the month, join us on August 4 and share the love.

---
Beyond Puerto Vallarta: Shopping in Tonalá, Jalisco

Adam García

If you are visiting Puerto Vallarta, consider a trip to Tonalá, a municipality near Guadalajara that's famous for its artisanal handicrafts. On Thursdays and Sundays a 'tianguis' (open air market) features as many as 4000 craftsmen selling everything from pottery to handcrafted furniture.

---
Tips for Surviving the Summer Heat in Puerto Vallarta

María Francesca

During the summer months in Puerto Vallarta you can get heat exhaustion just by walking in the sun for five minutes, so we've put together some simple summer survival tips to help you make the most of your time here in the Banderas Bay area during this hot and humid time of year.

---
Neil Gerlowski Returns to Vallarta Botanical Garden

Margarita Bonita

Vallarta Botanical Garden welcomes back Executive Director, Neil Gerlowski, who has been on sabbatical to pursue a Fellowship at Longwood Gardens, a world-renowned center for horticultural excellence in Pennsylvania. Here he shares his experiences and plans for the VBG.

---
Site Map
•
Print this Page
•
Email Us
•
Top