Free Newsletter!
Click HERE to read a serialized and updated version of
Polly G. Vicars' sell-out book, Tales of Retirement in Paradise
.
Vallarta Living
Living in Puerto Vallarta Mexico
For many the thought of living in - or even near - a major tourist resort is about as appealing as a buying a condo in Disneyland. But here in Vallarta, the incredible natural beauty, combined with a small town atmosphere and the inherent warmth and friendliness of the local people, attracts foreign residents who enjoy the good life.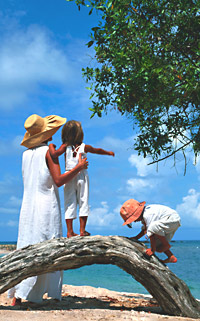 With a colorful blend of the old and the new, the Banderas Bay region offers an unrivaled combination of simple pleasures and sophisticated charms. Fine dining restaurants, art galleries, upscale shopping centers, internet cafes and nightclubs peacefully coexist alongside taco stands, street-side vendors and open air markets selling Mexican handcrafts, and strolling Mariachi bands.


But much of Puerto Vallarta's magic is in the hearts of her people. Often described as "one big, happy family," Vallartenses are known for their hospitality and for going out of their way to welcome foreign residents. And, since the Mexican people are extremely tolerant of different lifestyles, international residents and Mexican locals can live side-by-side in harmony - provided that the expatriate can learn to be creative and adaptable.


Puerto Vallarta is an unhurried refuge for people seeking more than just a beautiful beach. Those of us who choose to live here embrace the challenge of learning patience and understanding. Taking the time to "stop and smell the roses" along the road to becoming bicultural gives us the opportunity to grow - and to enjoy a more relaxed way of life.

• B E L O W T H E F O L D •
'Semana Santa Brigade' Distributed 50,000 Free Condoms

BanderasNews.com

Taking the tools of HIV education and prevention directly to the people in Puerto Vallarta is the purpose of SETAC's annual Semana Santa Brigade. During this year's campaign, held March 29-31, volunteers dispensed 50,000 condoms, 155 rapid HIV & 155 syphilis tests, free of charge.

---
Act II's Spring Entertainment Season Still Going Strong

Daniel R. Mininni

Act II is THE PLACE to go to see a show when you are in Puerto Vallarta, and its fabulous Spring Entertainment Season is still going strong to keep you entertained! Featuring live cabaret, improv comedy and drag shows, and an art show/auction, there is something for everyone at Stages.

---
Why So Many People are Making the Move to Mexico

MEXLend Mortgages for Mexico

It's hard to get an accurate account of Mexico without spending real time in this incredible country and experiencing its wonders first-hand. There are many reasons why more & more people are choosing to buy homes and live here. The experts at MEXLend Mortgages list a few.

---
No Such Thing as 'Low Season' in Puerto Vallarta

Adam Garcia

'High season' was officially over on Easter Sunday, April 1st, but that doesn't mean things slow down in Puerto Vallarta. Many weekly markets are still open, Pro tennis returns April 30, and Vallarta Pride rolls out May 20-27 for a week-long party with many events not just for the LGBTQ crowd.

---
Earth Day Clean Up at El Parque de los Azulejos

Marie Callan

Every year on April 22, over a billion people celebrate Earth Day by inspiring awareness of and appreciation for earth's environment. If you are in the Banderas Bay area, consider joining in the park beautification efforts at El Parque de los Azulejos on the south side of Puerto Vallarta.

---
Daiquiri Dick's Offers Vallarta a World of Flavors

Banderas News Team

When you crave a great meal by the ocean in casually elegant surroundings, there's no better place than Daiquiri Dicks in the Puerto Vallarta Romantic Zone. You will find it strikes just the right chord with its classy beach house feel and an innovative menu that features world flavors.

---
SETAC Community Center Has a New Board of Directors

Paco Ojeda

SETAC, Puerto Vallarta's LGBTQ Community Center, recently announced changes on its board of directors that will allow the organization continuity of its mission: to reduce HIV and other sexually transmitted infections through education, detection and prevention.

---
Francine Peters Art Show & Charity Auction at Act II

BanderasNews.com

On April 24, Act II Entertainment will host a one-night-only art show featuring local artist Francine Peters. Throughout the evening, Franny will be painting an original piece, which will be auctioned off at the end of the night. 50% of the proceeds will be donated to a Vallarta charity.

---
Riviera Nayarit to Host 2018 World Meetings Forum

Norma Hernández

More than 500 attendees, among them the top representatives of the meetings, incentives, conventions, and events sector, are expected to attend the 6th World Meetings Forum to be held from July 17-19, 2108 at the Vidanta Nuevo Vallarta Convention Center in the Riviera Nayarit.

---
12th Annual Puerto Vallarta Folkloric Dance Festival

Boardwalk Realty

Springtime, when everyone is in tune with feelings of renewal, Folkloric Dance Festivals take place all over Latin America, including Puerto Vallarta. This year our festival, the Festival Vallarta Azteca del Folclor Internacional, is set to take place May 10 through 20, 2018.

---
Vallarta Restaurant Week Extended to 25 Days in 2018

Puerto Vallarta Tourism Board

Home to over 300 restaurants, from Mexican cafes to fine-dining establishments offering international cuisine, Puerto Vallarta is one of Mexico's top culinary destinations. Foodies will find a bargain at 59 Banderas Bay eateries during Restaurant Week 2018, which will last 25 days.

---
Advantages of Switching to Inverter Air Conditioning

Tropicasa Realty

With summer approaching, now is a good time to think about checking the air-conditioning in your Puerto Vallarta home or condo. If it is time to replace or upgrade your AC units, you might want to think about making the change to an inverter system. The experts at Tropicasa explain.

---
La Cruz to Host 3-5K Open Water Swimming Competition

Lorena Sonrisas

On April 21, 2018, the beach adjacent to the Marina Riviera Nayarit in La Cruz will host the 8th Riviera Nayarit Nado Seguro 3-5K Open Water Tournament. Swimmers ages 7 to 70 will compete in categories that range from professional and masters to recreational and disabled swimmers.

---
Woodstock '69 Playing Every Monday in April at Act II

Debbie White

The uber-talented musical duo of Rhonda Padmos and Don Pope have created a brand-new show this season that's sure to bring back lots of memories! It's called Woodstock '69, a festival of live music & peace, and it's playing on The Main Stage at Act II every Monday in April at 7 pm.

---
Vallarta Pride 2018 Celebrates PV's 100th Anniversary

eturbonews.com

From May 20 to 27, 2018, Puerto Vallarta's annual LGBTQ cultural celebration, Vallarta Pride, will bring a new level of camp to the city's celebration of the 100th anniversary of its founding with a '100 Reasons to Celebrate' theme featuring go-go boys and drag queens galore.

---
VBG Nominated for USA Today's '10 Best Gardens' List

Lorena Sonrisas

Since its opening in 2005, Vallarta Botanical Garden has won numerous international awards, and now they have been nominated by a panel of experts to compete against 20 of the best gardens and arboretums in North America for a spot on USA Today's '10 Best' list for 2018. Vote today!

---
Mexico #2 on 2018 'World's Best Places to Retire' List

BanderasNews.com

The editors of International Living recently released their picks for the Best Places in the World to Retire in 2018. Out of the top ten countries listed on this year's Global Retirement Index, Latin American destinations took the top 3 spots - and Mexico came in at #2!

---
Act II Keeping Puerto Vallarta Entertained This Spring

Danny Mininni

Act II is celebrating its best season of entertainment yet, and there's still a whole lot more in store for Puerto Vallarta audiences! Spring is Swinging at Stages, with an incredible line up of internationally-known cabaret acts, world-class musicians and hilarious drag performances.

---
Velas Vallarta Chef Shares Mexican Cantina Recipes

PRWEB

Velas Vallarta the recipe for its Cucumber & Habanero Chili Margarita. To complement the drink, Executive Chef Guillermo Carmona offers some recipes from the resort's Foodies Cantina, a restaurant inspired by a typical Mexican cantina's food and drinks.

---
Mexico's Lower Property Taxes Stretch Retirement Budgets

InternationalLiving.com

It's possible for retirees to slash property-tax rates by as much as 99% by moving overseas, according to a new report from International Living. The report points to destinations like Ecuador, Mexico and Portugal, where expats say they have seen significant savings in their tax bills.

---
Popular Educational Series Continues at The Boutique

Catherine Caldera

By popular demand, TED Talk Tuesdays will continue to bring people who love learning together every other Tuesday from 10 am to 12 noon at The Boutique Dinner Theatre. Next up are motivational speaker Roger Sweaney on April 17th, and orchid expert T.J. Hartung on May 1st.

---
Yelapa is 'Mexico's Last Authentic Beach Town'

Timothy Real Estate Group

Just a short boat ride from Puerto Vallarta, Yelapa is, according to Smarter Travel, 'Mexico's last authentic beach town.' Though that may be a slight exaggeration, it certainly holds an amount of truth, enough to make it worth at least a day trip to form your own opinion.

---
Help ANA Finish Vallarta's New Highway 200 Sidewalk

Amapas Neighborhood Association

The 2018 edition of Mariachis, Margaritas & More celebrated the sights, sounds & tastes of Mexico, while raising $118,500 pesos for the new Highway 200 sidewalk on Puerto Vallarta's south side. ANA hopes to raise another $135,000 pesos before construction resumes in the fall.

---
Foto Tour Perruno to Benefit Vallarta's Animal Shelter

Banderas News Team

Grab your furry friend and head out to the Malecón on April 21 to be a part of the 'Foto Tour Perruno.' A non-profit initiative created as a means of raising funds for Vallarta's Animal Shelter, the event offers animal lovers the opportunity to have professional photos taken with their pets.

---
Private Schools One Reason Why Families Choose Vallarta

Warren Brander

There are numerous reasons why raising children in Puerto Vallarta is appealing. The ability for children to learn an new language and culture is one but, for many parents, a major reason is the high quality of private school education available here in the Banderas Bay area.

---
Site Map
•
Print this Page
•
Email Us
•
Top