Free Newsletter!
Click HERE to read a serialized and updated version of
Polly G. Vicars' sell-out book, Tales of Retirement in Paradise
.
Vallarta Living
Living in Puerto Vallarta Mexico
For many the thought of living in - or even near - a major tourist resort is about as appealing as a buying a condo in Disneyland. But here in Vallarta, the incredible natural beauty, combined with a small town atmosphere and the inherent warmth and friendliness of the local people, attracts foreign residents who enjoy the good life.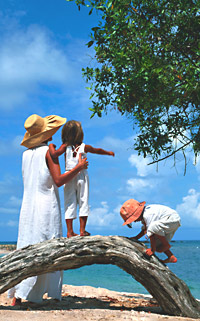 With a colorful blend of the old and the new, the Banderas Bay region offers an unrivaled combination of simple pleasures and sophisticated charms. Fine dining restaurants, art galleries, upscale shopping centers, internet cafes and nightclubs peacefully coexist alongside taco stands, street-side vendors and open air markets selling Mexican handcrafts, and strolling Mariachi bands.


But much of Puerto Vallarta's magic is in the hearts of her people. Often described as "one big, happy family," Vallartenses are known for their hospitality and for going out of their way to welcome foreign residents. And, since the Mexican people are extremely tolerant of different lifestyles, international residents and Mexican locals can live side-by-side in harmony - provided that the expatriate can learn to be creative and adaptable.


Puerto Vallarta is an unhurried refuge for people seeking more than just a beautiful beach. Those of us who choose to live here embrace the challenge of learning patience and understanding. Taking the time to "stop and smell the roses" along the road to becoming bicultural gives us the opportunity to grow - and to enjoy a more relaxed way of life.

• B E L O W T H E F O L D •
IFC Home Tours 'A Wonderfully Different Thing To Do'

International Friendship Club

One of the most popular tourist activities in all of Puerto Vallarta is the IFC Home Tour. So put on your walking shoes, grab your camera, and get ready to enjoy a fun-filled day of discovery, while giving a helping hand to the less fortunate in the Banderas Bay area.

---
PV Cultural Department to Pay Tribute to Jim Demetro

Marie Callan

The Puerto Vallarta Cultural Department will pay tribute to Jim Demetro, the creator of many of the city's most iconic public sculptures, on Friday, December 14 at 6:30 pm in Lazaro Cardenas Park. Afterwards, the Xiutla Folkloric dancers will perform at 7:30 pm.

---
RISE Revolution Through Education Fundraiser, Dec. 15

María Francesca

On December 15, Demetro Gallery will host a benefit to help cover the costs of educating the children at Refugio Infantil Santa Esperanza in Puerto Vallarta. Attendees will enjoy the perfect combination of food, fun and friendship, with all proceeds going to the RISE education fund.

---
The Second Best Time to Save Our Planet is NOW!

John Warren

Thanks to a donation by the International Friendship Club, American School of Puerto Vallarta students are collecting plastics, shredding them, and molding them into usable products. This is one part of the school's program that teaches our children the importance of sustainability.

---
Red Ribbon Gala for SETAC Wellness Center a Success

Marie Callan

The 2018 Red Ribbon Gala to benefit SETAC, Puerto Vallarta's LGBT Wellness Center, which was held at Mantamar Beach Club Dec. 5, was a huge success! The monies raised will be used to support SETAC's efforts to reduce HIV and other STDs in the Banderas Bay area.

---
Ask a Realtor: Why Don't We See Smoke Detectors Here?

Boardwalk Realty PV

As a Puerto Vallarta realtor, a question I am often asked is 'Why don't we see smoke detectors in Mexico?' I have to admit, you rarely see them here. I think there are a few factors that play into the absence of something we get so used to in other parts of the world.

---
Act II Celebrates Four Critically Acclaimed Shows

BanderasNews.com

As the only 5-Star venue in Puerto Vallarta, Act II is celebrating its biggest and best season ever! 'Little Shop of Horrors', 'Nunsense A-Men', 'Twist & Shout,' and 'Cinderella, The Musical' are getting rave reviews - and two new shows are opening this week!

---
Preparing to Pay Your Puerto Vallarta Property Taxes

Warren Brander

Property taxes. Just the words make most Canadian and American homeowners nervous about potential damage to their bank balance, but in Mexico you don't need to worry. Property taxes for homes and condos in Puerto Vallarta and around Banderas Bay are exceptionally affordable.

---
Toys for Tots Vallarta Getting into the Christmas Spirit

VallartaNavyLeague.org

The Toys for Tots December fundraisers are always among the most popular seasonal events in Puerto Vallarta. This year, the Golf Tournament will be played on Saturday, December 8 at the Vista Vallarta course, and the Gala Dinner on the 9th at CasaMagna Marriott Resort.

---
Puerto Vallarta Garden Club Sunset Reception, Dec. 11

David Muck

Puerto Vallarta Garden Club members are invited to grab some friends and join us on December 11 for a sunset reception in the Molino de Agua garden. Uncork Mexico will offer a variety of Mexican wines and Jim Eckardt Catering will prepare appetizers to pair with the wine.

---
Theater, Music & More at Nacho Daddy / The Boutique

Catherine Caldera

As we head into the holiday season, The Boutique Theater and Nacho Daddy invite everyone to come out and have some fun! With new shows, movies, TED Talks and more, along with the best bands in Puerto Vallarta playing most every night, there's something fun for everyone!

---
Emilio Rama Art Exhibit Opens Dec. 14 at Galleria Dante

Claire Guarniere

On Friday, December 14 from 6-10 pm, a cocktail reception will open an art exhibition by Emilio Rama at Galleria Dante, Basilio Badillo #269, in Puerto Vallarta's Romantic Zone. Be sure to stop by and meet him while you're out doing next week's South Side Shuffle.

---
Vallarta Botanical Garden Chocolate & Vanilla Festival

Lorena Sonrisas

On January 11 Vallarta Botanical Garden will celebrate two plant species native to Mexico: Chocolate and Vanilla. Make plans now to come out and learn more about these botanical treasures while enjoying tours, tastings, food specials, Folkloric dance performances, and more.

---
Daiquiri Dick's Special Menu Features World Flavors

Laura Gelezunas

Take your taste buds on a world tour and you don't even have to leave Puerto Vallarta to do it! Daiquiri Dick's Restaurant is known for its international cuisine, and their bi-weekly dinner specials offer a wide selection of tastes through December 15, 2018.

---
Puerto Vallarta Chamber Orchestra Christmas Concerts

Patricia Jamison

Puerto Vallarta Chamber Orchestra Christmas Concerts are scheduled to take place on Sunday, December 16 in Puerto Vallarta and on Monday, December 17 in Nuevo Vallarta. The PVCO's holiday concerts have become an annual tradition, and this year's show promises to be extra-special.

---
Disco Ball Raises $664,369 Pesos for Vallarta Charities

Marie Callan

Timothy Real Estate Group's Fourth 'House Hunters International' charity event, held November 20 at Oscar's, shattered the record of $540,000 pesos raised at their 2016 event. This year, $664,369 Pesos were raised for two Puerto Vallarta non-profit organizations.

---
Site Map
•
Print this Page
•
Email Us
•
Top