Free Newsletter!
Click HERE to read a serialized and updated version of
Polly G. Vicars' sell-out book, Tales of Retirement in Paradise
.
Vallarta Living
Living in Puerto Vallarta Mexico
For many the thought of living in - or even near - a major tourist resort is about as appealing as a buying a condo in Disneyland. But here in Vallarta, the incredible natural beauty, combined with a small town atmosphere and the inherent warmth and friendliness of the local people, attracts foreign residents who enjoy the good life.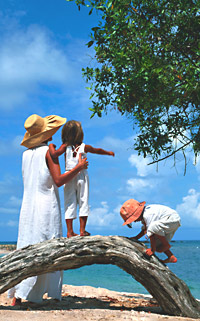 With a colorful blend of the old and the new, the Banderas Bay region offers an unrivaled combination of simple pleasures and sophisticated charms. Fine dining restaurants, art galleries, upscale shopping centers, internet cafes and nightclubs peacefully coexist alongside taco stands, street-side vendors and open air markets selling Mexican handcrafts, and strolling Mariachi bands.


But much of Puerto Vallarta's magic is in the hearts of her people. Often described as "one big, happy family," Vallartenses are known for their hospitality and for going out of their way to welcome foreign residents. And, since the Mexican people are extremely tolerant of different lifestyles, international residents and Mexican locals can live side-by-side in harmony - provided that the expatriate can learn to be creative and adaptable.


Puerto Vallarta is an unhurried refuge for people seeking more than just a beautiful beach. Those of us who choose to live here embrace the challenge of learning patience and understanding. Taking the time to "stop and smell the roses" along the road to becoming bicultural gives us the opportunity to grow - and to enjoy a more relaxed way of life.

• B E L O W T H E F O L D •
Feathers, Maracas and Pizzas, Oh My! – at The Palm

Alex Bourgeau

The Palm Cabaret continues their long tradition of providing Puerto Vallarta with spectacular entertainment. This season's line-up includes some of PV's favorite acts, along with an eclectic mix of professional shows presented by entertainers from around the world.

---
'Year of the Dog' Champagne Brunch to Benefit SPCA de PV

Janice Gonzalez

Since, according to the Chinese zodiac, 2018 is The Year of the Dog, which emphasizes dependability, loyalty and reunions with family and friends, a lovely champagne brunch will be held at Casa Kimberly on Wednesday, March 7 at 11:00 am to benefit the SPCA de PV.

---
Vallarta Real Estate Fair Supports Habitat for Humanity

Ryan Donner

Timothy Real Estate Group is proud to announce that the 2018 Vallarta Real Estate Fair will help support Habitat for Humanity Mexico. Since 1989 Habitat for Humanity Mexico has been turning the dream of home ownership into reality for low-income families thanks to donations and charity.

---
New Stretch of Guadalajara-Vallarta Highway Opened

Mexico News Daily

President Peña Nieto led the official opening ceremony for a new four-lane, 54-kilometer stretch of the Guadalajara-Puerto Vallarta highway that, when completed, will reduce travel time between the two destinations. The new road runs between Jala and Compostela, Nayarit.

---
Three New Show Open This Week at Act II Entertainment

Danny Mininni

Conveniently located close to the beach, restaurants and bars in the Romantic Zone, Act II Entertainment is THE PLACE to go to see a show when you are in Puerto Vallarta. Offering three venues and 3-5 performances to choose from every night, there is something for everyone at STAGES!

---
This Week's Line Up at Nacho Daddy/Boutique Theatre

Catherine Beeghly

Known as THE place to go for affordable nightlife in Puerto Vallarta's Zona Romantica, Nacho Daddy Mexico is where locals, ex-pats and tourists from around the world gather to eat, drink, dance, listen to great music, or catch a great show upstairs at The Boutique Dinner Theatre.

---
'Fat Tuesday' Celebrated with Style in Puerto Vallarta

PVRPV.com

The incredible floats, colorful costumes, towering stilt walkers and street performers that are all part of Puerto Vallarta's annual Fat Tuesday festivities provided an unforgettable show for the more than 30,000 residents and tourists who lined the 3k route to watch the CarnavalPV parade.

---
Tintoc Ballet to Perform at 5th Taste of Lo de Marcos

Galvan Real Estate

The Bahía de Banderas Municipal Folkloric Ballet 'Tintoc' has just been added to the line-up of free entertainment that will be part of the 5th Annual Taste of Lo de Marcos taking place from 3:00 to 8:00 pm on Sunday, February 18th in Lo de Marcos, Nayarit.

---
Quality Medical Care a Benefit of Retiring in Mexico

Tropicasa Realty

If you are thinking about buying a second home in Puerto Vallarta for retirement, one of your considerations will be access to healthcare. One of the benefits of retiring in Mexico is the inexpensive, quality medical care that's available from both private and public providers.

---
Romance Your Valentine with Dinner at Kaiser Maximilian

Laura Gelezunas

Are you spending Valentine's Day in Puerto Vallarta? You can celebrate this sweetheart of a holiday with a romantic dinner at Kaiser Maximilian. Executive Chef Juan Carlos Palomer has created a tempting special a la carte menu with some wonderful selections especially for the occasion.

---
Puerto Vallarta International Jazz Festival, Feb. 16 & 17

Andrea Jupina

The Salty Paw Jazz Orchestra, Puerto Vallarta's first and only youth-based jazz orchestra, is one of the high-school bands that will be performing on February 16 and 17 on the Malecón, as a part of the International Jazz Festival Puerto Vallarta hosted by sister city Highland Park, Illinois.

---
2018 Vallarta Bird Festival at Vallarta Botanical Garden

Nancy Holland

Vallarta Botanical Garden is home to over 200 different species of birds, and will be the site for the 2018 Vallarta Bird Festival, March 9-11. Three action packed days of birding and nature walks in unique habitats with expert guides will satisfy even the most advanced birders.

---
Site Map
•
Print this Page
•
Email Us
•
Top