Free Newsletter!
Click HERE to read a serialized and updated version of
Polly G. Vicars' sell-out book, Tales of Retirement in Paradise
.
Vallarta Living
Living in Puerto Vallarta Mexico
For many the thought of living in - or even near - a major tourist resort is about as appealing as a buying a condo in Disneyland. But here in Vallarta, the incredible natural beauty, combined with a small town atmosphere and the inherent warmth and friendliness of the local people, attracts foreign residents who enjoy the good life.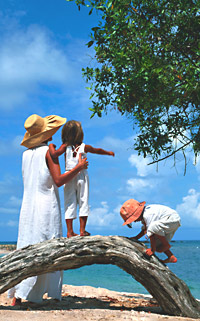 With a colorful blend of the old and the new, the Banderas Bay region offers an unrivaled combination of simple pleasures and sophisticated charms. Fine dining restaurants, art galleries, upscale shopping centers, internet cafes and nightclubs peacefully coexist alongside taco stands, street-side vendors and open air markets selling Mexican handcrafts, and strolling Mariachi bands.


But much of Puerto Vallarta's magic is in the hearts of her people. Often described as "one big, happy family," Vallartenses are known for their hospitality and for going out of their way to welcome foreign residents. And, since the Mexican people are extremely tolerant of different lifestyles, international residents and Mexican locals can live side-by-side in harmony - provided that the expatriate can learn to be creative and adaptable.


Puerto Vallarta is an unhurried refuge for people seeking more than just a beautiful beach. Those of us who choose to live here embrace the challenge of learning patience and understanding. Taking the time to "stop and smell the roses" along the road to becoming bicultural gives us the opportunity to grow - and to enjoy a more relaxed way of life.

• B E L O W T H E F O L D •
GAP Plans Another Expansion of Puerto Vallarta Airport

Ricardo Acerco

Construction of a new terminal at the Puerto Vallarta International Airport, which will increase the facility's capacity for plane and passenger arrivals by almost 50%, will begin in 2020. According to the airport's administrator, the expansion is expected to be completed by 2024.

---
Act II Entertainment Makes February Fantastically Fun!

Daniel R. Mininni

Puerto Vallarta has become an 'entertainment destination,' and Act II is THE PLACE to go for the best in live cabaret, music, comedy, stage plays and drag shows. Here's a look at what's happening at Stages this week, including 'Avenue Q' auditions and two new shows opening!

---
Netflix to Open Office, Produce More Shows in Mexico

Variety

In a much-anticipated move, giant streaming service Netflix has confirmed the launch of a Mexico City office this year. The company also has more than 50 projects in different stages of production in Mexico, some original content, others co-productions.

---
Garden-To-Glass Botanical Cocktails at Casa Velas

BanderasNews.com

Casa Velas in Puerto Vallarta has launched a new garden to glass interactive culinary experience. Guests can pluck fruit and herbs for their cocktails from the adults-only boutique hotel's botanical garden. If you can't make it to Mexico, try this make-at-home recipe.

---
Seaver Foundation Reveals Results of VCEP Interviews

John Warren

This week, the IFC's John Warren follows up on last week's article regarding the Seaver Foundation's 2018 interviews of Puerto Vallarta kids that participate in the Volcanes Community Education Project after-school program. Here, he reveals some of the evaluators' findings.

---
Seduce Your Valentine with Mexico's Aphrodisiac Foods

Marie Callan

Even if there is no scientific basis in the libidinous qualities attributed to Mexico's 'aphrodisiac foods,' there's no doubt they're pleasing to the senses. After all, who can argue the sex appeal of a spicy chile, the rich taste of chocolate or heady scent of vanilla?

---
Amy Armstrong Returns to Nacho Daddy for Encore

María Francesca

After selling out every show during her month-long run in January at Nacho Daddy, everyone's favorite 'Diva Loca,' Amy Armstrong, who is known for having 'the voice of an angel and the mouth of a sailor,' returns to Puerto Vallarta for one night only on Wednesday, February 20 at 9:00 pm.

---
Daiquiri Dick's Makes Valentine's Day Memorable

Laura Gelezunas

Whether you're dreaming of a romantic evening with your significant other, or living it up with a Girls' Night Out, gather up your loved ones and head over to Los Muertos Beach on the south side of Puerto Vallarta for a superb Valentine's dinner at Daiquiri Dick's Restaurant.

---
Last Chance to 'Connect with Mexico' at The Boutique

Lorena Sonrisas

This week will be your last chance to 'Connect with Mexico' at Vallarta's Boutique Theatre. Each week focused on a specific topic, and on Thursday, Feb. 14, Carlos Navarro will wrap up the series with 'A Mexico Collage,' covering a little of everything about this wonderful country.

---
7th Annual Puerto Vallarta Charity Chili Cook-Off

Jay Sadler Project

The seventh annual Puerto Vallarta Charity Chili Cook-Off, featuring chili recipes from some 18 popular PV area bars, restaurants and sponsors, along with live music by local bands, will be held on Saturday, February 23 from 1:00-5:00 pm at El Rio Bar and Grill in Paso Ancho.

---
Puerto Vallarta Open Named a Top 2018 ATP Challenger

Diego Sancho

The Association of Tennis Professionals (ATP) has announced the 2018 Challenger Tour Tournaments of the Year, and Puerto Vallarta, Mexico, which made its debut on the ATP tour calendar in 2018 with the Puerto Vallarta Open, was among the players' favorite destinations.

---
SETAC to Open New Office in Old Town Puerto Vallarta

Marie Callan

SETAC, a local community and wellness center whose mission is to reduce HIV and other STDs in the Banderas Bay area, will soon open a new office on the south side of Puerto Vallarta, thanks to Timothy Real Estate Group and their Fourth 'House Hunters International' charity event.

---
Jim Demetro Now Offering Beginner's Sculpting Classes

James R. Callan

Beginning Feb 18, internationally famous sculptor Jim Demetro will resume his beginner's classes in figurative sculpturing at his Puerto Vallarta gallery. Classes are kept small, allowing Demetro to guide you through the art of sculpturing, with a lot of personal attention.

---
Buying Undeveloped Land to Build Your Home in Mexico

Terence L. Reilly

Buying undeveloped land is an increasingly popular route to take for those wishing to buy property in Mexico. MEXLend, Mexico's most trusted and experienced mortgage and loan broker, provides loans for land owners who wish to construct a home anywhere in the country.

---
Vallarta Medical Matters Conference Speakers - Part 2

Pamela Thompson

Puerto Vallarta Medical Matters sponsors are proud to be hosting some very distinguished physicians as featured speakers at this year's health and well-being conference, covering everything from Atrial Fibrillation and Osteoarthritis to Aesthetic and Reconstructive Surgery.

---
Act II Bings Top-Notch Entertainment to Puerto Vallarta

Daniel R. Mininni

If you love live music and theater, there's no better place to go in Puerto Vallarta than Act II, where superstars and rising stars will entertain you every night. Here's a look at the exciting lineup of live cabaret, stage plays, and drag shows playing at Stages this week.

---
What Do Vallarta Kids Think About the VCEP Program?

John Warren

In 2018, professionals from the Seaver Foundation, an English charity that does evaluations of children's programs around the world, spent two weeks in Puerto Vallarta interviewing students at the Volcanes Community Education Project to find out what they think of the program.

---
Wine and Dine Your Valentine at Kaiser Maximilian

María Francesca

This Valentine's Day, treat your loved one to a night of wining and dining at Kaiser Maximilian, in the heart of the Puerto Vallarta Romantic Zone. In addition to your choice of innovative dishes from a four-course menu, the restaurant offers an extensive selection of fine wines.

---
Four Fun Ways to Get Exercise in Puerto Vallarta

Warren Brander

Living a healthier lifestyle and exercising more frequently is one of the most common promises people make to themselves. If getting into better shape is one of your goals, Puerto Vallarta has many options to help get you on your way. Here are a few you may want to consider.

---
BohemiaViva Valentine's Concert at The Palm Cabaret

Margarita Bonita

If you are spending Valentine's Day in Puerto Vallarta, make plans now to see 'Desde El Corazón,' BohemiaViva's special concert presentation to celebrate the day of love, affection and friendship, at The Palm Cabaret on Wednesday, February 13th at 6:30 and 9:30 pm.

---
Mexico Explained, in Plain English, at The Boutique

Lorena Sonrisas

Do you have questions about Mexico, its people or customs? You don't need to learn Spanish to 'Connect with Mexico,' just come to The Boutique Theatre on the south side of Puerto Vallarta every Thursday at 11:00 am for 'Mexico explained, in plain English.'

---
June Rosen Lopez Valentine's Jewelry Party, Feb 9 & 10

BanderasNews.com

Looking for the perfect Valentine's Day gift? June Rosen Lopez is hosting her annual Valentine's jewelry party on Feb 9 and 10 from 1-7 pm at her home gallery in Puerto Vallarta's Romantic Zone. Everyone is invited to stop by to see her new collection and maybe find a gift or two.

---
Support the Prepa Vallarta Marlins' Second Swim Meet

Matthias Vogt

Marlin Natacion and Preparatoria Regional de Puerto Vallarta are planning the '2nd Serial Marlins Prepa Vallarta' swimming competition on February 23 & 24. You can help make this happen by making a donation towards the purchase of a medal and T-shirt for each participant.

---
Site Map
•
Print this Page
•
Email Us
•
Top