Vallarta Living | Puerto Vallarta Weddings
Wedding Dress Tips for Beach Brides

PVNN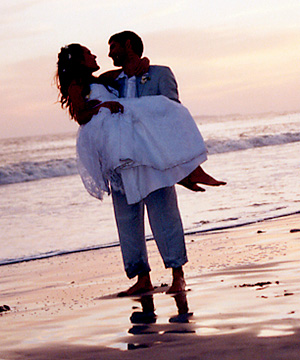 Destination beach weddings are so popular these days - and why not? After all, what could be more romantic than getting married on a white sand beach right at your tropical honeymoon destination?

Beach weddings are considered more informal than their church counterparts, but that doesn't mean that your day will be any less special or glamorous, it only means your big day will be more casual, laid-back and relaxed.


That being said, if you're planning to get married with your toes in the sand, you'll need the right clothes. We asked Nicole Majewski, a wedding coordinator at Adventure Weddings in Puerto Vallarta, to give us some advice on what to wear.


"When it comes to tropical wedding attire, there are considerations couples who get married at home might not have," says Nicole. "After all, not too many brides have to worry about sun, wind, saltwater and sand!"


"For beach weddings, brides can go with a shorter or cocktail length dress made from a light, flowing material that breathes," says Majewski. "But if your heart is set on a traditional full-length satin or lace gown, be prepared for it to show some wear and tear. Salt and sand can play havoc on fabrics, especially when you are walking close to the water's edge."


And for him? Think whites and beiges, linens and light cottons. It's best to avoid black tuxes, formal morning suits, and heavy sports coats, all of which can be unbearably hot and uncomfortable in a tropical climate.


You can buy your destination wedding apparel at home, but if you want the perfect clothes for a Puerto Vallarta beach wedding, there are several Bridal Shops and resort wear boutiques in the Banderas Bay area that can help you choose the appropriate fabrics and styles to dress everyone in your bridal party.


One such boutique is Laura López Labra Designs at Basilio Badillo #329 in Puerto Vallarta's Romantic Zone. Renowned for her trademark all-white or natural tone clothing in 100% cotton, lace and fine gauze fabrics that float, Laura custom designs seductive skirts and blouses, romantic sun dresses and personalized wedding dresses. For the groom, offerings include cotton drawstring pants and lightweight shirts that are perfect for tropical beach weddings.


The next item of wedding attire the well-dressed beach bride must consider is footwear. While solid runners may lead the way to the altar, once you step off you'll be on a soft and uneven surface — and falling down won't make a pretty picture - so say good-bye to those sexy satin spikes you've had your eye on.


To keep yourself from sinking into the sand, you're going to need wedding shoes that have a solid or flat heel. Low-heeled sandals, cute flip flops or classic ballet flats will look just as sexy, feel much more comfortable, and be wearable after the wedding.


Or better yet, go barefoot! Nothing says "beach wedding" like getting married with your toes in the sand. Choosing a barefoot on the beach wedding ceremony will turn your destination wedding into the ultimate romantic experience.


Once you've found the perfect man, the perfect ring and the perfect clothes, the only thing left is for you to find the perfect wedding location. And that's where Adventure Weddings in Puerto Vallarta comes in.


A division of Vallarta Adventures Tour Company, Adventure Weddings offers a unique location for a small ceremony or a big bash with all the trimmings - their very own exclusive tropical beach hideaway on Banderas Bay - Las Caletas.


Accessible only by sea, Las Caletas boasts white sand beaches, blue waters, stunning sunsets and a rare combination of unparalleled privacy and scenic beauty - making it the perfect place for such a romantic occasion.


Top that off with complete wedding packages at reasonable prices and Adventure Weddings' professional wedding coordinators, who take the worries and hassles out of planning this truly unique destination wedding, and Las Caletas sets the scene for truly magical beach weddings.


For more information about getting married in Puerto Vallarta with Adventure Weddings, check out their website at AdventureWeddingsPV.com or call 1-866-732-8152 toll free from the U.S. or Canada.
Tell a Friend
•
Site Map
•
Print this Page
•
Email Us
•
Top