Vallarta Living | Veteran Affairs | January 2008
American Veterans Law: What You Say Counts

David Lord - PVNN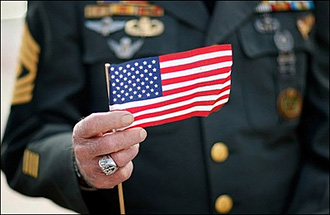 Army special forces vet Tony Junot holds an American flag during a Veterans Day ceremony 12 November 2007 in Miami Beach, Florida. Though millions of dollars were donated for US veterans' charities in the past year, poor resource management kept millions from the troops. (AFP/Joe Raedle)

Continuing last week's column, and re-capping the story of my claim:


I sent the V.A. a claim in 2005, after having waited a couple of years for the adjudication of it, I found out the claim had gone into the great V.A. void, no action or trace of where it was, but the claim suddenly reappeared after my repeated request for information as to where it was.


The claim lost, then found, then treated as less important because it had been lost for so long, as if I (the Veteran) had placed it in some obscure location, out of the chain of adjudication, just to harass them.


The young pup called me with the news that it was found, he then hung up the phone when I asked why it was lost, where it had been, no explanation, just a hang up. I find this is very typical of today's V.A. adjudication personnel; it is as if the annoyance of dealing with Veterans is akin to cleaning an outhouse. The chore is both smelly and revolting, these messy old Veterans and their medical problems.


The Adjudication Officers get away with poor service in managing veterans claims, years can pass without action, but if the veteran is one day late, the case will be denied based solely on the Veterans late response. The deck is stacked against Veterans, so in addition to meeting any time line, remember your statements and the buddy statements should tie into a combat incident if possible.


A law found in the Code of Federal Regulations states, in part;
Combat Status and the Use of Lay Testimony as Evidence; VA regulations provide for the use of a claimant veteran's lay testimony as probative evidence sufficient to establish the occurrence of an incident, injury, or disease during active military service if the veteran was engaged in combat with the enemy.


It goes on to further state: Regional Offices should also be aware that 38 CFR 3.304(d) extends the relaxed evidentiary standards associated with combat status to any claimed injury or disease. This regulation allows for the use of satisfactory lay or other evidence as sufficient proof to establish the in-service incurrence or aggravation of an injury or disease if it is the result of a veteran's involvement in combat.


Such lay evidence is acceptable as long as it is consistent with the circumstances, conditions, or hardships of the veteran's service, despite the lack of any corroborating evidence in official records. While this regulation allows for the use of lay evidence to establish in-service incurrence or aggravation, it does not authorize lay evidence as a replacement for the additional medical evidence of a nexus and a currently diagnosed disability that is required to establish service connection.

Veteran's are often unaware of how their combat plays into diverse medical problems years later. In example, my medical exams by the V.A. involved my right eye blindness, but my statements stating I experienced repeated concussions during combat shifted the burden of proof from me to the V.A. having to show why I could not have been blinded by the blast and concussions I experienced.


The V.A. doctors researched the military record and confirmed I had 20/20 eyesight upon my entry into military service. The V.A. doctor, seeing this fact, was able then to give a medical opinion that "as likely as not my right eye blindness was a result of combat."


The Buddy Statements made by platoon members were a powerful testament to the doctor, who then made a point of placing them along with his findings in the file. Your case should contain Buddy statements whenever possible; it can be the emotional side of events that a doctor cannot give.


Speaking of Emotional Responses and Support, I want to thank many of you in the community for supporting my response to a Veteran that wrote a Letter to the Editor of the Vallarta Tribune stating I had at times written "Anti-American articles from foreign soil on Veteran's benefits."


I am Proud of my Service to my Country, and Proud that I can point any faults out in the V.A. Veterans Services from anywhere. I have no fear because I am American, not a Mexican, not a Iranian, not a Columbian; I am free to speak without reprisal or fear, without regard to which Political Party is occupying the White House, Senate, or House.


I have no hesitation at offending a bureaucrat, especially those who adjudicate a Veterans Claim, but treat our claim as nothing more than an unearned hand out. Speaking up and pointing out the hypocrisy of the Flag waving "Love it or Leave it Patriots" is important, especially if we are Veterans. I put my heart and soul into volunteer work for America's Veterans, wherever I am or they may be.
---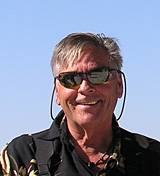 David Lord served in Vietnam as combat Marine for 1st Battalion 26th Marines, during which time he was severely wounded. He received the Purple Heart and the Presidential Unit Citation for his actions during the war in Vietnam. In Mexico, David now represents all veterans south of the U.S. border all the way to Panama, before the V.A. and the Board of Veterans Appeals. David Lord provides service to veterans at no fee. Veterans are welcome to drop in and discuss claims/benefits to which they are entitled by law at his office located at Bayside Properties, 160 Francisca Rodriguez, call him at home 222-5990, on his cell: 044 (322) 205-1323, or email him at david.lord(at)yahoo.com.
Click HERE for more Veteran Affairs with David Lord »»»
Tell a Friend
•
Site Map
•
Print this Page
•
Email Us
•
Top