Vallarta Living | Veteran Affairs | December 2008
Be Prepared for the Unexpected

David Lord - PVNN
Our mind will ask that one final question then, 'Am I good enough to continue in God's company, did I share, did I give, was I one with Universal purpose?'
I believe Sally Conley is what we all should strive to be. We all are going to die someday and we all will face those final moments, when we all will meet death. When we recognize our time has come, in that moment, I believe we see death as a vehicle that transports us from life of the body into life of the soul.


Our mind will ask that one final question then, "Am I good enough to continue in God's company, did I share, did I give, was I one with Universal purpose?" The answer will come instantaneously within ourselves as we pass over. So like Sally, be cloaked in good deeds, and share your life with confidence and grace, and then You will feel peace and know a tender strength that Sally Conley always gave.


My Reunion


I told in Against the Odds of finding, or more correctly being found by my Marine Corps buddy that braved a fifty one caliber machine gun fire to pull me from sure death, over forty years ago in Viet Nam. That first e-mail from him happened just a month ago, and now I am already back from making a face to face visit.


I left Vallarta on the 16th of November to drive to Broken Arrow, Oklahoma to reunite with Bill. I arrived around 5 pm on the 19th and as I drove the final blocks toward his address, a car slows, rolls down the widow and he waves hello and giving a 'follow me' signal that leads me to his door. I shouldn't be surprised that Bill would find me before I got to his door, it had always been that way.


When I looked into his blue eyes and heard that easy Oklahoma voice, I saw past our forty years of separation. His grey hair and weathered face are as steady now as they were then in that raging fire fight, only aged and wiser.


I can never fully describe my short 36 hours with Bill nor will I try. I can make comment on how similar we are in taste and manner. We both have wives and grand children, only he has been with one wife for forty years, while I have just finally found my life's partner after a couple of tries. We both have beautiful grand kids of about the same age, since we both have a son of the same age. Our daughters are separated by age only but not by spirit and drive.


He loves the outdoors, and the pyramids, as do I, and we share metal detecting as a hobby/adventure. His knowledge and collections of Native American artifacts is extensive, his gift of two precious stone hatchet's heads will always be cherished. I added them to my collection of pre Hispanic Indian artifacts.


Someday I may write and tell how our survival has made a bond, only found between those who survive in war when all around others so near die. I told bill I should not have called out for help, risking his life to save mine, and he simply said, "When I saw you didn't make it back to the river bed, I was coming back for you no matter if you called or not." I think that pretty much says it all.


Think Ahead!


The unexpected loss of Sally Conley reminds me that we should all be prepared for the unexpected. I have some information that may be very helpful to my fellow Veterans and their dependents. There is a form that should be a part of everyone's important papers.

V.A. Advanced Directive; Durable Power of Attorney for Health Care and Living Will

Known as form 10-0137, this advanced directive form is an official document where you can write down your preferences about your medical care. If some day you become unable to make health care decisions for yourself, this advance directive can help guide the people who will make decisions for you. You can use this form to name specific people to make health care decisions for you and/or to describe your preferences about how you want to be treated.


When you complete this form, it is important that you also talk to your Doctor, your family, or others who may be involved in decisions about your care, to make sure they understand what you meant when you filled out this form. A health care professional, or here in Mexico a National Service Officer such as myself, who is working with the V.A. to help you with this form and can answer many questions you might have.


If you decide to fill out the form, remember you can start at home by signing and dating each plain paper page of directions which then can be attached to the official document form. You may email me for a time to get the form.
---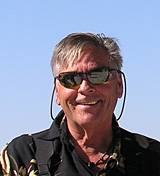 David Lord has been a National Veterans Service Officer doing veteran's benefits in Mexico for over a decade. David is a combat veteran, wounded by gunshot in Viet Nam 1968 and is a retired Marine. The Veterans Administration has played a critical role in his life, by his having both medical and compensation benefits. He uses his personal experience in the claims process along with having legal and credentialed Accreditation by the Department of Veterans Affairs. His use of Congressional approved Veterans Organizations, to steer veterans and dependants through the maze of regulations and entitlements due them from military service is outstanding. For more information, email him at david.lord(at)yahoo.com.
Click HERE for more Veteran Affairs with David Lord »»»
Tell a Friend
•
Site Map
•
Print this Page
•
Email Us
•
Top