Vallarta Living | Veteran Affairs | January 2009
Search for Eligible Survivors Continues

David Lord - PVNN
I am pleased that our task force working to correct this problem has been able to identify this first group this week. We understand the difference these funds can make for these surviving spouses, especially during the holiday season.
- Dr. James B. Peake
In a recent article, Women and Veterans Law in Mexico, I reported that tens of thousands of those widowed due to a veteran's death were not paid survivor's benefits for the month that the veteran died in.


Because we have such a high number of women in Mexico that were formerly married to a veteran, I hope that the following information will be shared with them as it is not likely they will hear it in any news publication or on T.V.


Washington (Dec. 24, 2008) - The Department of Veterans Affairs (VA) has identified nearly 11,000 surviving spouses of deceased veterans who will receive a lump-sum payment before the New Year to correct an error in their VA benefits. Also documented were more than 73,000 who had been previously paid. VA officials are still tracking down eligible survivors.


"I am pleased that our task force working to correct this problem has been able to identify this first group this week," said Secretary of Veterans Affairs Dr. James B. Peake. "We understand the difference these funds can make for these surviving spouses, especially during the holiday season."


Payments will be released to these survivors on December 29th, 2008. The total value of the payments is about $24 million.


At issue is a 1996 federal law that makes a surviving spouse eligible to receive the veteran's VA compensation or pension benefit for the month of the veteran's death. VA failed to properly implement that law in all cases.


Most likely to have been affected by this problem are surviving spouses who never applied for VA survivors' benefits following the death of a veteran. Eligible for the payment are surviving spouses of veterans who died after Dec. 31, 1996. The Department doesn't have current addresses for many of them, which makes the process of contacting them difficult. You can contact me by email!


VA has established a special Survivor Call Center (1-800-749-8387) for spouses who believe they may be eligible for this retroactive benefit. The Call Center is open Monday through Friday from 7 am to 7 pm, Central Standard Time. Inquiries may also be submitted through the Internet at vba.va.gov/survivorsbenefit.htm.


Real Veterans Real Money


The veteran population age sixty five and over now numbers nine million three hundred thousand facing a high risk of financial hardship as our U.S. economy sinks into the credit default crisis.


Thousands of veterans, once secure in their homes, were offered and took sub prime loans and then had a new mortgage placed on their property. If they needed home repairs or money for their medical bills this was a handy and easy way to finance their needs. Banks advertised by direct mail in low income areas seeking out homeowners for sub prime loans, they made fast, easy money by re-selling these loans.


Backed by Fannie Mae and Freddie Mac (the Federally backed home mortgage guarantee programs) they could then resell these with triple A ratings. These mortgages then sold in bunches of thousands to unsuspecting public pension funds and corporate money managers worldwide, as high yielding and secured income.


Now the veteran and his family are unable to keep up with the new higher adjustable mortgage rates are reset after a two year period. These new higher rates are causing the defaults on mortgages by astounding numbers.


The U.S. Veteran's home was their retirement nest egg, by counting on selling the empty nest after the family had grown, a dream retirement with secure financial positions was envisioned. Maybe a move to Mexico had been in plans, maybe a way to join a community with fresh new faces and explore new territory, discover new abilities not possible in the work years.


Not one of us knows how this crisis is going to end, but we know common sense dictates that 2009 is going to be a difficult time to protect our money. I am personally concerned about those on fixed incomes diminished as hyper-inflation hits us mid 2009.


The Billions, some say Trillions of dollars not backed by a precious metal (silver or gold) will force inflation. The reason is by printing billions of bits of paper (bank notes) placed in circulation by the Federal Reserve will only create more dollars chasing fewer goods.


What to do? We live in Mexico and my having a source for .999 silver one ounce coins is protection from paper money devaluation. Owning safe money, saving real money, silver is the smart money used for thousands of years; it is safe for, and affordable. If you want information contact me.
---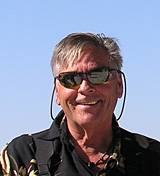 David Lord has been a National Veterans Service Officer doing veteran's benefits in Mexico for over a decade. David is a combat veteran, wounded by gunshot in Viet Nam 1968 and is a retired Marine. The Veterans Administration has played a critical role in his life, by his having both medical and compensation benefits. He uses his personal experience in the claims process along with having legal and credentialed Accreditation by the Department of Veterans Affairs. His use of Congressional approved Veterans Organizations, to steer veterans and dependants through the maze of regulations and entitlements due them from military service is outstanding. For more information, email him at david.lord(at)yahoo.com.
Click HERE for more Veteran Affairs with David Lord »»»
Tell a Friend
•
Site Map
•
Print this Page
•
Email Us
•
Top