Vallarta Living | Art Talk | March 2009
Mexico Inspires Sculptor Jim Demetro

PVNN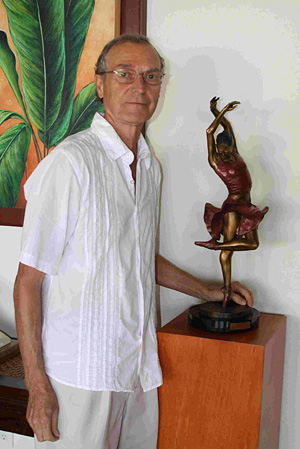 Jim Demtro and one of his bronze sculptures, the Ballerina.
Fifty-plus people gathered at the Molino de Agua condo of Jim and Earlene Callan last Friday to meet sculptor Jim Demetro and view a number of his bronze sculptures. The occasion was to introduce many of the owners in Molino to the man who created the Washer Woman sculpture that graces the ocean-side of this newest condominium complex on Los Muertos Beach.


Demetro brought with him, not only a smaller version of the Washer Woman, but also a smaller version of the Vallarta Dancers sculpture that is installed on the Malecon and has become the most photographed art work on the Malecon.


In addition, he exhibited two pieces inspired by the Xiutla Dancers' dramatic performance to Ravel's Bolero. The famous dancer and choreographer Mateo was the model for the male Bolero dancer sculpted in bronze. Another six pieces by Jim Demetro were also on display.


Mr. Demetro has 47 public sculptures on display throughout the United States and Internationally. Hundreds of his works are in private collections all over the world.


Mid-way through the party, Demetro gave a brief history of how the Washer Woman came to be created, and the process of creating a bronze sculpture. He also shared the difficulty in locating his model again to get her picture made with the finished piece. The party, scheduled from 6:00 until 8:00 broke up after 11 pm. Everyone enjoyed meeting Jim and his wife Eva and seeing the great diversity of his work.

| | |
| --- | --- |
| Bobette and Hank Robinson listen as Jim Demetro explains the sculpting process. Eva Demetro listens also. | Tricia Tomlinson and Hostess Earlene Callan, Joyce Erickson and Marion O'Neal are behind the sculpture, and talk with Chandler Wonderly and Mike Fillman. |
| Earlene and Jim Callan, hosts of the party, flank Alfredo Franco. | Eva Demetro, wife of the sculpture, listens to two of the 50+ people who attended. On the right, Jim Demetro discusses art with Kathryn & Gerry Runolfson. |
| Irene and Carl Johnson, Eva Demetro and Joy Hall, Kathryn and Gerry Runolfson, Sculptor Jim Demetro, Linda Norris and Teresa Ryssemus, and Jane Peabody. | Sculptor Jim Demetro discusses art with a man at the showing, while Eva Demetro talks with Gerry Runolfson. |
| Kathryn and Gerry Runolfson, of Molino de Agua, enjoy the showing of Jim Demetro's bronze sculptures. | Ned Norris, Joy Hall, Linda Norris (purple sweater), Teresa Ryssemus, and Jane Peabody (seated) |
| Jerry Lee, Tom and Jeanne Walker, and Mark Tomlinson admire the Ballet Dancer. | Seth Cloutman, Sue and Dick London, and Tom Bernes enjoy the artist's work. |
Tell a Friend
•
Site Map
•
Print this Page
•
Email Us
•
Top